One of college football's greatest rivalries, the Iron Bowl has been very one sided the past two seasons. After two tremendously close games in 2009 (Greg McElroy lead a late 4th quarter drive to win 26-21) and 2010 (Cam Newton overcame a 24-0 deficit before mounting a comeback win, 28-27), the Gene Chizik lead Tigers have lost the last two seasons by a combined score of 91-14.
Entering as the 4th ranked team in the country, the Auburn Tigers have made a remarkable program transition under Gus Malzahn in just one year. Now, led by quarterback Nick Marshall and defensive playmaker Robenson Therezie, the Tigers hope to upend the top ranked Crimson Tide in Jordan-Hare Stadium to vault this team into the SEC title game next weekend.
There's no secret to the Alabama offense. They pride themselves on the power running game, winning consistently on the interior and especially on power plays. In the passing game, they focus on delayed drag routes and running back screen passes, limiting the pressure on AJ McCarron and utilizing their offensive line's plus-pass blocking. Finally, McCarron will test defenses deep along the sideline's at times, picking his spots to find Amari Cooper and Christion Jones downfield.
On defense, Alabama is remarkably stout against the run and short passing game, with a thick front seven that stays strong against the run and is able to get pressure with four in the passing game. In the back seven, they rely on press coverage and physical play on the outside, letting Ha Ha Clinton-Dix make plays when team's try to test them in the middle of the field vertically.
Where does that leave the Auburn Tigers? In short, they have very little room for error.
Averaging over 36 points per game in SEC play this season, the Auburn offense is a read-option, run heavy offense. Lead by dual-threat junior quarterback Nick Marshall, the offense utilizes lots of fullback, H-back, and post-snap interior offensive line movement in their running and pass game. A new staple of the Malzahn offense, Auburn forces defensive fronts to hesitate post-snap on the interior, taking a more finesse approach to keeping defenses off balance. The offensive line is led by uber-talented left tackle Greg Robinson, a future NFL starter when the redshirt sophomore declares, and junior running back Tre Mason, a speedy back who's able to make defenders miss as he attacks the edge.
RELATED LINK: Eddie Lacy Continues to Power Ahead for the Packers, Fantasy Football Owners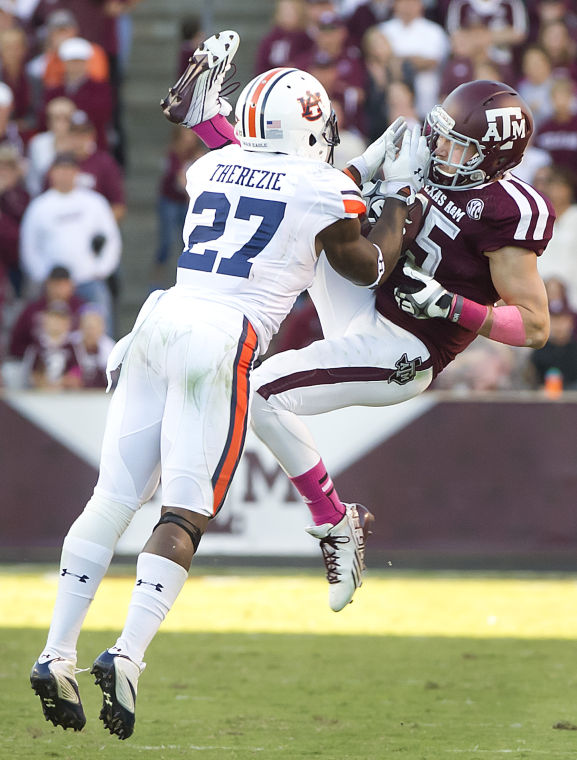 While Marshall has impressed as a runner, on pace for almost 1,000 yards rushing this season, he's been inaccurate as an in-the-pocket, short and medium range passer. Playing with inconsistent footwork and not placing the ball effectively on in-breaking routes. He has had success vertically at times, with three touchdowns over 70 yards this season, and has displayed plus touch when working off of play-action or one-on-one man coverage.
Defensively, the Tigers generally expect their front four, led by senior defensive end Dee Ford, to generate pressure on obvious passing downs. However, having trust in their secondary, especially their secondary, the front seven is more than willing to play tight to the line of scrimmage. Led by junior Robenson Therezie, playing their "Spur Position" (which ends up being a mix of an aggressive strong safety and nickel cornerback), the defense has ample speed on the edges, but lacks enough strength/physicality to consistently defend against the power run game, especially prevalent against LSU earlier this season.
For the Auburn Tigers to pull off the "upset" (they are 10.5 point underdogs despite being at home), they'll need to have success in four key areas: stay creative in the offense, attack vertically (especially of play action, play physical against the power run game, and have success in their front four/five to let Robenson Therezie play in space.
Key #1 – Maintain Movement/Creativity in Offense
The Auburn offense, focusing especially on their backfield, is one of the more intricate and unique units to watch post-snap in the country. While many teams in the country (and now more so in the NFL) utilize H-Backs as a part of their pistol/spread offenses, Gus Malzahn offense is able to remain versatile and utilize it correctly.
The H-Backs are used as lead blockers, pass blockers, or cross blockers in the quick screen game. The interior offensive lineman pull and exchange in the short area as lead blockers for the read-option, to trap block on inside runs, and to aid in quick pass protection on play-action situations. Combine that versatility with the use of inside and outside zone reads and a swing pass/screen pass options, and defenses are forced to consistently stretch themselves horizontally.
By remaining creative and forcing defenses to play horizontally, you make them indecisive vertically. Indecision vertically affects both the vertical passing game along with leaving defenses more susceptible to big gains in the run game if they don't finish tackles at the line of scrimmage.
For the Auburn Tigers, they can't afford to lose that creativity in their offense. It's their biggest asset against an aggressive and NFL-talented defense, even if they get themselves in a whole early on. While the play below wasn't an overly successful play, notice just how stretched the LSU defenses was forced to play, despite trying to blitz off the edge and having seven defenders in the box.
Key #2 – Attack Vertically, Especially Off Play Action
Tagging along a bit with the previous "key", the Auburn passing game is best after they've had success in the read option by stretching defenses horizontally and with inside runs. While quarterback Nick Marshall hasn't been a consistent mid-field and shorter route passer, he's been able to find his receivers downfield with some success. While the Alabama cornerbacks Deion Belue, John Fulton, and Cyrus Jones are talented and able to play physical on the edge, they are susceptible to vertically stretching routes.
In the two plays below, Nick Marshall showcases his arm strength and touch down the field, both taking advantage of defenses creeping up to protect against the run and playing a bit indecisive vertically. The first is against LSU off of play action (notice again, the offensive guard pulling to simulate a potential inside run), and the second is against Texas A&M, with Marshall placing the ball well along the sideline.
Key #3 – Physicality vs. Power Run Game
Moving onto the defense, the Auburn front seven hasn't shown the type of strength to have success against the power running game this year, most notably against LSU. Lead by Jeremy Hill, LSU was able to run up the middle far too easily against this Auburn defense. Struggling in both interior gap control and linebackers taking on blocks, the Auburn defense seems to be too hesitant to collapse inside and not physical enough to contain power run teams like LSU (and Alabama).
While playing as physically as possible shouldn't be a problem in this rivalry game, having enough strength on the interior may be a problem. With only two "true" linebackers (and one "Spur"), they seem to have trouble when team's pull and/or send a lead blocker on the inside. Alabama will certainly take note and likely send H-Back Jalston Fowler and pulling guards up and through in the running game. See below how LSU ran a simple man-blocking power run, with JC Copeland leading the way as a fullback for one of the many big runs from the LSU offense in their battle earlier this year.
Key #4 – Get Pressure with 4 or 5 rushers, Let Robenson Therezie Free
The Auburn defensive line has plenty of talent and ample depth to keep the Alabama offensive line working all game long. One question will be if they can get pressure quick enough to knock AJ McCarron off balance. But maybe even more important for this Auburn defense is to have success in gap control and taking on blockers to keep their linebackers free to make tackles on TJ Yeldon in the box. While winning on the interior will be crucial, having senior Dee Ford and the talented freshman Carl Lawson attacking the edge and countering inside will control the gaps that lead to a majority of Alabama's big runs.
Their defense is led by their "Spur" playmaker, junior Robenson Therezie. Therezie fills multiple roles in this defense, acting as the team's nickel cornerback, underneath zone cover man, and edge protector in the run game. Just 5'9 and around 200 pounds, he can get lost a bit in traffic. However, when he's able to play clean, he's a sound tackler who finishes with great strength, enough to stop the Alabama running game in its tracks. By keeping him free on running plays and allowing him to match-up with slot receivers in the short area, he'll certainly be the primary read AJ McCarron needs to make pre-snap.
While he isn't an elite cover cornerback and is a bit undersized to play in the box compared to the Alabama offensive line, below are three plays he made against the LSU Tigers (all on the same drive and against a running back with 30+ pounds on him) that translate directly to his value in the Iron Bowl this year.
Conclusion
As I alluded to earlier, the Auburn Tigers have very little room for error. Not scoring early enough will put this offense will put Nick Marshall in passing situations he won't be comfortable in, and not slowing down the Alabama run game will lead to long drives for their thin (depth chart-wise) defense to work through.
When Malzahn coached (as offensive coordinator) the Auburn Tigers the last time they were in the Top 10 against Alabama in 2010, they scored 28 points with a dual threat quarterback at the helm to knock off the team that won the National Championship the year before (and would win it again the next two seasons). This time, Malzahn is at the helm of the Tigers, leading a young offense on an unexpectedly impressive season that has restored the Auburn program from the depths many feared it would reach during the Gene Chizik era.
The winner of the last four Iron Bowls has gone on to win the National Championship. Playing at home, on a seven game winning streak, and with playmakers on both sides of the ball, Auburn certainly should feel like they could win this pseudo-play in game.
To beat Alabama, they'll need to play their best offensive and defensive game of the year. And it'll be on Gus Malzahn, Nick Marshal, and Robenson Therezie to guide this team to a victory over the mighty and senior-laden Crimson Tide.