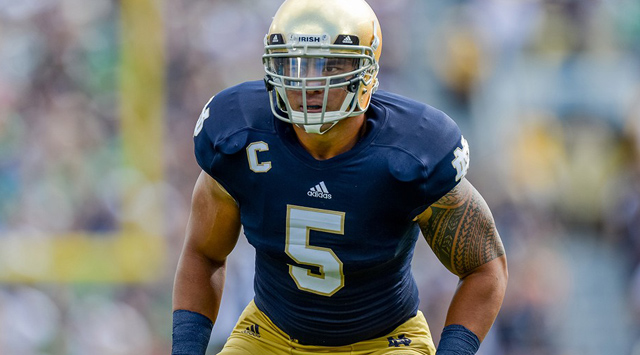 "They want to be able to trust their player. You don't want to invest in somebody that you can't trust."
Manti Te'o expressed that at the Combine's press conference after meeting with just a few teams. Being a successful professional in any field takes focus, maturity, and the ability to interact with fellow co-workers. While the NFL is a more physically demanding job than just about every job in America, employers still depend on each player to be able to handle himself in this pro setting. And most of that dependency is reliant on trust.
Do NFL teams feel they can trust Manti Te'o to be a successful professional, to progress off the field as well as on it, to be able to be a leader of their huddle, locker room, and franchise?
The answer isn't cut and dry. And that potential indecision by teams is what will make things more difficult than Te'o imagined to find his NFL employer.
NFL teams need to trust that their players can handle an NFL locker room, that players can handle off-the-field issues without it affecting their play, that a minor issue inside or outside the locker room won't snowball into a major impact on the player's performance.
Take, for example, Te'o's comments about the Combine, mostly why he struggled in the 40 yard dash.
"I was running near a 4.6, a 4.5. Today was just a long, long day." Te'o called the Combine a "very exhausting process," explaining that he got to bed late and got up early, with roughly four hours of sleep per night.
–Per ProFootballTalk.com
While the stress of the Combine is what makes the multi-day interview so difficult for these players, it's important to realize that those quotes lean towards being excuses than justified reasoning.
Keep in mind that nearly every top prospect was forced to deal with double digit interviews, all lasting exactly 15 minutes, during the Combine week. Te'o himself even said that the embarrassment factor has worn off, so the stress of talking about his past shouldn't have been a concern.
Te'o is represented by CAA, arguably the top agency in the NFL and the most equip to handle the pre-draft process. If Te'o struggled with "pressure" and wasn't 100% mentally, it's most likely not due to the team he had to prepare him for the Combine's events.
If Te'o is forgiven for poor Combine numbers, then we should be let every other top prospect who struggled slide (Johnthan Banks and Damontre Moore) as well as being overly impressed with the top prospects who did succeed (Ezekiel Ansah and Dee Milliner). But he shouldn't be forgiven.
And this isn't the only experience of Te'o making excuses. He's seemed to brush off much of his "girlfriend hoax" story that is still receiving national headlines. He takes little responsibility for his mistakes and the negative implications of what it did to those around him, seemingly chalking it up to nativity alone.
According to those I've spoken with, multiple teams in the backend of the first round have serious reservations about Manti Te'o. They realize he's not a physical specimen on the field. They realize his lack of elite athletic upside. But it's his mental make-up is what pushes them down their board.
Teams' echo my thoughts about his Combine answers, comments to the media, and poor numbers during workouts. Team's wonder if they can trust him to adapt to a professional locker room, where he'll face backlash, pressure of being a high draft pick, pressure to be a leader, and to handle the scrutiny that will follow him for the early part of his career. Is he strong enough mentally to handle the NFL game? Or does he have a soft personality that needs to be coddled and taken along slowly (something NFL teams' WON'T want to do)?
As a leader by example and not vocally, his ability as a leader may be drastically limited at the pro-level if he can't adapt his college play as a uniquely instinctive linebacker to the pro game quickly. Teammates won't respond to Te'o as a leader if he can't play at a high level, something that's not a lock to occur based on where he gets drafted and his limited skill set.
In the NFL war room, much of who gets picked where is about how much a scout, a coach, or an executive wants each player. With scouts getting fired each year for "banging the table" and putting their careers on the line for a high round draft pick, it may be tough for a scout to attach their reputation on a prospect like Te'o who isn't a sure-thing mentally. Most likely, Te'o ends up on a team that has a GM who's comfortable with his job security and feels strongly about Te'o himself.
Where might that team be? The late first round isn't out of the question, but many teams in that area are ones that value character and mental make-up, and I know of two who have serious reservations about Te'o's long term prognosis as a NFL professional. If he does fall out of the 1st round, team's like the Raiders or Jets could pounce on the opportunity at getting Te'o early in round two. It's highly unlikely he falls past the Steelers pick in the 2nd round if he does begin to drop.
It only takes one team to feel that Te'o can handle the NFL lifestyle, is athletic enough to be an impact NFL starter, and is worthy of a high draft pick. While it seems unreasonable to think of the Heisman runner-up won't be taken in the Top 32 picks, consider this: If you were an NFL scout. Would you stake your career on Manti Te'o as a 1st round pick? As a player who should be one of the cornerstones of your franchise, your huddle, and your locker room?
I know I wouldn't. But it'll be fascinating to see which team takes that gamble.