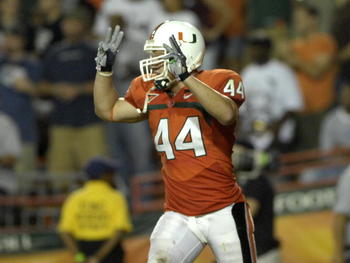 Day two was a bit less hectic than day one, with only a handful of trades and outside of a few guys falling lower than expected and a few shockingly high picked players, things went pretty much according to plan.
Here are the top ten (and 300 plus) best players on the board still as the final day of the 2011 NFL Draft approaches.
1. Colin McCarthy, OLB, Miami (FL)
An under rated athlete from Miami, he's falling because of some numerous and major health concerns. Still, it's rare to find a guy who can finish tackles, play in coverage, read and diagnose the play, and understand the defense well enough to be a director and a leader. McCarthy, if healthy, could be a 2nd round value for some team in the 4th or 5th round. Anything after that, and the medical red flags are greater than I believe.
2. Jordan Todman, RB, UConn
One of the better rushers in the draft because of his power for his size, his explosiveness and power through the hole, and his under rated speed in the open field. However, Todman has a lot of carries under his belt, only average size, and doesn't make a lot of moves in the open field. Still, he could be outstanding in a zone blocking based offense, or as a 8-10 carry a game rotational back for a team on day three.
3. Christian Ballard, DT, Iowa
At one point thought of as a fringe first rounder, Ballard falls to here because of the shear depth at defensive end and defensive tackle as well as a positive test for marijuana at the NFL Combine. A mix of those things could push him into the middle of day three, but he has the talent and size to be either a long 3-technique or a 3-4 defensive end, and could be a steal if he doesn't let drugs prevent him from being successful.
4. Greg Jones, ILB, Michigan State
Falls a bit because of a drop off in production as a senior and a lack of top notch athleticism, some teams likely will be coveting Jones early on day three because of his tackle finishing, coverage ability, and play diagnoses. A Cover-2 team would be wise to snatch him up as a potential Lance Briggs type impact maker, but he could fit into almost any system.

5. Clint Boling, OG, Georgia
One of my favorite prospects, Boling has the ability to be a starter at both right guard and right tackle at the NFL level. He has the size and body built to fit into a power run offense, and uses his upper body well to keep speed rushers at bay. Not a great athlete and not an overly impressive bender or mover in space, Boling seems like he could stay on the right side and be a serviceable blocker for seven to ten years.
6. Rashad Carmichael, CB, Virginia Tech
An instinctive, heady cornerback, he's not a fit in every system, but like Asante Samuel, could be elite in the right now. Finds the ball well, tracks it in the air, and takes good angles with the receiver. Bigger receivers give him trouble in the short area, but he can stay with them and make a play on the ball down the field, regardless of their size.
7. Sam Acho, OLB, Texas
Smart, easy to root for guy who may have some question marks as far as if he can be a 3-4 outside linebacker, he may be all that's left for teams still searching for an answer off the edge. Acho is very coachable out of Texas and extremely high character, but lacks the ability in space and the great athleticism that would have pushed him into round two or three.
8. Kendric Burney, CB, North Carolina
On non-Cover 2 team's boards, he's probably a fringe draft guy. But for teams like the Bucs, Lions, Steelers, and Bears who all value physical, at the line of scrimmage cornerbacks, Burney has to be high on their board going into day three. He's aggressive in getting to the ball, isn't afraid to come up in run support, can deliver a hit on the receiver or runner, and has good short area ball skills.
9. Jason Pinkston, OT, Pittsburgh
If Pinkston were a bit taller (6'3) and had longer arms, he may be one of the top three or four best offensive tackles in this draft class. Pinkston moves well, is a technician as both a pass and run blocker, has controlled every type of rusher while in college, and is a ready to go starter at right tackle in the right system. Teams are looking at him at guard as well, so that added value could make him a 4th rounder.
10. Jalil Brown, CB, Colorado
There wasn't just one good defensive player on that Colorado team, and first round pick for the Ravens Jimmy Smith wasn't even far and away the best prospect in his own secondary in our eyes. Jalil Brown is a physical, well built cornerback who's not afraid to come up in the run game and can hang in short coverage. He could be highly sought after come early day three as a cornerback who can come in and play early.
| | | | | | | |
| --- | --- | --- | --- | --- | --- | --- |
| | | Name | | Pos | | College |
| 1 | . | Colin McCarthy | - | OLB | - | Miami (FL) |
| 2 | . | Jordan Todman | - | RB | - | Uconn |
| 3 | . | Christian Ballard | - | DT | - | Iowa |
| 4 | . | Greg Jones | - | ILB | - | Michigan State |
| 5 | . | Clint Boling | - | OG | - | Georgia |
| 6 | . | Rashard Carmichael | - | CB | - | Virginia Tech |
| 7 | . | Sam Acho | - | DE | - | Texas |
| 8 | . | Kendric Burney | - | CB | - | North Carolina |
| 9 | . | Jason Pinkston | - | OT | - | Pittsburgh |
| 10 | . | Jalil Brown | - | CB | - | Colorado |
| 11 | . | Derrick Locke | - | RB | - | Kentucky |
| 12 | . | Casey Matthews | - | OLB | - | Oregon |
| 13 | . | Luke Stocker | - | TE | - | Tennessee |
| 14 | . | KJ Wright | - | OLB | - | Mississippi State |
| 15 | . | Quan Sturdivant | - | ILB | - | North Carolina |
| 16 | . | Justin Rogers | - | CB | - | Richmond |
| 17 | . | Ahmad Black | - | S | - | Florida |
| 18 | . | Martin Parker | - | DT | - | Richmond |
| 19 | . | Greg Romeus | - | DE | - | Pittsburgh |
| 20 | . | Brandon Burton | - | CB | - | Utah |
| 21 | . | Taiwan Jones | - | RB | - | Eastern Washington |
| 22 | . | Lawrence Wilson | - | OLB | - | UConn |
| 23 | . | Davon House | - | CB | - | New Mexico State |
| 24 | . | DeAndre McDaniel | - | S | - | Clemson |
| 25 | . | Greg McElroy | - | QB | - | Alabama |
| 26 | . | Stanley Havilli | - | FB | - | USC |
| 27 | . | Demarcus Love | - | OT | - | Arkansas |
| 28 | . | Brandon Fusco | - | C | - | Slippery Rock |
| 29 | . | Mario Harvey | - | OLB | - | Marshall |
| 30 | . | DJ Williams | - | TE | - | Arkansas |
| 31 | . | Jamie Harper | - | RB | - | Clemson |
| 32 | . | Markell Carter | - | DE | - | Central Arkansas |
| 33 | . | Deunta Williams | - | S | - | North Carolina |
| 34 | . | David Mims | - | OT | - | Virginia Union |
| 35 | . | Kendall Hunter | - | RB | - | Oklahoma State |
| 36 | . | Tandon Doss | - | WR | - | Indiana |
| 37 | . | Marcus Cannon | - | OG | - | TCU |
| 38 | . | Armon Binns | - | WR | - | Cincinnati |
| 39 | . | Robert Sands | - | S | - | West Virginia |
| 40 | . | Mark Herzlich | - | OLB | - | Boston College |
| 41 | . | Jake Kirkpatrick | - | C | - | TCU |
| 42 | . | Jeremy Kerley | - | WR | - | TCU |
| 43 | . | Korey Lindsay-Woods | - | CB | - | Southern Illinois |
| 44 | . | Jeron Johnson | - | S | - | Boise State |
| 45 | . | Terrence Tolliver | - | WR | - | LSU |
| 46 | . | Cedric Thornton | - | DT | - | Southern Arkansas |
| 47 | . | Pat Devlin | - | QB | - | Delaware |
| 48 | . | Dwayne Harris | - | WR | - | East Carolina |
| 49 | . | Jeremy Beal | - | DE | - | Oklahoma |
| 50 | . | Quinton Carter | - | S | - | Oklahoma |
| 51 | . | Kris O'Dowd | - | C | - | USC |
| 52 | . | Jarriel King | - | OG | - | South Carolina |
| 53 | . | Chris Carter | - | OLB | - | Fresno State |
| 54 | . | Lester Jean | - | WR | - | Florida Atlantic |
| 55 | . | James Brewer | - | OT | - | Indiana |
| 56 | . | Dion Lewis | - | RB | - | Pittsburgh |
| 57 | . | Chris Rucker | - | CB | - | Michigan State |
| 58 | . | Joe Lefeged | - | S | - | Rutgers |
| 59 | . | Da'Rel Scott | - | RB | - | Maryland |
| 60 | . | Virgil Green | - | TE | - | Nevada |
| 61 | . | Mark Legree | - | S | - | Appalachian State |
| 62 | . | Roy Helu Jr. | - | RB | - | Nebraska |
| 63 | . | Josh Bynes | - | ILB | - | Auburn |
| 64 | . | Julius Thomas | - | TE | - | Portland State |
| 65 | . | Chris Hairston | - | OT | - | Clemson |
| 66 | . | Eric McBride | - | ILB | - | Richmond |
| 67 | . | Allen Bradford | - | RB | - | USC |
| 68 | . | Colin Baxter | - | C | - | Arizona |
| 69 | . | Mike Mohammed | - | ILB | - | California |
| 70 | . | Greg Lloyd | - | DE | - | UConn |
| 71 | . | Bilal Powell | - | RB | - | Louisville |
| 72 | . | Ricky Stanzi | - | QB | - | Iowa |
| 73 | . | Owen Marecic | - | FB | - | Stanford |
| 74 | . | Greg Salas | - | WR | - | Hawaii |
| 75 | . | Chimdi Checkwa | - | CB | - | Ohio State |
| 76 | . | Bruce Miller | - | DE | - | Central Florida |
| 77 | . | Denarius Moore | - | WR | - | Tennessee |
| 78 | . | Pernell McPhee | - | DE | - | Mississippi State |
| 79 | . | Ryan Jones | - | CB | - | NW Missouri State |
| 80 | . | Kevin Hughes | - | OG | - | SE Louisiana State |
| 81 | . | Darren Evans | - | RB | - | Virginia Tech |
| 82 | . | Lee Smith | - | TE | - | Marshall |
| 83 | . | Ross Homan | - | OLB | - | Ohio State |
| 84 | . | Davonte Shannon | - | S | - | Buffalo |
| 85 | . | Doug Hogue | - | OLB | - | Syracuse |
| 86 | . | Scott Lustrus | - | ILB | - | UConn |
| 87 | . | Jacquizz Rodgers | - | RB | - | Oregon State |
| 88 | . | Ronald Johnson | - | WR | - | USC |
| 89 | . | Jerrell Powe | - | DT | - | Ole Miss |
| 90 | . | Cortez Allen | - | CB | - | Citadel |
| 91 | . | Davon Morgan | - | S | - | Virginia Tech |
| 92 | . | Josh Portis | - | QB | - | California (PA) |
| 93 | . | Courtney Smith | - | WR | - | South Alabama |
| 94 | . | Daniel Kilgore | - | OG | - | Appalachian State |
| 95 | . | DJ Smith | - | OLB | - | Appalachian State |
| 96 | . | Anthony Gaitor | - | CB | - | Florida International |
| 97 | . | Tyler Sash | - | S | - | Iowa |
| 98 | . | ZaVious Robbins | - | WR | - | Hardin-Simmons |
| 99 | . | TJ Yates | - | QB | - | North Carolina |
| 100 | . | Cecil Shorts | - | WR | - | Mount Union |
| 101 | . | Patrick DiMarco | - | FB | - | South Carolina |
| 102 | . | Lee Ziemba | - | OG | - | Auburn |
| 103 | . | Derrell Smith | - | ILB | - | Syracuse |
| 104 | . | Brian Lainhart | - | S | - | Kent State |
| 105 | . | Josh Thomas | - | CB | - | Buffalo |
| 106 | . | Stephen Schilling | - | OG | - | Michigan |
| 107 | . | Pierre Allen | - | DE | - | Nebraska |
| 108 | . | Chris White | - | ILB | - | Mississippi State |
| 109 | . | Niles Paul | - | WR | - | Nebraska |
| 110 | . | DeQuin Evans | - | DE | - | Kentucky |
| 111 | . | Chykie Brown | - | CB | - | Texas |
| 112 | . | Andrew Lewis | - | DT | - | Syracuse |
| 113 | . | DeAndre Brown | - | WR | - | Southern Miss |
| 114 | . | D'Aundre Reed | - | DE | - | Arizona |
| 115 | . | Jabara Williams | - | OLB | - | Stephen F. Austin |
| 116 | . | Graig Cooper | - | RB | - | Miami (FL) |
| 117 | . | Tim Barnes | - | C | - | Missouri |
| 118 | . | Lawrence Guy | - | DT | - | Arizona State |
| 119 | . | Kyle Hix | - | OT | - | Texas |
| 120 | . | Ian Williams | - | DT | - | Notre Dame |
| 121 | . | Steven Friday | - | DE | - | Virginia Tech |
| 122 | . | Devon Torrence | - | CB | - | Ohio State |
| 123 | . | Kendall Smith | - | ILB | - | Florida state |
| 124 | . | Cameron Bradfield | - | OT | - | Grand Valley State |
| 125 | . | Daniel Allen | - | DE | - | Southern Conn. St. |
| 126 | . | Adam Froman | - | QB | - | Louisville |
| 127 | . | Darvin Adams | - | WR | - | Auburn |
| 128 | . | Mike McNeil | - | TE | - | Nebraska |
| 129 | . | Matt Murphy | - | OG | - | UNLV |
| 130 | . | Derrick Newton | - | OT | - | Arkansas State |
| 131 | . | Chad Spann | - | RB | - | North Illinois |
| 132 | . | Orie Lemon | - | OLB | - | Oklahoma State |
| 133 | . | Ray Dominguez | - | OT | - | Arkansas |
| 134 | . | Owen Spencer | - | WR | - | NC State |
| 135 | . | Marquis Kirkland | - | ILB | - | Villanova |
| 136 | . | Jason Kelce | - | OG | - | Cincinnati |
| 137 | . | Brandon Bair | - | DT | - | Oregon |
| 138 | . | Mike Hartline | - | QB | - | Kentucky |
| 139 | . | Henry Hynopski | - | FB | - | Pittsburgh |
| 140 | . | Jeff Maehl | - | WR | - | Oregon |
| 141 | . | Jerrard Tarrant | - | S | - | Georgia Tech |
| 142 | . | Nate Bussey | - | OLB | - | Louisville |
| 143 | . | Da'Norris Searcy | - | S | - | North Carolina |
| 144 | . | John Graves | - | DT | - | Virginia Tech |
| 145 | . | Ricardo Lockette | - | WR | - | Fort Valley State |
| 146 | . | Ben Chappell | - | QB | - | Indiana |
| 147 | . | Charlie Gantt | - | TE | - | Michigan State |
| 148 | . | JC Brignone | - | C | - | Mississippi State |
| 149 | . | Elisha Joseph | - | DT | - | Temple |
| 150 | . | Stephen Skelton | - | TE | - | Fordham |
| 151 | . | Eric Gordon | - | OLB | - | Michigan State |
| 152 | . | Eric Hagg | - | S | - | Nebraska |
| 153 | . | Chris Neild | - | DT | - | West Virginia |
| 154 | . | Shiloh Keo | - | S | - | Idaho |
| 155 | . | Brian Duncan | - | ILB | - | Texas Tech |
| 156 | . | Shaun Chappas | - | FB | - | Georgia |
| 157 | . | Ugo Chinesa | - | DE | - | Oklahoma State |
| 158 | . | Will Hill | - | S | - | Florida |
| 159 | . | Brian Rolle | - | OLB | - | Ohio State |
| 160 | . | JT Thomas | - | OLB | - | West Virginia |
| 161 | . | Karl Klug | - | DE | - | Iowa |
| 162 | . | Donald Buckram | - | RB | - | UTEP |
| 163 | . | Schuylar Oordt | - | TE | - | Northern Iowa |
| 164 | . | Adam Grant | - | OT | - | Arizona |
| 165 | . | Alex Linnenhol | - | C | - | Oregon State |
| 166 | . | Anthony Bratton | - | S | - | Delaware |
| 167 | . | Alex Wujiciak | - | ILB | - | Maryland |
| 168 | . | Bryant Browning | - | OG | - | Ohio State |
| 169 | . | Zane Taylor | - | C | - | Utah |
| 170 | . | Kendell Lockett | - | DE | - | Ole Miss |
| 171 | . | Niles Brinkley | - | S | - | Wisconsin |
| 172 | . | Ricky Elmore | - | DE | - | Arizona |
| 173 | . | David Arkin | - | OG | - | Missouri State |
| 174 | . | Michael Mogan | - | OLB | - | USC |
| 175 | . | Dane Sanzenbacher | - | WR | - | Ohio State |
| 176 | . | Charles Clay | - | FB | - | Tulsa |
| 177 | . | Johnny White | - | RB | - | North Carl |
| 178 | . | Lucas Patterson | - | DT | - | Texas A&M |
| 179 | . | Jimmy Young | - | WR | - | TCU |
| 180 | . | Akeem Dent | - | ILB | - | Georgia |
| 181 | . | Aldrick Robinson | - | WR | - | SMU |
| 182 | . | Adrian Taylor | - | DT | - | Oklahoma |
| 183 | . | Carl Johnson | - | OG | - | Florida |
| 184 | . | Mario Fanin | - | RB | - | Auburn |
| 185 | . | Tyrod Taylor | - | QB | - | Virginia Tech |
| 186 | . | Stephen Burton | - | WR | - | West Texas A&M |
| 187 | . | Damien Berry | - | RB | - | Miami (FL) |
| 188 | . | Scooter Berry | - | DT | - | West Virginia |
| 189 | . | Anthony Allen | - | RB | - | Georgia Tech |
| 190 | . | Evan Royster | - | RB | - | Penn State |
| 191 | . | Michael Morgan | - | OLB | - | USC |
| 192 | . | Terrell Zachary | - | WR | - | Auburn |
| 193 | . | Delone Carter | - | RB | - | Syracuse |
| 194 | . | Ricky Lumpkin | - | DT | - | Kentucky |
| 195 | . | Kevin Kowalski | - | C | - | Toledo |
| 196 | . | Frank Kearse | - | DT | - | Alabama A&M |
| 197 | . | Markus White | - | DE | - | Florida State |
| 198 | . | Brandyn Thompson | - | CB | - | Boise State |
| 199 | . | Mario Butler | - | CB | - | Georgia |
| 200 | . | Justin Winters | - | OLB | - | Buffalo |
| 201 | . | Justin Boren | - | OG | - | Ohio State |
| 202 | . | Vance Cuff | - | CB | - | Georgia |
| 203 | . | Ryan Winterswyk | - | DE | - | Boise State |
| 204 | . | Buster Skrine | - | CB | - | Chattanooga |
| 205 | . | Brandon Peguese | - | OLB | - | Hampton |
| 206 | . | Odrick Ray | - | DT | - | Tulsa |
| 207 | . | Preston Dial | - | TE | - | Alabama |
| 208 | . | Alan Pelc | - | OT | - | North Carolina |
| 209 | . | Scotty McKnight | - | WR | - | Colorado |
| 210 | . | Jon Freeney | - | DE | - | Rutgers |
| 211 | . | Allen Reisner | - | TE | - | Iowa |
| 212 | . | Brandon Hogan | - | CB | - | West Virginia |
| 213 | . | Scott Tolzien | - | QB | - | Wisconsin |
| 214 | . | Lawrence Marsh | - | DT | - | Florida |
| 215 | . | Jacob Sims | - | OT | - | South Florida |
| 216 | . | Zack Hurd | - | OG | - | UConn |
| 217 | . | Zach Pianalto | - | TE | - | North Carolina |
| 218 | . | Soeren Wendland | - | OT | - | Liberty |
| 219 | . | Kyle Miller | - | TE | - | Mount Union |
| 220 | . | Mark Dell | - | WR | - | Michigan State |
| 221 | . | Detron Lewis | - | WR | - | Texas Tech |
| 222 | . | Shaun Draughn | - | RB | - | North Carolina |
| 223 | . | Thomas Claiborn | - | OG | - | Boston College |
| 224 | . | Adrian Moten | - | OLB | - | Maryland |
| 225 | . | Jay Valai | - | S | - | Wisconsin |
| 226 | . | Brandon Bing | - | CB | - | Rutgers |
| 227 | . | Derrelll Johnson-Koulianos | - | WR | - | Iowa |
| 228 | . | Tori Gurley | - | WR | - | South Carolina |
| 229 | . | Andre Holmes | - | WR | - | Hampton |
| 230 | . | Jeff Van Camp | - | QB | - | Florida Atlantic |
| 231 | . | Yaky Ibia | - | DT | - | Towson |
| 232 | . | Anthony Walters | - | CB | - | Delaware |
| 233 | . | Ben Thayer | - | TE | - | Eastern Michigan |
| 234 | . | Ryan Pugh | - | C | - | Auburn |
| 235 | . | Ollie Ogbu | - | DT | - | Penn State |
| 236 | . | Armon Robinson | - | WR | - | Miami (OH) |
| 237 | . | Angus Quigley | - | RB | - | Kansas |
| 238 | . | Jerrod Johnson | - | QB | - | Texas A&M |
| 239 | . | Corey O'Daniel | - | OT | - | Gardner-Webb |
| 240 | . | Zac Etheridge | - | S | - | Auburn |
| 241 | . | Colby Whitlock | - | DT | - | Texas Tech |
| 242 | . | Noel Devine | - | RB | - | West Virginia |
| 243 | . | Weslye Sanders | - | TE | - | South Carolina |
| 244 | . | Jai Eugene | - | S | - | LSU |
| 245 | . | Nathan Enderle | - | QB | - | Idaho |
| 246 | . | Pat Lazear | - | ILB | - | West Virginia |
| 247 | . | Baron Batch | - | RB | - | Texas Tech |
| 248 | . | Tysonn Poots | - | WR | - | Southern Utah |
| 249 | . | Taylor Potts | - | QB | - | Texas Tech |
| 250 | . | Demarco Sampson | - | WR | - | San Diego State |
| 251 | . | Stafford Gatling | - | DE | - | Ohio |
| 252 | . | Lawon Scott | - | DE | - | Ole Miss |
| 253 | . | Kamar Aiken | - | WR | - | UCF |
| 254 | . | Ryan Whalen | - | WR | - | Stanford |
| 255 | . | Nick Claytor | - | OT | - | Georgia Tech |
| 256 | . | Thomas Weaver | - | DT | - | Villanova |
| 257 | . | Kris Adams | - | WR | - | Auburn |
| 258 | . | AJ Jones | - | OLB | - | Florida |
| 259 | . | Shaky Smithson | - | WR | - | Utah |
| 260 | . | Matt Asiata | - | RB | - | Utah |
| 261 | . | Chris Walker | - | DE | - | Tennessee |
| 262 | . | Quinten Davie | - | OLB | - | Northwestern |
| 263 | . | Ryan Bartholomew | - | C | - | Syracuse |
| 264 | . | Mike Person | - | OT | - | Montana State |
| 265 | . | Chris Matthews | - | WR | - | Kentucky |
| 266 | . | Johnny Cuolreath | - | OT | - | South Carolina St. |
| 267 | . | Charlie Noonan | - | DT | - | Rutgers |
| 268 | . | Kris Durham | - | WR | - | Georgia |
| 269 | . | Richard Gordon | - | TE | - | Miami (FL) |
| 270 | . | Theo Sherman | - | OG | - | James Madison |
| 271 | . | David Carter | - | DE | - | UCLA |
| 272 | . | Cobrani Mixon | - | OLB | - | Kent State |
| 273 | . | Terrence McCoy | - | WR | - | Texas A&M |
| 274 | . | Dreu Young | - | TE | - | NC State |
| 275 | . | Derek Hall | - | OT | - | Stanford |
| 276 | . | Nick Reveiz | - | OLB | - | Tennessee |
| 277 | . | Alex Frye | - | CB | - | Wake Forest |
| 278 | . | Ted Laurent | - | DT | - | Ole Miss |
| 279 | . | Mike Cannon | - | OG | - | New Mexico |
| 280 | . | Armondo Allen | - | RB | - | Notre Dame |
| 281 | . | OJ Murdock | - | WR | - | Fort Hays State |
| 282 | . | Jabari Fletcher | - | OLB | - | Appalachian State |
| 283 | . | Alex Albright | - | DE | - | Boston College |
| 284 | . | Darrin Wells | - | CB | - | Notre Dame |
| 285 | . | Tavarious Polo | - | CB | - | Florida Atlantic |
| 286 | . | Dwight Dasher | - | WR | - | Middle Tenn. State |
| 287 | . | Brandon Saine | - | RB | - | Ohio State |
| 288 | . | Christian Anthony | - | DE | - | Grambling State |
| 289 | . | John Griffin | - | RB | - | Massachusettes |
| 290 | . | Courtney Harris | - | DE | - | North Alabama |
| 291 | . | Dorian Wood | - | OLB | - | Kent State |
| 292 | . | CJ Gable | - | RB | - | USC |
| 293 | . | Jamere Holland | - | WR | - | Lindenwood |
| 294 | . | Cameron Graham | - | TE | - | Louisville |
| 295 | . | Mike Blanc | - | DT | - | Auburn |
| 296 | . | Dontae Davis | - | WR | - | Hampton |
| 297 | . | Lametrius Davis | - | CB | - | Hawaii |
| 298 | . | James Cleveland | - | WR | - | Houston |
| 299 | . | Jock Sanders | - | WR | - | West Virginia |
| 300 | . | Terrence Thomas | - | OLB | - | Villanova |
| 301 | . | Julius Wilkerson | - | OLB | - | South Carolina St. |
| 302 | . | Greg Ellingston | - | WR | - | Florida International |
| 303 | | Jeremiah Hunter | - | OLB | - | Iowa |
| 304 | | Eric Hedin | - | DE | - | Linfield |
| 305 | | Ron Parker | - | S | - | Newberry |
| 306 | | Jordan Cameron | - | TE | - | USC |