It is important to first note that the reason for these players being over/under rated is mostly because of the media and other draft outlets. I feel that these players all have NFL potential, but for whatever reason are thought of way too highly or lowly.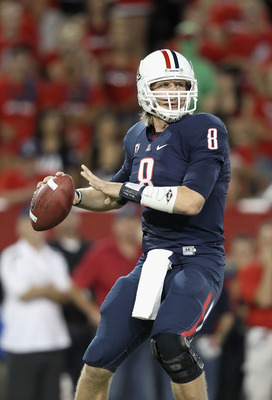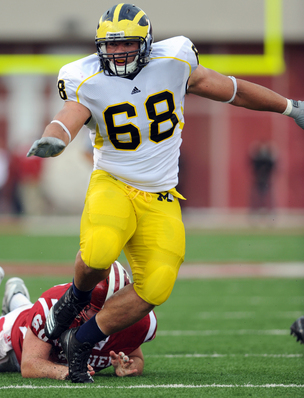 Over Rated
Under Rated
QB
RB
RB
WR
WR
TE
OT
OG
C
DT
DT
DE
DE
OLB
ILB
CB
S
Landry Jones, Oklahoma*
LaMichael James, Oregon*
Isaiah Pead, Cincinnati
Joe Adams, Arkansas
Ryan Broyles, Oklahoma
Michael Egnew, Missouri
Mike Adams, Ohio State
Nate Potter, Boise State
William Vlachos, Alabama
Josh Chapman, Alabama
Billy Winn, Boise State
Whitney Mercilus, Illinois*
Cam Johnson, Virginia
Travis Lewis, Oklahoma
Manti Te'o, Notre Dame
Jayron Hosley, Virginia Tech*
Markell Martin, Oklahoma St.
QB
RB
RB
WR
WR
TE
OT
OG
C
DT
DT
DE
DE
OLB
ILB
CB
S
Nick Foles, Arizona
Bernard Pierce, Temple*
Terrence Gannaway, Baylor
Jarius Wright, Arkansas
Jordan White, W. Michigan
LaDarius Green, UL-Lafayette
Matt McCants, UAB
Brandon Brooks, Miami OH
Moe Petrus, UConn
Mike Martin, Michigan
DaJohn Harris, USC
Jonathan Massaquoi, Troy*
Bruce Irvin, West Virginia
Tyler Nielson, Iowa
Mychal Kendricks, California
Janoris Jenkins, N. Alabama
Brandon Taylor, LSU
Over/Under Rated NOTES:
–Landry Jones is likely a Top 10 pick because of his size, arm, accuracy combination. But he struggles far too much outside the pocket and under pressure, along with other concerns, for me to put him as a Top 15 pick, and I question if he's worth the risk as a Top 10 draft pick
–Nick Foles isn't an elite quarterback and really needs work on touch the short to mid area to pick apart zones, but if he can find an NFL offense similar to his west coast, timing offense at Arizona, he has the quick release and heady pocket play to be a fringe NFL starter.
–Joe Adams and Jarius Wright of Arkansas seem to both be moving up draft boards. While Adams seems to be the more explosive player, especially in his return ability, I don't see him developing into much more than that at the NFL level. Wright has a chance to be a very productive slot receiver, as he finds gaps in the defense well, is very sudden and explosive in cuts, and is an all around more reliable receiver at the NFL level.
-Finding a left tackle in the NFL is no easy task, and Mike Adams of Ohio State has that potential. But while his kick slide and balance as a pass blocker is impressive, he doesn't bend overly well, struggles as an in-line run blocker, and gets sloppy with hand technique at time. He could be an NFL left tackle or a tough-to-place offensive linemen.
-Mike Brewster and David Molk are the two most well-known center prospects in this year's draft, and both could be Top 50 selections. However, Moe Petrus is a talent himself at center, being a 3-year starter, exploding off the snap well, and getting to the 2nd level with power and balance.
-Mike Martin is an athletic freak, both on the field and in the weight room. His ability to consistently win leverage battles and stay low through his rushes makes him at worst an outstanding rotational defensive tackle, and at best one of the premier defensive tackles in this class.
-Whitney Mercilus, a junior from Illinois, has been quickly rising up draft boards because of his length, raw athleicism, and productivity this season. However, I still question his depth in rush moves and ability to add weight and still keep explosiveness. I'll need to see more, but he could be a workout warrior at the Combine and could quickly become over-drafted in the Top 10-15.
-Bruce Irvin of West Virginia is severely out of position on his current defense, and his 230-240 pound body isn't fit for a 5-technique at the NFL level. Still, his motor and interior rush moves have been displayed this year more than in year's past, and once he gets a chance to be an outside rusher in post-season workouts, he'll quickly shoot up boards.