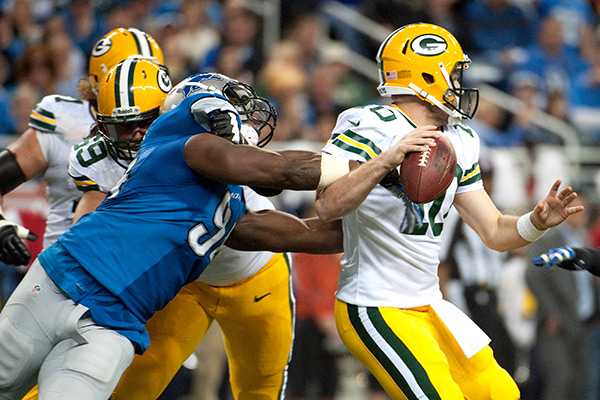 As a college sophomore, Ezekiel Ansah decided to join the BYU football team. Three years and just nine college starts later, the Ghana-born defensive lineman impressed enough to be drafted 5th overall in the 2013 NFL Draft.
Still learning as he goes, the elite athlete continues to surpass expectations based on his football experience, leading all rookies in sacks. And playing alongside Ndamukong Suh and Nick Fairley, Ansah has transformed this inconsistent unit into the most talented defensive front in the NFL.
Here's an excerpt of our pre-draft scouting report said about Ezekiel Ansah out of BYU:
"After starting just nine games in his career, Ansah has a lot of work to do before he can have NFL success, and it's unreasonable to expect gaudy pass rush numbers as a rookie. He wins at this point in his career with natural strength in his lower half and elite body control. Those skill sets allow him to win initially and push blockers off balance along with him to be able to adjust as a rusher and, more NFL-ready, as a run defender. Able to pinch down the line as well as run in pursuit far better than most 270-pound defensive linemen, Ansah's range, pursuit and natural open-field ability is what makes his rawness to the game so difficult to believe.
With his near unlimited upside, it's easy to see why teams in the top 10 will consider Ansah."
Credited with four sacks in his last two games by ProFootballFocus.com, Ansah has started to become more comfortable attacking off the edge and using his tremendous size, strength, and balance to collapse the pocket with success.
Ansah still has plenty of room for development when it comes to the technique at the position, as mastering the fundamentals of the defensive end position takes longer than nine starts in college and one off-season in the NFL. However, as he was able to in college, Ansah continues to maximize his size/strength combo throughout his body to over-power and out-match most of the offensive lineman he faces.
So far this season and especially in the team's destruction of Matt Flynn and the Green Bay Packers, Ansah has focused on staying low, delivering a powerful upfield punch, and utilizing his elite length and lower body force to consistently collapse the pocket, finishing sacks when he does reach the quarterback.
Early in the Lions victory over Green Bay, Ansah and the Lions defense established their ability to win with just four defensive line rushers. In the play below, the Packers lead their fullback in to help protect on 3rd down. Despite that, all four defensive linemen generate pressure off the snap. Ansah (#94 on the near side) bull rushes right through impressive rookie David Bahktiari, staying low as he extends his arms and driving right into Matt Flynn for the first sack of the game.
Along with "letting him free" to attack offensive tackles on the edge, the Lions have been creative in their use of Ansah. With experience as a five-technique in college, Detroit uses Ansah to play inside when they attack with a "wide-9" pass rushing approach. Thanks to his size and activeness laterally, Ansah is able to easily eat up two blockers, setting up space for the defensive ends to counter inside along with opening gaps for blitzers.
In the play below, notice Ansah, lined up at defensive tackle on the near side, take on two blockers and still get upfield, forcing Flynn to stay 7 yards behind the line of scrimmage and give an opening for linebacker Stephen Tulloch to finish a sack on 3rd down.
Ansah has already produced in the NFL, contributing faster than I would have imagined for such a raw prospect out of BYU. His play thus far in his career shows why teams were willing to overlook his limited college snaps and grade him as a Top 10 pick.
He still has a ways to go fundamentally, as his hand use and body positioning still could use development. He's not a finished product, but he's further along than players with his limited experience with the game of football.
Now, the question turns to just how high Ansah's ceiling is. Playing alongside the best defensive tackle duo in the NFL, Ansah won't have pressure to produce each and every week for this Lions defensive line. But he's shown already that he's capable of doing so.