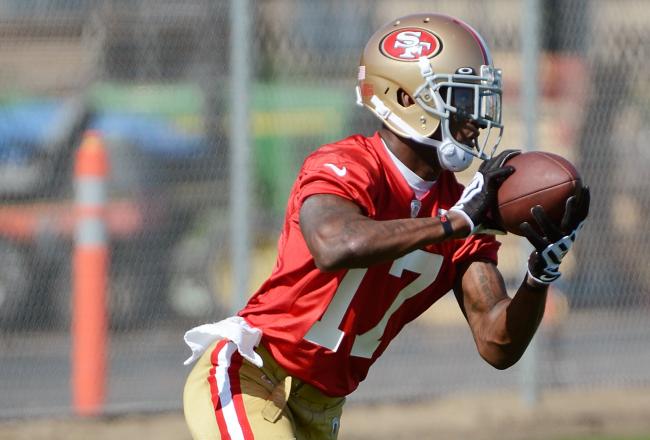 More often than not every team is going to have some sort of drama leading up to training camp. Some of it, like position battles or debates over draft picks, end up playing themselves out on the field.
In other scenarios, teams use training camp to escape drama off the field. For teams like Detroit and Pittsburgh, they'll be looking to put some off season problems behind them and get down to focusing on Xs and Os. In the 49ers case however, they'll be searching for winners of multiple position battles as they gear up for what they hope will be a Super Bowl run.
What storylines will be playing out for the next month for these three teams this summer?
Rookie Watch
Wide receiver A.J. Jenkins wasn't expected to be drafted in the first round, but the 49ers felt strongly enough about him to do just that. Early returns on that investment haven't been too encouraging, however.
Although he's flashed his potential with the occasional nice catch, there's been much larger concerns with his strength. He's constantly been knocked off around by defensive backs, leading to concerns that he won't be able to deal with the league's physical corner backs without first putting in serious time in the weight room.
There aren't as many questions about LaMichael James' talent. The question is how many carries he'll get when he's competing with Frank Gore, Brandon Jacobs, and Kendall Hunter for touches. Will he be able to see the ball enough to make it worth his second round draft position?
Offensive guard Joe Looney is going to have the chance to fill the 49ers biggest void at right guard. If he doesn't win the job, it's quite likely that San Francisco won't get an immediate starter out of this draft class.
The Lions shouldn't have as much trouble finding early impact players in their class. Riley Reiff is almost a lock to start from day one. There will some question as to where he'll play – he's not ready to play left tackle, but he'll be able to play guard or right tackle in 2012.
Wide receiver wasn't a big area of need, but when the Lions had the opportunity to draft one of the most productive receivers in college history, they couldn't pass him up. Ryan Broyles is coming off of an ACL tear, but he's recovering extremely well. He's looking to be Detroit's third receiver. He's got great hands and should benefit from opposing defenses focusing else where.
Cornerback Dwight Bentley may be a third early starter for the Lions. He's already battling with Jacob Lacey for the nickel spot, but he's not expected to settling for that. He's already eyeing the second cornerback position, and there's a good chance he'll win in before the end of the year.
It's a story that gets repeated on an almost yearly basis, but once again the Pittsburgh Steelers put together one of the best draft classes in the league. It all started when guard David DeCastro surprisingly fell the Pittsburgh's slot in the first round. DeCastro will provide an instant upgrade on the offensive line, and should provide a Pro Bowl caliber presence in the interior of their offense for a decade to come.
A riskier addition will have the chance to play alongside DeCastro. Offensive tackle Mike Adams has dealt with several off the field issues, along with questions about his strength and dedication. He has the chance to be a bust, but he and DeCastro could instantly solve the Steelers problems on the offensive line if he plays to his potential.
The offensive line isn't the only area that will improve from this draft. Pittsburgh needed to get younger on the defensive line as well, and they were able to do just that. Nose tackle Alamedu Ta'amu is a tremendous value in the fourth round, and he'll be the replacement for the aging Casey Hampton.
——————–
Top Position Battles
49ers – Kendall Hunter vs. Anthony Dixon vs. Brandon Jacobs vs. LaMichael James (2nd Running Back)
There's no debating that Frank Gore is by far the lead back in San Francisco's offense.
But he's battled tons of injuries and it's clear that the 49ers are looking to reduce his workload. Fortunately for the 'Niners' offense, they'll have plenty of quality running backs for compete for those carries.
Brandon Jacobs has the body and mentality to take toe battering in short yard situations that Gore doesn't need anymore. His role would be similar to Anthony Dixon's which means Dixon is likely to be on the way out. Kendall Hunter and LaMichael James have bring a similar change of pace to the backfield. Will the 49ers be willing to carry 4 running backs on the roster?
Lions – Aaron Berry vs. Jacob Lacey vs. Dwight Bentley (2nd & 3rd Cornerback)
When Detroit added Jacob Lacey and Dwight Bentley, it was assumed the veteran would be battling the rookie for the nickelback role. But after Aaron Berry was arrested for DUI and Bentley started off strong in minicamps, things are beginning to get much more competitive.
Berry will be looking over his shoulder throughout training camp. There are two spots up for grabs, and Bentley seems primed to win at least the nickel back spot. If Lacey has a strong training camp, Berry could get knocked all the way down to fourth on the depth chart.
Steelers – Keenan Lewis vs. Cortez Allen vs. Curtis Brown (2nd & 3rd Cornerback)
Many Steelers fans wanted William Gay out of Pittsburgh, and they've gotten their wish. However, his departure leaves Pittsburgh unsettled at the position. Keenan Lewis was the nickel back a year ago, and moving him up the depth chart would make sense on paper. However, he's been great defending the slot, and it'd be risky to take him out of such a key role.
Cortez Allen has reportedly made great strides during the offseason, and has a legit shot at winning one of the top three corner spots. Don't forget Curtis Brown, either. He's had no experience playing defense at this level, but he brings a playmaking ability to that the Steelers are sorely lacking right now.
——————–
Tumult in Detroit
After a season that flashed both promise and immaturity, the Detroit Lions needed an offseason that was high on discipline and low on distractions. Unfortunately, they've gotten the opposite.
The NFL has been plagued by a rash of arrests over the past couple of weeks, but the Lions were having off field far before that. At last count there were six arrests for Detroit to deal with, including two apiece for Nick Fairley and Mikel Leshoure. Coming off of a season where on field discipline was a common issue for player and coach alike, the off field problems on 2012 is far from what the Lions were hoping for.
Getting into training camp would normally be looked to a somewhat of a refuge from the tumult that's has been the 2012 offseason. But, it doesn't look like the Lions will have much of a break from distractions there either.
The hold out of breakthrough defense end Cliff Avril hasn't gotten headlines like the Drew Brees saga did in New Orleans, but it's significant none the less. He was a dominant pass rushing force in 2011, and although the Lions have a solid interior line they don't have any other edge rushers like Avril. A lengthy hold out would prove very detrimental to their hopes of returning to the playoffs for the second time since 1999.
Avril hasn't said exactly if or when he'd plan on reporting to camp – but reading between the lines it's clear he's not planning on showing up on day one.
It will be just another episode in a series of bumps in the road for Jim Schwartz and company. To be fair, they dealt with the distractions of 2011 well, and reached the playoffs. But they're in one of the toughest divisions in the league, and they can't afford face off with the likes of Green Bay and Chicago and expect to win if they're still playing undisciplined football.
The next month of training camp is going to be crucial for Detroit, perhaps more than anywhere else in the league. They made great acquisitions in the draft, adding to a young roster that's loaded with talent. The raw potential is there. If the team matures in July and August, it could produce great results in November and December. If they don't develop however, they'll run the risk of taking a step backwards.
Will Mike Wallace Play in 2012?
Mike Wallace is one of the league's best deep threats in recent memory. He's also the last of remaining restricted free agents to sign his tender, rendering him a non factor on the field for the Steelers, a team transitioning to a new offense with their sights set on a Super Bowl.
The Wallace story has dominated Pittsburgh's entire offseason. There was drama when they talked to using the franchise tag on him, again when they didn't tag him, and now there is debate as to whether or not the Steelers will be fining him for the days he'll be missing in camp.
The only thing that appears certain at this point is that Pittsburgh fans shouldn't expect to see him when the Steelers hit the field next week. Publicly the organization has said they're optimistic that a long term will be hammered out, privately they can't be so confident. Wallace has been very firm in his demands, and a player of his caliber is without question worth more the $2.7 million his tender would get him.
However, it may be prudent for Wallace to get into camp. A typical training camp wouldn't be too critical for a veteran player. However, the hiring of Todd Haley changes that. With a new playbook and offensive scheme, it's crucial that he gets enough reps to feel comfortable week one.
Without that, he's likely to get off to a slow start and could even get buried behind Pittsburgh other talented playmakers. A sub par year could cost Wallace money in the long run, even if he's one of the league's best play makers.
Historically, the Steelers have been pretty good about paying their young core players fair and long term deals. And it's likely that at some point during camp they'll do the same for Wallace. Until then, Haley will just have to hope Wallace proves to be a quick learner.