Week two started out on an ugly note, as New England outlasted the Jets in what wasn't a particularly enjoyable game. Fear not though, as the rest of the second week of action should be far more fun to watch.
Which match-ups should you keep an eye on? Which rookies could have a breakout performance in week two?
Match-ups to Watch
Miami DE Cam Wake vs Indianapolis RT Gosder Cherilus
As he demonstrated against Cleveland in week one, there aren't many pass rushers more dominate in the NFL right now that Cam Wake. He made one of the games better right tackles, Mitchell Schwartz, look silly on a few plays and ended up with 2.5 sacks on the day. Wake primarily made use of his elite speed to beat the second year OT even though most of the time Schwartz played a technically sound game.
It's tough to always nail down who he'll be matched up against since he moves around the defense so often, but it's a safe bet that he'll see a fair amount of right tackle Gosder Cherilus this weekend as they face off against the Colts. According to Pro Football Focus, Cherilus had a decent game pass blocking in week one, earning a grade of 1.3. He'll need a far better effort against Wake, however. The Colts already plan to use both running backs and tight ends to help Cherilus out. Will that be enough to keep Andrew Luck upright?
St. Louis CB Cortland Finnegan vs Atlanta WRs Julio Jones and Harry Douglas
When St. Louis made their big investment in Cortland Finnegan last season, they knew it wasn't without risk. Finnegan wasn't a young player anymore, and smaller corners don't typically have a very long life span in the league. Still, after a strong 2012 season, a huge dropoff in 2013 wasn't what the Rams expected. However, one week into the season that's what their getting from their top cornerback. He had a brutal outing in week one against Larry Fitzgerald on the outside and Andre Roberts in the slot, and it won't get any easier this week as Julio Jones and Andre Roberts are now on the slate.
After a rough outing that included giving up six catches on seven targets, Finnegan is going to have to prove his worth by at the very least eliminating Roberts when the Falcons are the three wide receiver sets. Regardless of the health of Roddy White, both White and Jones represent perhaps the best 1-2 punch at wide receiver in the leauge, and they're going to require the 100% of the rest of the Rams' secondary. If Finnegan can't contain Roberts, it's going to be a long day for the St. Louis defense.
Oakland QB Terrelle Pryor vs Jacksonville's Defense
Leading perhaps the least-talented roster in the league against one of 2012's hottest teams, not much was expected out of Oakland's Terrelle Pryor last week against the Colts. Pryor certainly exceeded any expectations there may have been for him, and while he didn't end up getting a win his performance certainly was a bright spot for a team that hasn't had too many of those lately.
Thanks in part to a solid offensive game plan, Pryor was able to make good decisions quickly, and more importantly he was able to turn those decisions into positive plays using both his arm and legs. The next step in his development to be to limit the turnoves (he threw two interceptions last week), and of course getting a win. He'll have a great opportunity as he faces off against one of the least-inspiring defenses in the league.
Recap Week One's Top Match-ups
Rookie Watch
Patience is no longer a virtue in the NFL. From coaching changes to draft picks, positive results are expected almost immediately. Even with a position like wide receiver, where players used to be allowed three years to develop, now are written off far early in their careers. Just ask AJ Jenkins.
With that in mind, how will this year's class of first round wide receivers be looking to prove they belong during this week's action?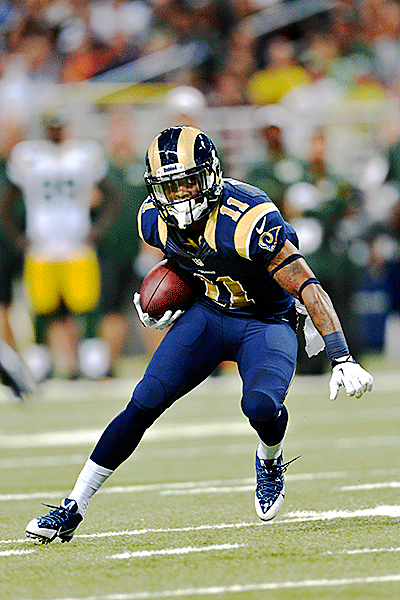 In St. Louis, much talk during the summer centered upon how the Rams would utilize their newest addition to the offense, Tavon Austin. Considering the team made such an investment in him, and his dynamic talents, it was assumed that he'd be used in a variety of fashions. The main goal would just be to get Austin the ball.
The Rams were successful at that- Austin caught six passes, one carry, and one punt return – but he wasn't able to break any big plays like St. Louis had hoped. He'll likely see more chances again this week as he faces off against Atlanta rookie DB Robert Alford in the slot for much of the game on Sunday. Alford didn't have the greatest preseason and there's no doubt that the Rams are aware of this. Sunday could end up being Austin's breakout game.
Austin clearly is a big part of St. Louis' immediate offensive plans, but you cant' say the same for Minnesota's Cordarelle Patterson. The high potential player saw just five snaps in week one, and there's not much reason to expect more in week two. The knock on Patterson heading into the draft was that he was quite raw and was going to need significant time to develop. So far, that scouting report is looking to be dead on. There's no reason to expect Patterson will see much more playing time in week two.
Deandre Hopkins, on the other hand, will likely play a big part in Houston's plans for the second straight week. Hopkins didn't end up racking up many yards on Monday night, but outside of Andre Johnson it was clear that Hopkins was a top target for Matt Schaub. On three of the Texans' scoring drives it was Hopkins who made a big play, be it creating a manageable third down or converting for a first down himself.
Hopkins' task this week will be to prove that the Tennessee defense isn't quite as improved as they appeared to be in week one at Pittsburgh. The Titans' defensive line was dominate, and that meant their secondary wasn't tested too much. Houston's offensive line should fair far better, and that means Hopkins should have a chance against defensive backs that gave up far too many big plays in 2012. The rookie saw plenty of catches last week, and this week he'll likely see those catches turn into big yards.
Fantasy Notes
– DeAngelo Williams is a running back that has long been almost irrelevant in fantasy circles, but that's not the case this week. He's got sole possession of Carolina's back field right now and has a match-up with a Buffalo defense that gave up over 200 yards on the ground last week. Williams should produce for you this week, and you'll have a chance to sell high on him before week three kicks off.
– Cecil Shorts saw 11 targets last week from Blaine Gabbert, who did a bad job of getting him the ball. With Chad Henne under center, expect those targets to still be there, only this time you'd also expect that passes to be more catchable. Shorts should be due for a good game, and hopefully the rest of the offense will perform well enough that Henne remains the starter for the foreseeable future.
–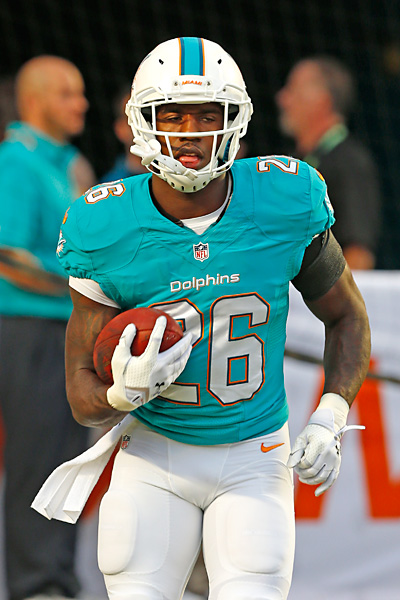 If you drafted Lamar Miller because you had faith in his ability and his distinction of clearly being the best runner on the Dolphins' roster, stick by your guns. The struggles he had in week one were (mostly) not his fault and he's not likely to see a significant drop in playing time yet. Eventually, a player with his talent will start producing, assuming he gets the chance.
– On a similar note, start Eric Decker with confidence this week. His poor showing to open the season was highly out of character, and the targets were still there throughout the game. There are clearly enough passes and points to go around in the Denver offense, and you shouldn't leave that potential on your bench.
– On the other hand, keep Kenny Britt on your bench until further notice. You probably drafted him because you thought he has WR1 potential, and he does. But in an offense that's going to run the ball 2 out of three plays, there just aren't going to be too many targets. To add to that, Jake Locker clearly looks to Nate Washington first and foremost – don't expect Britt to make too much of a fantasy impact in the near future.