The holidays are nearly upon us, and we're entering the most wonderful time of the NFL season as playoff spots are very much up for grabs. Nearly every game this weekend has playoff implications, and that trend is likely to continue for the next several weeks.
Which match ups are going to ultimately decide who makes the playoffs and who's watching from home in a few weeks?
Match ups to Watch
Indianapolis TE Coby Fleener vs Tennessee's Defense
After losing to Jacksonville and then blowing a 17-6 lead against Indianapolis at home, making the playoffs seemed practically impossible for the Tennessee Titans. Thanks to the strangest AFC playoff race in recent memory, however, the Titans still have a shot at earning the last playoff spot. Indianapolis, on the other hand, has looked nothing like the dominating force they were at the beginning of the year since losing Reggie Wayne, and they need a strong performance against a team that should beat to get things back on track.
The key for the Colts in this one will be whether or not Coby Fleener can replicate the success he had two weeks ago against Tennessee. The Titans, who have inexplicably struggled against tight ends for years, threw a variety of different coverages at Fleener throughout their first match up. Bernard Pollard and Zach Brown both were unable to slow him down, and even star cornerback Alterraun Verner couldn't stop Fleener. Michael Griffin is the Titans defender probably best suited for the matchup, but he'll be missing this game due to a suspension.
Fleener hadn't been a focal point of the Colts' offense prior to the week 11 match up, and Tennessee was clearly far more focused on corralling T.Y. Hilton than they were stopping the tight end. That isn't likely to be the game plan again in Indy. Have the Titans figured out how to stop Fleener, or will he again help carry the Colts to victory?
Carolina DE Greg Hardy vs Tampa Bay OT Donald Penn
A couple of months ago, one would have been hard pressed to find anyone that would have believed that Carolina (7 games) and Tampa Bay (3 games) would both be riding winning streaks heading into week 13. That's exactly where they find themselves, however, and it should make for a very interesting NFC South battle. It'll be an especially critical game for Carolina, who will be looking to keep pace in a brutally competitive NFC playoff hunt.
The Panthers' elite pass rush is a huge reason why they've been able to put together such an impressive win streak, but they'll likely be without their best pass rusher, Charles Johnson, in this one. That will put much more pressure on fellow defensive end Greg Hardy to make sure rookie quarterback Mike Glennon isn't allowed any time to get comfortable in this one.
Hardy is quite a formidable pass rusher in his own right, as Pro Football Focus has credited him with 52 total pressures this season. He hasn't gone a game without recording multiple hurries, and he's most certainly going to be looking to keep that streak alive against the Buccaneers.
Tasked with slowing Hardy down will be Donald Penn. Penn isn't elite, but he's also not terrible – PFF ranks Penn as the 35th best pass blocking tackle in the league. An average performance isn't what the Buccaneers are going to be looking for in this one though, and if that's what they get Glennon is going to spend much of the game on his back.
New Orleans OT Charles Brown vs Seattle DE Chris Clemons
There's plenty to like about the Saints offense, but there's also plenty that could be improved upon. Protecting the face of their franchise should be priority number one, but they haven't been able to find an acceptable left tackle for Drew Brees since the departure of Jermon Bushrod. The current attempt at a solution, Charles Brown, has spent several years being groomed for the role but for the role, but to this point the returns haven't been promising. Brees' quick decision making has helped mask Brown's short comings in pass protection to this point, but it's still one of the biggest weaknesses of their attack.
Opposite of Brown this week will be Seattle's Chris Clemons, who to this point still doesn't look to be himself as he tries to bounce back from a torn ACL suffered in 2012. However, although he's not making the impact we're used to seeing from him in the box score, he is making his presence felt on the field. Just last week he forced an interception, and we're beginning to see the speed and explosion from him that we've missed.
Clemons will likely be able to take advantage of Browns' hesitation and inexperience, and when you factor in the crowd noise that Brown will be dealing with it's likely to be a long day for the tackle. Will the Saints be able to overcome that adversity?
Fantasy Notes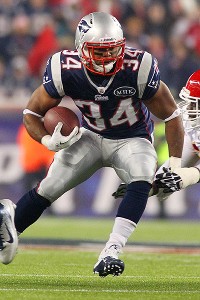 - Those of you who patiently kept Shane Vereen on your roster all season long will likely be rewarded handsomely this weekend. The Patriots have lost faith in the rest of their backs, and they face a terrible run defense in Houston. Vereen is likely going to be the difference maker in many matchups this week.
- CJ Spiller is always going to be a risky play, but if you're in need of a high upside player to potentially win you a playoff berth this weekend, he just may be your guy. Atlanta offers nothing in terms of run defense, and if he's given the carries (and can make it through the game healthy), Spiller should have no problems putting up big numbers.
- Zac Stacy has been a great mid season pick up for many fantasy owners, but he probably should be on your bench this week. Thanks to a concussion his availability is a question mark to say the least, and even if he's able to play he's facing a stout 49ers defense.
- Andy Dalton isn't an every week starter, but it's hard to find a quarterback you wouldn't feel comfortable starting when they're facing the San Diego defense. Nearly every player on the Bengals offense should be a start this weekend.