After an extra 45 minutes or so of a delay, the NFL finally returned last night, and Peyton Manning and company didn't disappoint. His seven touchdown passes made for a memorable opener, but that won't be the only big performance that week one will provide for us.
What key match-ups should you keep an eye on as the season gets underway? Which rookies will see opening day starts with the weight of their new teams on their shoulders?
Match Ups to Watch
Chicago Bears OG Kyle Long vs Cincinnati DT Geno Atkins
Considering both how awful the Chicago offensive line was 2012, as well as how dominate the Bengals' defensive line was last season, it'd be be easy to predict that Cincinnati's defense should have no trouble in slowing down the Bears' offense.
Rookie offensive guard Kyle Long was drafted to help bolster that struggling offensive line, and while he's had an outstanding preseason his first real test may produce some different results. For much of the game, he'll be facing off with perhaps the best defensive tackle in the game, Geno Atkins. That's a tall order for a veteran offensive lineman, much less a rookie making his first start.
Long was far more successful run blocking than pass blocking in the preseason, and he's also a bit taller than an average offensive guard. That spells trouble for a player preparing to go against a player like Atkins, who is a master at using leverage to his favor. Long likely has a great career ahead of him, but Sunday isn't likely to be a day he'll want to remember.
Tennessee's Front Seven vs. Pittsburgh Offensive Line
There's going to be plenty of talk about how Tennessee's retooled offensive line is going to hold up against Pittsburgh's defense, but just as important will be how the Steelers combat a Tennessee defensive front seven that has looked quite good at times during the preseason.
Titans' defensive tackle Jurrell Casey was the most dominate player in Tennessee this summer, and he looks like a player ready for a breakout season. He's got the talent to be one of the better defensive tackles in the game, and he'll provide a great test for both David DeCastro and Ramon Foster.
The game could be won or lost for Tennessee on the edge, however. Offensive tackle has long been an area of weakness for Pittsburgh, and neither Mike Adams not Marcus Gilbert is going to inspire a ton of confidence in Steelers' fans. Titans defensive end Derrick Morgan could have a big game, but even more so keep an eye on linebacker Akeem Ayers. He's set to be a huge part of the pass rush in a Greg Williams' led defense, and there's no better place to begin than Pittsburgh for Ayers.
Cleveland CB Joe Haden vs Miami WR Mike Wallace
Miami's deep threat Mike Wallace made it clear he means business this weekend when he announced that he is "going to have his swag out" when he lines up across from Cleveland's star corner Joe Haden. Those who have followed Wallace's career closely may be a bit cynical when they heard that proclamation, as the last time Wallace faced the Browns he didn't have much swag to speak of. Wallace caught just one pass in that match up, where he was shut down largely by Haden.
It's going to be crucial for Haden to handle Wallace on his own, because the rest of the Browns' secondary is a bit of a question mark. 3Rd year player Buster Skrine won the starting job opposite Haden, but injured his shoulder in practice. His availability is now up and the air, and with only four corners on the roster in the first place, it's not a position Cleveland is deep at. Aside from Haden, the rest of the Browns' corners are going to need plenty of help from their safeties, meaning Haden is going to be on his own for much of the game.
Rookie Watch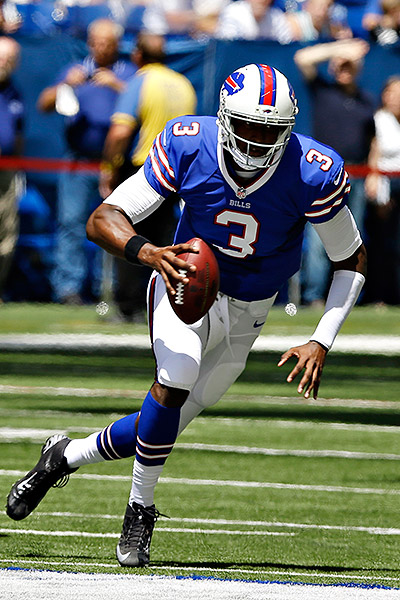 There's no question about it: the era of letting rookie quarterbacks develop on the bench for a season or two is in the rear view mirror. Both EJ Manuel and Geno Smith will be in the spotlight as they make opening day starts for their teams, but other than that the two players aren't in similar situations at all. One is has been put in a scenario that should lead to success, while the other is almost doomed to failure from the start.
You can't have a discussion about EJ Manuel and Geno Smith without mentioning how their teams handled some injury situations early in the season. The Bills clearly had Manuel's long term success in mind. They elected to have his knee operated on sooner than later, forcing him to miss key learning opportunities in the preseason. On the other hand, Smith was rushed back onto the practice field after getting hurt in his first preseason game and hasn't looked to be 100% healthy since.
The Bills have also built an offense that's ready to ease a rookie quarterback into his starting role. CJ Spiller, who will be lining up behind Manuel for the vast majority of offensive snaps, has the potential to be the best running back in the NFL, with the exception of Adrian Peterson. Spiller averaged a whopping 6 yards a carry last season, and he's going to see an even more expanded role in 2013. Having that sort of playmaker at the running back position is going to keep defenses honest in almost every situation, making life significantly easier for a rookie running back.
Smith isn't quite so lucky in New York. The Jets offense is a mess right now. Chris Ivory could be a decent quality starting running back, and is certainly going to see a lot of work. But he's largely untested and there's no guarantee he's going to strike fear into the hearts of opposing defenses. Smith isn't going to have a wealth of receivers to throw to, either. Santonio Holmes is starting the season in a limited role due to injury, and even when he's healthy he's far from reliable. Stephen Hill looked more like a bust than a good option in his rookie year, and behind those two there's not much to speak of on the Jets' depth chart.
What these two rookie quarterbacks do have in common, however, is a tough match-up for their first ever start. Geno Smith is going to have to be concerned with the likes of Gerald McCoy at defensive tackle and the great Darrelle Revis at corner, and EJ Manuel will be facing off against Bill Belichick and the Patriots often bewildering defense. Neither match-up is favorable, and it'd be unfair to expect big things out of either quarterback in week one. But over the rest of the season, it's not unreasonable to expect Manuel to out perform Smith. Will Smith shock the league instead?
Fantasy Notes
- The Bills figure to play a lot of press man coverage this season, and if they try it against the Patriots look for Danny Amendola to have a huge game. He's the perfect fit to beat that coverage in New England's offense, and without a doubt Tom Brady will be ready to exploit that.
- Cam Newton appears to be primed for a great 2013 season…starting in week two. Seattle is a brutal match-up for almost any quarterback. If you have another option on your roster this week, it'd be wise to use it.
- Else where in the NFC South, there may not be a better week one match-up (excluding Peyton Manning vs the Ravens, apparently) than when Matt Ryan takes on the Saints. A defense in transition is always an easy target, and when your offense boasts talents like Julio Jones and Roddy White, that becomes doubly true. Ryan should put up huge numbers.
- Darren McFadden may go down as one of the biggest wasted talents in NFL history. Now that the Raiders finally plan to run an offense that suits his talents, they put Terrell Pryor at quarterback and an offensive line in front of him that may be the worst in the league. In spite of his talent, stay far, far away from McFadden this year.
- Looking for a WR stash on your roster? Grab Josh Gordon in every league he's still available in. You'll have to deal with a two game suspension, but with no bye weeks in the coming weekends that isn't too much of a problem. The pay off will be having a player with big time WR1 upside, something that can prove invaluable.