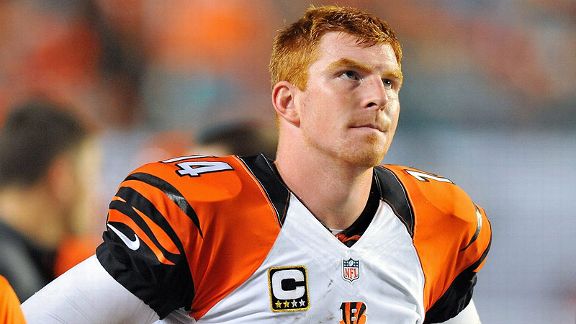 Week eleven promises to be one of the more entertaining weeks of the season. All eyes will be on the Monday Night battle between Denver and Kansas City, but there's plenty to watch for Sunday as well. There's a meaningful late season game in Ohio for the first time in recent memory, and two rookie quarterbacks are facing off with playoff hopes at stake.
What else is going on this weekend?
Match Ups to Watch
Cincinnati QB Andy Dalton vs. Cleveland's Pass Rush
It's been awhile since Cincinnati and Cleveland played a meaningful game against each other in mid-November, but surprisingly that's exactly what will be unfolding this weekend as these two teams find themselves in a match up with some serious playoff implications.
Just a couple of weeks ago Bengals' QB Andy Dalton had played the best game of his career and many felt like he'd finally turned the corner in his development. Since then he's put up consecutive performances that have left many of the Cincinnati faithful wondering whether or not the Bengals should be looking elsewhere for their franchise quarterback.
Dalton's struggled in pretty much every phase of the game recently, but by far his biggest struggle has been dealing with the opposition's pass rush. ProFootballFocus has Dalton completing just 42% of his passes under pressure, and he's showing a tendency to let pressure get into his head. He's looked increasingly uncomfortable over the past two weeks as teams have begun to blitz him more.
Cleveland is coming off a bye, so their defense has had an extra week to prepare extra blitz packages in an attempt to confuse Dalton. Perhaps more importantly, the bye week will have given banged up edge rusher Jabaal Sheard a week to get healthy. Sheard missed the first match up between these two teams, and his ability to get to the passer could very well give the Browns their first win in Cincinnati since 2008.
Buffalo's Running Game vs. New York's Defense
The Jets are looking to stay in position to fight for a wildcard spot, and the Bills are looking to gain some momentum in this match-up. Unfortunately for both teams, they're led by the two current worst starting quarterbacks in the league, meaning these teams will be looking elsewhere for offensive production.
If he's healthy, CJ Spiller will be the most talented offensive player on the field in this one, but unfortunately his offensive line isn't giving him much to work with this season. The performances have been sub par all season long at every position on the line, and it's the lack of blocking that has ultimately doomed Spiller's season.
Unless there's a major turnaround, that trend is likely to continue as the Jets boast one of the best run stopping defensive tackles, Damon Harrison. New York is allowing just 73 yards rushing per game and a stingy 3.1 yards per carry. If Buffalo can't change that, the Jets will likely find themselves in prime position to make a run to the post season.
Washington CB DeAngelo Hall vs. Philadelphia WR DeSean Jackson
The 2013 season hasn't been particularly kind to Washington, but even in spite of a slow start from Robert Griffin III and the team hitting several bumps in the road, they still aren't entirely eliminated from post season contention thanks to ineptitude from the rest of their division rivals. This week's match up against the Eagles essentially amounts to a knock out game for Washington, however. Another NFC would be simply too much for the team to overcome of the remainder of the season.
The best individual match up in this one is the one between DeAngelo Hall and DeSean Jackson, if for nothing but the inevitable fireworks after the play. The rivalry between the two is always a volatile one, and in the season opener it almost resulted in an all out fight. There's sure to be some fireworks on the field as well. Jackson is perhaps the league's best deep threat this season, as he leads the NFL in deep receptions. Hall has been known to susceptible to getting burned, and the Eagles are definitely going to try and test him.
Washington can't seem to decide how they feel Hall is best used in their secondary. At times he's been locked down to the left side of the field, and at other times he's shadowed the opposition's top receiver. It remains to be seen how he'll be used in this one, but regardless it's certain these two passionate players will be seeing quite a bit of each other. It's very possible that whoever gets the best of this match up will play a big part in determining who eventually wins the NFC East.
Fantasy Notes
- Make one last effort to trade for Reggie Bush if you can. He's been in a bit of a scoring drought over the past several weeks, but he's got immense potential in the Detroit offense and furthermore has a fantastic late season schedule. He's the sort of player who could win you a championship.
- Torrey Smith can be either a boom or bust player at times, but with a match up against a Bears defense that is now without Charles Tillman for the remainder of the season, it's likely this will be a "boom" week for the Ravens' WR.
- Andre Ellington isn't getting the carries he deserves, but against Jacksonville's last ranked rushing defense, the explosive player should be able to take advantage of the touches he gets. Start him as a flex play with confidence, and as an RB2 if you're in a tough spot.
- Percy Harvin may not be at 100% in his first game back, but you know he's going to want to have a big game against his former team. He's worth a flex play for that potential alone.
- Fantasy owners shouldn't panic over Colin Kaepernick. The match up against a good Carolina defense was tough, and losing Vernon Davis for most of the game just made that worse. He can still be a difference maker for your squad.