With the train wreck in Tampa Bay in the rearview mirror for another week, it's time to move past Thursday night's game and look forward to what should be a great weekend of NFL action.
New England will be looking to turn things around, Kansas City is looking to stay hot, and the NFC East is still trying to sort out who will be fighting with the Cowboys for the division title. What should you be focusing on this weekend?
Top Match Ups to Watch
Miami's Defensive Line vs. New England's Offensive Line
Traveling to New England to face the Patriots when they're coming off of a loss hasn't been an ideal situation over the past decade, and making the trip when you're playing as poorly as Miami has is even less appealing. The Dolphins have lost three straight heading into this match-up and look to be just a shadow of the team that started the season 3-0.
At first glance, Miami would seem to have little chance in this game, but that may not actually be the case. If any position group has been playing well for the Dolphins, it's been their defensive line, and that bodes well for Miami. As illustrated earlier this week, Tom Brady has had some trouble dealing with pressure the season as well. If the Dolphins are going to pull the upset in this one, it's going to be sparked by strong play from their defensive line.
With the Dolphins boasting edge rushers like Cameron Wake and Dion Jordan, you might expect that to be the key of the game. However, the biggest single advantage Miami will have in this game is on the interior of their defensive line. Randy Starks is one of the better pass rushers in the leauge from his position, accumulating a +13.8 pass rushing grade from ProFootballFocus thus far this season. Fellow defensive tackle Jared Odrick is playing at almost the same level, and that's likely to be a big problem for an interior offensive line that hasn't been their usual dominating self to this point.
Cleveland QB Jason Campbell vs. Kansas City's Defense
Being thrust into the starting quarterback role mid-season is never a particularly easy move to make, and it's going to be doubly difficult for Cleveland's new starter Jason Campbell. Not only is he making his first start of the season, but he's doing while trade rumors fly about some of his best weapons. That's not to mention that small business of facing of against perhaps the league's best defense, as well.
Chiefs' safety Eric Berry may be having the best year of his career, Brandon Flowers is playing at a high level (poor outing against Dez Bryant aside), and Sean Smith looks like a new player. If Campbell is going to have a chance of being the first quarterback to defeat Kansas City this season, it's more likely it's going to be through tight end Jordan Cameron than wide receiver Josh Gordon. The young wide receiver has look disinterested lately, and the match-up with Flowers may be too much to handle.
Cameron hasn't been affected by the turbulence at quarterback so far this season, and that isn't likely to change with Campbell under center. With Campbell likely facing plenty of pressure, as well as the fact that Gordon is likely to be well covered most of the game, Cameron should figure to see a ton of opportunities. If Campbell can get the ball to Cameron, the Browns could make a game out of this match up.
New York Giants QB Eli Manning vs. Philadelphia's Secondary
The roller coaster of a season continues for the Eagles, as they seemingly go from a team that looks like a team that could challenge for the NFC East title to a team that could be lucky to win another game. The reality is though that it's still well within the realm of possibility for the Eagles to win their division. They'll need a good showing from their often shaky secondary if they want to keep those hopes alive this weekend.
Whether or not Hakeem Nicks is healthy or not, the Giants will be using a passing heavy attack that will force the defense to focus largely on Victor Cruz. Much of the responsibility will fall on the Eagles' Brandon Boykin, who has become one of the better slot corners in the league. Even with Boykin's skill, the Eagles aren't likely to leave him isolated on Cruz too often.
If Nicks is healthy enough to play, Eli Manning's ability to read the field quickly and get the ball to the most advantageous situation is going to be crucial. Both Nicks and Reuben Randal should find themselves in single coverage at times in this one. Will Manning diagnose those situations, or will the Eagles be able to disguise their coverages enough to throw him off?
Fantasy Notes
- In his last three games, Jake Locker has put up numbers worthy of being a fantasy starter. With match ups against St. Louis, Jacksonville, and Oakland coming up, it'd be wise to grab him before he explodes.
- Keep a very close eye on the running back situation in Detroit. Reggie Bush has missed practice this week, and Joique Bell is a must start if he's out. Better yet, Bell is likely available in many of your leagues. Snag him now.
- Based on the past several weeks, the match-up between the Redskins and Broncos should be a very high scoring affair. If you've got a skill player from either one of these two teams on your roster, they're a high upside start this week.
-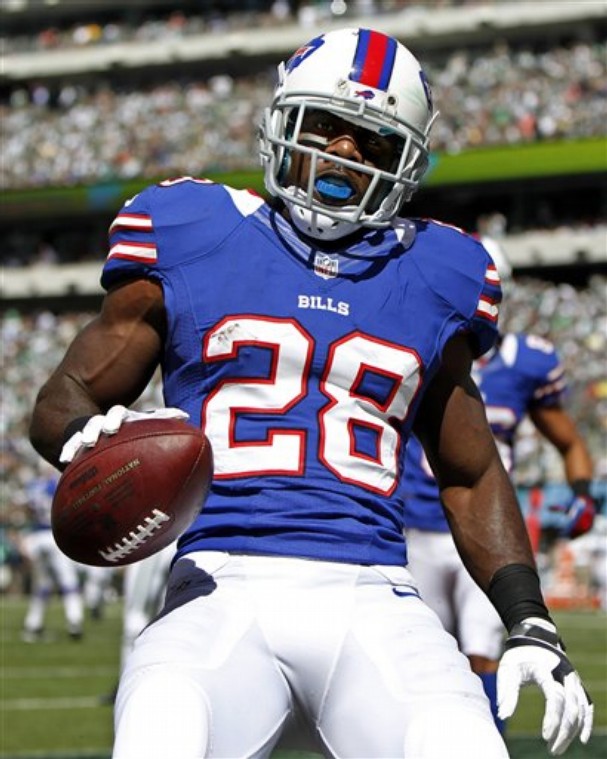 CJ Spiller has been one of the highest upside players all year long, and because of that it was tough to bench him even in spite of some less than thrilling performances. Until his ankle is fully recovered, that time is over however. Spiller just doesn't have the explosion that makes him a big play threat, and that makes his value to your team minimal.
- As Michael Vick returns to the starting lineup, so should DeSean Jackson return to yours. Vick has targeted him 42 times this season, nearly twice as often as his next favorite target. Against a weak Giants' defense, Jackson is set for a huge game.