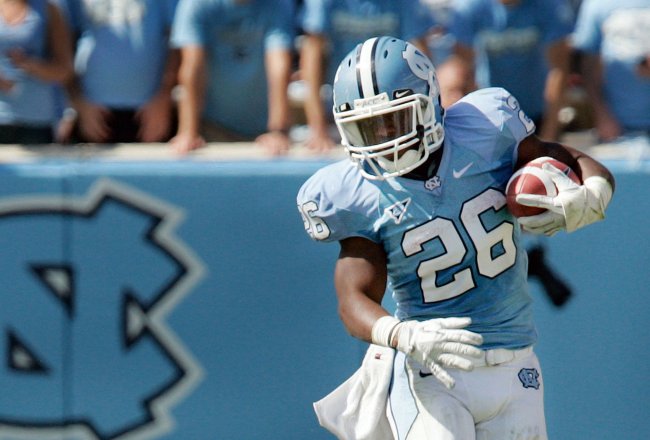 The NFL Draft not only changed the make-up of all the league's 32 rosters, but it also will likely shake up your fantasy football team's line-up as well. Will there be a rookie that makes an impact like Doug Martin and RGIII did last season, or will this class of rookies provide less of an impact than did 2012's class?
We'll start by looking at this year's class of rookie running backs. This wasn't a particularly talented class as compared to years past, but there's still some fantasy value nonetheless. Which players could help bring you a championship in 2013?
1. Gio Bernard, Cincinnati Bengals
The Bengals, like many around the league, felt that Gio Bernard was the most talented running back in this class and made him the first running drafted in this class. That shows that Cincinnati has a good deal of confidence in the back and it's a good sign that he's going to see the lion's share of the carries in 2013.
He will be competing with BenJarvus Green-Ellis for carries, but the plodder doesn't have the same burst or home run ability that Bernard does. The rookie should have no trouble winning the starting job, and with a play-making ability that none of his fellow rookies possess, he's your best bet at getting a Doug Martin like impact in 2013.
2. Montee Ball, Denver Broncos
The success of a running back, especially a rookie, is only based partially on his talent. Another big factor in his success or failure is the strength of the offense he's placed in. With a roster around him that includes Peyton Manning, Wes Welker, and Demaryius Thomas, its tough to imagine a better landing spot for a rookie running back. That makes Montee Ball one of the more attractive rookie running back options for 2013.
If there's anything that might hold you back from adding Ball to your fantasy team, it's the fact that the running back group is quite crowded in Denver. Ball will be competing with Willis McGahee, Ronnie Hillman, and Knowshon Moreno for carries, more than most other rookies. However the Broncos figure to be in the lead more often than not in 2013, and they'll be running the ball to protect those leads. There should be plenty of carries to go around.
3. Le'Veon Bell, Pittsburgh Steelers
On paper, Le'veon Bell's situation looks much like Ball's, in that the Steelers' depth chart is crowded and it might be difficult to imagine him getting too many touches in his rookie year. The reality, however, is that Pittsburgh was trying to move Jonathon Dwyer prior to the draft, and Issac Redman has largely been disappointing in the chances he's gotten. It's pretty clear that Pittsburgh draft Bell with the expectations that he'd get the majority of the carries.
Bell is pretty raw and won't reach his potential in his first season, but Pittsburgh is going to run the ball a lot and Bell should put up respectable stats because of that. He proved he could carry the load while at Michigan State, and he'll see that same opportunity with the Steelers.
4. Zac Stacy, St. Louis Rams
Whether it's due to their talent or the situation they've landed in, after the top three rookie running backs the prospects for the rest of the class become much more difficult to determine. At this point you'll essentially be looking for a sleeper candidate that may spend part of the season earning the starting role. As that's the case, there's no better sleeper candidate at this position this year than Zac Stacy. The downside is obvious – he's a fifth round selection that's sharing the backfield with two other recently drafted running backs. There's no guarantee that he'll win time over either Isaih Pead or Daryl Richardson.
There is a good chance that Stacy could end up seeing the lion's share of the carries, however. As a tough, between the tackles back, he's a guy that Jeff Fisher has frequently given tons of carries to in the past. It's not likely that he'll be a three down back this season, but the touches he should earn on first and second down, as well as on the goal line, could provide enough production to make him a flex player.
5. Eddie Lacy and Jonathan Franklin, Green Bay Packers
Prior to the draft, both Eddie Lacy and Jonathan Franklin would have been predicted to have ended up at the top of this sort of list. Instead the two talented backs have ended up on the same team, and in an offense that is one of the most passing-oriented in the league. It's a fit that should be great for "real" football. Green Bay needed to add a consistent running game to their attack, and Lacy and Franklin will compliment each other well.
That's not likely to translate to fantasy success, however. Running backs playing in a committee role are rarely good fantasy options, and when they're playing in such a passing centered attack that's even more true. Don't look for either back to make a real fantasy impact in 2013.
6. Joseph Randle, Dallas Cowboys
DeMarco Murray has yet to prove he can play through a 16 game season without missing time. Joseph Randle should be the beneficiary of that, and it's very likely he'll see a handful of games where he may even be the starter.
7. Stepfan Taylor, Arizona Cardinals
Bruce Arians prefers to have one running back carrying the load in his offenses, and for the time being that appears to be Rashard Mendenhall. If the former Steeler were to go down, look for Taylor to take over and get the bulk of the carries.
8. Christine Michael, Seattle Seahawks
There were some that would argue that Christine Michael was actually the most gifted running back in this class, but off the field issues kept him from being regarded as a top prospect. He'll get the chance to work on that this season while he's stuck behind Marshawn Lynch and Robert Turbin. There's not much value here in 2013, but if you're playing a dynasty format he'd certainly be an interesting pick up.
9. Mike Gillislee, Miami Dolphins
Lamar Miller and Daniel Thomas will likely keep Mike Gillislee off the field in 2013. However, he's got some good physical tools and in the unlikely event that both Miller and Thomas missed time to injury, Gillislee could be a nice pick up.
10. Kerwynn Williams, Indianapolis Colts
Kerwynn Williams isn't likely to even be an every down back, but he's a good receiver and could be a good third down back. That's an area where the Colts don't have much talent to speak of, so he could see the field some early in the season.