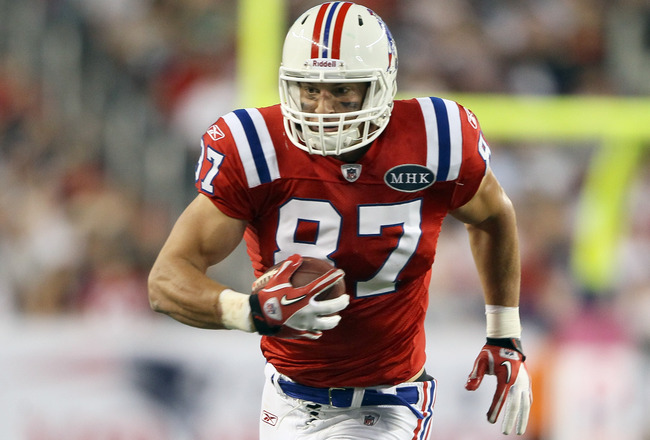 There's no question that when Rob Gronkowski is healthy, he's the best tight end in the league. Unfortunately for New England, that qualifier is becoming more and more of a problem for the uniquely talented play maker. Now that he's undergone yet another surgery this offseason, the Patriots must be considering what to do without him in the lineup, at least for the beginning of the season.
Initially, the solution would have included a heavy dose of Aaron Hernandez. But now that he's reportedly being uncooperative with police in regards to a murder of an "associate", New England would be wise to start making plans on what they'd in the case that they're without their top two tight ends for at least a portion of the 2013 season.
In the case of Gronkowski, there's serious concern that he's becoming as unreliable as he in talented. He's had four surgeries on his forearm, which he broke last season while blocking for an extra point attempt. He now appears to be having success against the infection he's been battling there, but now there is growing concerned about his back. The surgery he had most recently is likely going to keep him out for most of training camp, and potentially could land him on the PUP list to start the year.
Even if Gronkowski is cleared for contact at some point during training camp, there's still a big chance that he'll be far from 100% by the time week one rolls around. Even prior to his back surgery, his other ailments have kept him from working out with the team during the off season. He'd have a long road to getting back into game shape if his back were healthy – the added obstacle of his second offseason back surgery there makes the first half of his 2013 season highly questionable.
The Patriots other outstanding tight end, Aaron Hernandez, had been a brighter spot for New England recently. He too had offseason surgery, but in his case his shoulder has healed more quickly than expected and although he's not yet cleared for contact, he had begun to take part in OTAs last week. The good news stops there though, as he's now involved in a murder investigation. Most sources don't believe he's involved, but the fact that he's not being cooperative is concerning. When considering that, as well as his injury history in the past, the Patriots' tight end situation has clearly gone from a sure thing to a big question mark.
With seven players listed, the Patriots have more tight ends than any other team in the league. Unfortunately for New England, there's not much talent at the position behind Gronkowski and Hernandez. The only two other options on the roster with experience are Michael Hoomanawanuni and Daniel Fells. The two started a total of ten games for the Patriots last year, so they know this system and can be relied upon to start if called upon again in 2013. The two only combined for 9 catches and 200 yards receiving in those ten starts though – not even close to the same production and impact that you'd expect from the Patriots' top two tight ends.
In the past, one would expect New England to just look to a talent receiving corps to offset the loss of production else where, but that position group has also taken a big hit recently. With Wes Welker now in Denver and no proven threats at outside receiver, there is now a huge amount of pressure of Danny Amendola and Julian Edleman to not only carry the wide receiver group, but help offset the potential losses of Gronkowski and Hernandez as well.
Gronkowski's absence would be a massive loss for New England. While Hernandez could help make up for that between the 20s, his production in the red zone is second to none. With Hernandez himself in a questionable situation and a group of wide receivers that is almost entirely different from last years, this is a passing game which is almost certain to take a step backwards even with Tom Brady at the helm. Will the team as a whole be able to overcome that? We'll begin to find out in just a few more weeks.