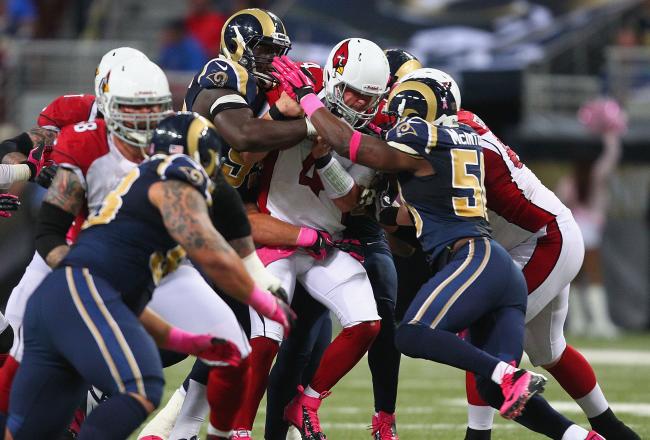 We started the review of all 32 NFL teams' needs in the AFC North with the Super Bowl Champions, and now we'll end it with the NFC West and the NFC Champion 49ers.
The 49ers need just a piece or two if they want to return to the Super Bowl, but a tougher task may be fending off the Seahawks. What moves will be made in the NFC West during the offseason?
Arizona Cardinals
The Cardinals got out to a fast start to the 2012 season, but they couldn't outrun serious problems at quarterback and eventually finished at the bottom of the division. It's obvious what their biggest need is, but where else will Arizona be looking to improve?
Primary Needs
Quarterback
It's an absolute travesty that Larry Fitzgerald has been dealt the hand he has in Arizona. Another year has gone by and the Cardinals still haven't found a decent quarterback to get him the ball. There's no telling what his career could have been up to this point, and there's no question that getting a real option at quarterback has to be the Cardinals top priority.
Kevin Kolb didn't get too many looks but it was enough to see that he's not the answer. Neither is Ryan Lindley nor John Skelton. It'll be back to the drawing board at this position.
Offensive Line
While there wasn't really a bright spot for the Cardinals at quarterback, all three starters were at a tremendous disadvantage due to the awful play on the offensive line. For the most part, play was poor from tackle to tackle, and pretty much every position could be upgraded.
Both Bobbie Massie and Levi Brown were disappointments at tackle and should probably be addressed first on the offensive line. The interior of the line wasn't much better, but it could probably be upgraded by moving one of both of the tackles to the inside for the time being.
Outside Linebacker
Sam Acho and O'Brien Schofield simply just aren't creating the pass rush that Arizona needs out of their outside linebackers. Both mustered up four sacks this season, and unfortunately there wasn't much more of an impact to speak of from either player.
The need here could change slightly if the Cardinals move to a 4-3 defense, but regardless of what they're doing schematically an infusion of talent is needed here.
Additional Needs
Cornerback
Patrick Peterson looks to be a long term starter, but some questions crop up outside of him. William Gay could be released, rookie Jamell Fleming looked shaky in 2012, and Greg Toler and Michael Adams are free agents. There will be some turnover here during the offseason.
San Francisco 49ers
The 49ers didn't take home the Lombardi Trophy, but they may just have the most talented roster in the NFL. Still, it's not with a few needs and there is some work to do as they try to capture another Super Bowl title.
Primary Needs
Kicker
Parity reigns in the NFL, and more often than not the margin of victory in a typical NFL game is within on possession. For a team with such lofty goals as San Francisco, having a kicker negatively impact your season would be crushing. However, it's the risk they've been taking over the past few seasons with David Akers.
Akers is currently hitting only 69% of his field goals and the 49ers had such low confidence in him that they brought in competition late in the season in an attempt to find a better option. This should be the top priority for San Francisco's offseason, and it won't be hard to find someone that's a better option.
Nose Tackle
San Francisco's defense was good in 2012, but it wasn't quite as formidable as it's been in the past. The run defense in particular took a step back. Nose tackle Issac Sopaga was especially poor against the run and could certainly be upgraded as the 49ers head into 2013.
For a team without too many pressing needs finding a more effective nose tackle shouldn't be a huge struggle. An improvement at nose tackle could very well be the move that returns the defense to it's dominant form.
Wide Receiver
The 49ers offense became one of the more dynamic in the league once Colin Kaepernick found his stride, but that improvement shouldn't allow the front office to feel that they're set on offense. Wide receiver in particular needs a new injection of talent.
A big question here will be the development of last year's first round selection AJ Jenkins. Jenkins hardly saw any playing time in 2012 so it's not yet clear what exactly he'll bring to the table. Even if he is a big contributor in the future, the 49ers will likely be parting ways with Randy Moss and Mario Manningham, so new talent here will be key. The 49ers will also likely be on the market for a new backup quarterback.
Additional Needs
Safety
Even after a poor showing in the Super Bowl, the 49ers should feel good about their top three corner backs. Safety is a different story, as San Francisco had issues allowing receivers to get behind the defense a concerning amount.
Seattle Seahawks
San Francisco may be on top of the division right now, but Seattle is following very closely behind them. The emergence of Russell Wilson was one of the best stories of the season. Who will they find to help Wilson and the Seahawks to take the next step in 2012.
Primary Needs
Defensive End
Bruce Irvin is already a tremendous pass rusher, but he's a liability in the run game. Until he improves in that facet of the game it's probably not wise to look at Irvin as an every snap player. Chris Clemons certainly is a player that the Seahawks could look to on a consistent basis, but now that he's coming off of a serious injury there has to be some concern about what level he'll play at in 2013.
Defensive end wasn't necessarily a problem area for the Seattle in 2012, but for the reasons above it'd be a lot of sense for the Seahawks to add a couple more reliable bodies to the position for the next season.
Right Tackle
Russell Okung has the left side of the offensive line locked down, without question. Breno Giacomini, however, wasn't quite as solid at right tackle. He was flagged twelve times over the course of the season, and while he can provide slid depth, he's not the caliber player a team trying to win a strong division needs to rely on as a starter.
There is the potential that James Carpenter can turn his career around and become that reliable right tackle, but the jury is most certainly out. The Seahawks need to find another option at right tackle that they can feel comfortable with going forward.
Outside Linebacker
Unfortunately, this is a need created by off the field behavior and not on the field performance. Leroy Hill added to a list of off the field incidents late in January when he was arrested on assault charges. This isn't the first issue that has cropped up with Hill, and there's likely to be a suspension resulting from it.
In a division where they'll likely be battling tooth and nail with San Francisco for the NFC West, Seattle can't afford to carry around issues such as this when they could instead avoid the headache all together. Hill is a free agent and the Seahawks should be looking elsewhere for a starter on the weakside.
Additional Needs
Defensive Tackle
Alan Branch was outstanding in 2011, but his 2012 season was just a shadow of that performance. He's a free agent and while he still could return to the team the can't expect the high levels of performance they once got from him.
St. Louis Rams
Year one of the Rams' rebuilding effort was a pretty big success. Will year two see the similar returns?
Primary Needs
Wide Receiver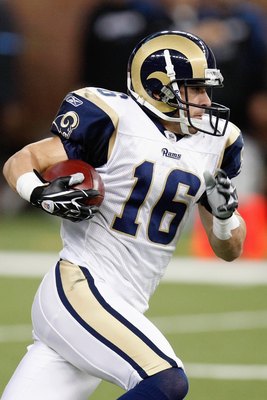 Sam Bradford's career has been under a microscope in St. Louis, but it's entirely unfair to judge Bradford without considering the utter lack of weapons he's had to work with. This is a team so desperate for talent at wide receiver that they signed Titus Young (they realized, of course, a few days later that they weren't THAT desperate).
Brian Quick was St. Louis' attempt at finding a solution last year, but he still has quite a bit of development left ahead of him. Danny Amendola is a great slot receiver but he's not a game breaker. With Quick and Chris Givens both entering their second seasons, the Rams may look to free agency to bolster their passing attack.
Interior Offensive Line
Bradford not only needs someone to throw the ball to, but he needs time to get the ball out as well. Rodger Saffold is a good left tackle. The right side of the line is probably set with guard Harvey Dahl and tackle Barry Richardson. Richardson, however, is a free agent. Letting him slip away would create another need.
Center Scott Wells is far past his prime, and at this point his knees are probably shot. Left guard is also an issue. Two new faces on the offensive line would be a welcome sight for Bradford, as would a lengthy contract extension for Saffold.
Safety
The Rams have put together one of the more impressive groups of cornerbacks in the league. But no matter good they are on the outside, if the safety play behind them is poor, the defense as a whole will continue to struggle.
Quintin Mikell was good in 2012, but he's likely to be salary cap casualty. If he can't be retained it'll be a big loss for St. Louis. Craig Dahl, on the other hand, is also a free agent but could be a case of addition by subtraction. It's hard to imagine many players being worse in coverage than was Dahl last season.
Additional Needs
Outside Linebacker
James Laurinaitis has the middle under control for the Rams, but Rocky McIntosh is a free agent and didn't have a great 2012 season anyway. Jo-Lun Dunbar is a liability in pass coverage, although he is a solid run defender.