The NFC South used to clearly belong to the New Orleans Saints, but the steady growth of the Falcons has garnered them top status in the division. With Sean Payton back in New Orleans and the Panthers and Buccaneers each only a few pieces away from making the playoffs themselves, this could be an extremely competitive division in 2013.
What will each team look to do during the offseason to gain the upper hand?
Atlanta Falcons
The Falcons took another step closer to achieving their goal of getting to the Super Bowl, but their still a few pieces away from taking that leap. They're expected to start talking about a long term contract extension with Matt Ryan during the offseason. Where should Atlanta look to add some new faces?
Primary Needs
Defensive End
To the surprise of some, John Abraham is still playing at a more than respectable level while pushing 35 years of age. But his age is now an unavoidable factor to consider when looking at this position. Furthermore, there's not much of a pass rush to speak of outside of Abraham. Kroy Biermann is strong against the run and can be used a number of different ways, but rushing the passer isn't a strong suit for him.
Parting ways with Ray Edwards midseason was probably necessary but it did still help create a considerable void at defensive end. For a team without too many pressing needs this offseason, improving the defensive end position should probably be priority number one.
Tight End
Tony Gonzalez is a player that isn't simply going to be replaced in Atlanta. Perhaps the game's greatest tight end, he did much more than just one addition to the roster can replace. The best case scenario might be if the Falcons were to talk Gonzalez into postponing his retirement for just one more season, but unfortunately it's not likely to play out that way.
There are a number of strong tight end options that could potentially be available in free agency, but there might be none as intriguing as Jared Cook. Cook possesses elite athleticism that has been criminally under-utilized during his time in Tennessee. It certainly feels like a case where a change in scenery could result in a break out season, and Atlanta could be a place where Cook could thrive.
Linebacker
The linebacker group in Atlanta wasn't an outright weakness for the Falcons in 2012, and considering the draft picks that the team has invested in Akeem Dent and Sean Weatherspoon it's probably not likely that they'll devote a ton of resources to it. Still, there's clearly some improvement that could be done here.
The particular issue that sticks out is the play of Atlanta's linebackers in pass coverage. Neither Dent, Weatherspoon, and especially not Stephen Nicholas were able to really be successful in coverage throughout the season. Dent and Weatherspoon can be serviceable there, but the Falcons need to find someone that can keep Nicholas off the field.
Additional Needs
Running Back
Michael Turner is both expensive and washed up, and he'll a likely candidate to be released prior to the start of free agency. Jacquizz Rodgers has plenty of fans amongst the draftnik community, but while he has a ton of potential he'll need a running mate in the backfield moving forward.
Carolina Panthers
The Panthers were supposed to be one of the league's hottest teams in 2012. Instead, they took a huge step backwards from their surprising 2011 campaign. The closed the season on a strong note however, and they'll look to have a similarly successful offseason.
Primary Needs
Cornerback
The secondary was an area of weakness for Carolina, and it appears as though it may get weaker before the Panthers are able to strengthen it. Their best corner, Chris Gamble, may have to be cut due to salary cap problems, and fellow Captain Munnerlyn will also be a free agent.
2012 draft pick Josh Norman was supposed to spend his rookie year developing on the sideline, but he was forced into action anyway and looked, as expected, incredibly raw. The Panthers shouldn't abandon all hope in him, but he's a long term project and not a great answer for their secondary's needs in 2013.
Wide Receiver
For as long as Carolina fans can remember, the Panthers' receiving corps could best be described as "Steve Smith and some other guys". With Smith aging and another subpar performance from his running mates in the books, it's high time for Carolina to finally seriously address the position.
There's a great group of free agent receivers available, but a tight salary cap situation makes it unlikely that the Panthers will be able to seriously pursue a Greg Jennings or Mike Wallace. Instead they'll need to look to the first or second round of the draft, where DeAndre Hopkins, Robert Woods, or Justin Hunter could all prove to be extremely appealing.
Defensive Tackle
There's a severe lack of talent at this position group for Carolina, as not one player stood out over the course of the season as a strong contributor to the defensive line. An argument that Greg Hardy could potentially be labeled as a defensive tackle, but in reality he played a large portion of his snaps at defensive end.
Dwan Edwards might be worth keeping, as he was able to get some pressure on the quarterback, albeit very inconsistently. Edwards is a free agent however, and the Panthers can't and won't break the bank to re-sign him. Overall Carolina will need to make multiple additions here during the offseason.
Additional Needs
Right Tackle
Right tackle has been an issue for quite some time in Carolina, and Byron Bell is simply the latest in a string of failed solutions there. Bell was far from productive in 2012 and the Panthers would do well to find a replacement.
New Orleans Saints
Head coach Sean Payton is making his return to New Orleans, and he's bringing a move to a 3-4 defense with him. With that transition on the horizon and an offense that doesn't need much tinkering with, it's likely that the Saints will focus largely on the defensive side of the ball this offseason.
Primary Needs
Nose Tackle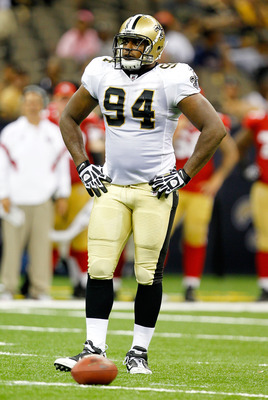 Current defensive linemen Akiem Hicks and Cameron Jordan will have no trouble moving to defensive end in the new 3-4, but there should be some concern about where Brodrick Bunkley will fit in the new scheme. He's been the nose tackle in a Saints' 4-3 defense, but he's undersized to hold that same role in a 3-4.
Overall it appears as though the Saints are entirely without a player who can effectively take on the role of nose tackle in the new look defense, and finding someone who can will almost certainly be a top priority.
Outside Linebacker
The Saints' pass defense was awful last season, and a total lack of a pass rush was a big reason for that. The creativity that a 3-4 defense allows for is a driving force behind Payton's desire to make the change. However, for that move to be successful they'll need to find some edge rushers that will make the opposing quarterback sweat.
Restricted free agent Junior Galette and Martez Wilson stand out as two players who saw some playing time last year, but could potentially thrive as outside backers in a 3-4. It'd be risky to base the success of failure of their new defense on just these two players however, and they should draft at least one more player early on who they feel can rush the passer effectively.
Safety
The pass rush in New Orleans was essentially non-existent, but that can't entirely explain away the dismal safety play that the Saints had in 2012. Both Malcom Jenkins and Roman Harper totally bottomed out last year. Harper was inexplicably moved from an in the box role to instead a deep coverage safety, and as one might have expected it was a disaster.
Because he was playing out of position, one could make a case that Harper could still be an effective player in the right role. Jenkins looked pretty much like a lost cause though, and neither safety will inspire much confidence moving forward.
Additional Needs
Left Tackle
There's no doubt that the majority of New Orleans' time this offseason needs to be focused on repairing a historically bad defense, but there may be a search for a new left tackle for the Saints as well. Current starter Jermon Bushrod will be a free agent, and without much salary cap room to work with the Saints may be forced to look elsewhere.
Tampa Bay Buccaneers
The Buccaneers continue to be one of the most frustrating teams in the league. With flashes of real potential paired with stretches of maddeningly inconsistent play, Tampa Bay is probably one of the toughest teams to figure out. The Buccaneers made some big moves in the last offseason, what will the plan be this year?
Primary Needs
Cornerback
The addition of Eric Wright didn't much to bolster Tampa Bay's defense, as they ended the season with the worst pass defense in the NFL. Trading away Aqib Talib created a void that was never filled last season, and the pending free agency of EJ Biggers and Brandon McDonald (and the possible release of Wright), mean there's a great deal of work to do this offseason.
Perhaps the lone bright spot in the Buccaneers' secondary was the play of undrafted rookie Leonard Johnson. For a player who was unexpectedly thrown into action he played quite well, and he could very well see an expanded role in 2013. Even if that's the case, however, Tampa By needs to find someone who can play alongside him.
Defensive End
Adrian Clayborn and Da'Quan Bowers were Tampa Bay's first two attempts to add some young pass rushing talent at defensive end, but the returns on neither investment have been so convincing that the Buccaneers can feel good about their situation at defensive end moving forward.
Free agent defensive end Michael Bennett was their best edge rusher in 2012, and in a perfect offseason the Buccaneers would plan re-sign him. He won't come cheap, however, and even if he is re-signed the Bucs could use another defensive end.
Quarterback
Josh Freeman hasn't necessarily played poorly during the start of his career, and at times he's actually played pretty well. But he's entering his the final year of his contract and up to this point there's been little talk in Tampa Bay of working on an extension.
Tampa Bay's back-up situation could definitely be improved as well. Dan Orlovsky at the very least could be improved, and if the Buccaneers don't see Freeman in their future they should look to find a future starter as well.
Additional Needs
Defensive Tackle
Gerald McCoy has been outstanding, but the Buccaneers don't have much to go alongside him. Depth here is an issue, though, and Roy Miller is a free agent.