The NFC North has recently been dominated by Green Bay, but that all could quickly change depending on how this offseason plays out. The Packers have some big holes to fill, and the Bears, Vikings, and Lions are all just a few pieces away from being contenders for the division title themselves.
Chicago Bears
Chicago seemed to be destined for a great season before they sputtered to an abrupt halt near the end of the year. The offensive line is the clear area of need, but where else do the Bears need to improve to challenge the Packers?
Primary Needs
Offensive Line
There's not much good that can be said about Chicago's offensive line. From one tackle to the other, the performances were abysmal. It's not an exaggeration to say that literally all five starters ought to be replaced.
That's highly unlikely to occur in just one offseason, so there will need to be some prioritizing. Out of all the poor performances, left tackle J'Marcus Webb was probably the best player. Gabe Carimi looked terrible opposite Webb, and the interior is old and ineffective at best. It will probably take two off seasons to fully overhaul this unit, but the Bears should at least take a step in the right direction in 2013.
Middle Linebacker
Parting ways with Brian Urlacher will be painful for Chicago, but there's no doubt that it's time to move on. The face of the franchise is aging, has two bad knees, and hasn't played up to his reputation in quite some time.
Reloading at middle linebacker could make a great defense even greater in 2013. Their focus in the early rounds of the draft will likely be on the offensive line (as it should be). However, if a player such as Arthur Brown were to still be available when it's time to make their first round selection, the Bears will have a very tough decision to make.
Tight End
Kellen Davis left no doubt that the extensions he signed with Chicago was a very poor investment on their part in 2012. He has poor hands and is limited athletically, and after a highly disappointing season it'd be a shock if he's with the team again in 2013.
Signing free agent Martellus Bennett would be the best case scenario via free agency, but the still-developing tight end is likely to have plenty of suitors. Fred Davis or Jared Cook would be nice fall backs.
Additional Needs
Defensive Tackle
Re-signing Henry Melton would mostly fill this need, but he's likely to be heavily pursued when free agency opens up. The Bears are set for the most part with run stopping tackles, but they could benefit from someone who can rush the passer.
Detroit Lions
Two steps forward, one step backwards seems to be how this franchise is doomed to progress. With significant holes on both sides of the ball, this offseason seems bound to be another busy one for the Lions. The departure of Titus Young improves the locker room but creates yet another void.
Primary Needs
Wide Receiver
Incredibly, after all of the resources that the franchise has devoted to the wide receiver position over the past decade, the Lions will again head into the off season with a need at receiver. No team relies on the passing attack more than Detroit, and with Calvin Johnson left as the only reliable option on the roster, new faces are desperately needed.
The Lions would love to see Ryan Broyles be a big part of the solution here, but now that he's coming off another ACL tear it'd be a big risk to count on him going forward. Nate Burleson has been a nice complimentary piece to their offense, but he's not worth the big pay day he's going to be due.
Defensive End
The Lions struggled to get good production out of their defensive ends in 2012, and considering the amount of talent they had on the interior of the defensive line it's really inexcusable. Cliff Avril was their most productive pass rusher, but he's a free agent and considering the high premium the NFL places on pass rushers it's likely Avril will be playing elsewhere in 2013.
With the release of Kyle Vanden Bosch it certainly appears as though the Lions are preparing to do some significant remodeling at the position. They've got a big need in the secondary as well, but it's a good bet that they'll be drafting a pass rusher with the fifth overall pick in the draft.
Secondary
Top corner Chris Houston is a free agent, and re-signing him should probably be a top priority for the Lions. Outside of Houston the pass defense was pretty terrible in Detroit, and losing Houston would send the Lions back to essentially square one.
There was a significant focus on the secondary in the Lions' 2012 draft, as they selected Jonte Green, Bill Bentley, and Chris Greenwood. Those three young players all have a good bit of talent and could see expanded roles this coming season. However, Detroit needs to add some solid veterans to this group.
Additional Needs
Running Back
Mikel Leshoure and Joique Bell are a decent enough duo, but ever since Jahvid Best went down the Lions' backfield has been lacking in big play ability. It wouldn't hurt to have that aspect returned to the offense.
Green Bay Packers
After nearly going undefeated not too long ago, the Packers have been a bit of a dissapointment of late. Winning the NFC North is no longer the requirement for a successful season. Green Bay's fan base wants Super Bowl titles – can the Packers get back there?
Primary Needs
Left Tackle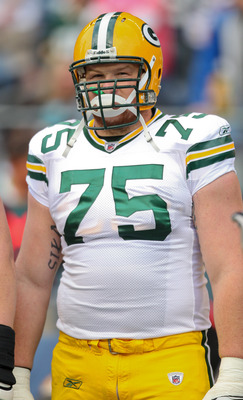 The Packers have attempted to address issues on the offensive line via the draft more than once, and in some small ways they've finally found some success. Bryan Bulaga is a solid right tackle when healthy, but for whatever reason Green Bay just can't find the right solution at left tackle.
Derek Sherrod was supposed to get the next shot at taking over that position, but he's thus far been unable to bounce back from an ugly broken leg. Marshall Newhouse has been the starter most recently at left tackle, but he's far too inconsistent to safely be given that role again in 2013.
Running Back
As good as Green Bay's offense has been, it could be even better if they had even one running back who was deserving of getting carries consistently. Between Alex Green, DuJuan Harris, and James Starks, the Packers have three running backs who are fine role players, but there's a clear void when it comes to a lead back.
Steven Jackson is the only (likely) free agent running back that is a true feature back, but he's aging and will probably cost more than the Packers are willing to invest in the position. If Green Bay elects to do anything here, adding another role player via free agency wouldn't make a ton of sense. They'd be best suited looking to the draft.
Defensive Line
Although the defensive line is addressed seemingly every offseason in Green Bay, you wouldn't know it by looking at the results on the field. As the roster stands now, the unit's play is entirely dependent on the performance of BJ Raji. Raji is at his best when he's able to rotate in and out of the game, and he's not a player who should ever be expected to play every snap.
Green Bay needs help all across the line, be it at tackle or end. Jerel Worthy was drafted to help fill that need, but it already looks like he'll be missing most of 2013 due to an ACL injury. With so many needs, the Packers will probably address the defensive line in free agency and the draft.
Additional Needs
Outside Linebacker
Clay Matthews and Nick Perry are fine starting options, but the quality drops off quickly from there on this roster. Depth is a huge issue and could cause big problems if either Matthews or Perry were to go down.
Minnesota Vikings
After watching Adrian Peterson carry the Vikings to a wildcard berth, Minnesota's primary goal this offseason should be improving their offense. With a few more weapons, this is a team that could make a more serious run in the near future.
Primary Needs
Wide Receiver
Even with Percy Harvin, this is a huge area of weakness for Minnesota. Without him, one could make a very convincing argument that the Vikings boast the poorest receiving corp in the league. It remains to be seen where Harvin will be playing in 2013, but regardless the Vikings have plenty of work to do here.
Fortunately for Minnesota there's a pretty strong selection of wide receivers that should be available in free agency. Signing Greg Jennings would both strengthen their roster while weakening Green Bay, and pursuing Mike Wallace would help an often lack luster passing game stretch the field.
Defensive Tackle
The Vikings' defense was once driven by the powerful duo of Pat and Kevin Williams on the interior defensive line. With Pat retired and Kevin nowhere near the player he once was, it's time the Vikings found some youth at the position to revitalize the entire defense.
Fred Evans was a surprising source of good play at tackle in 2012 as a rotational player, and he may see a somewhat expanded role in the future. He tends to play well in spurts, however, and the Vikings should avoid having to rely on him as a full time player.
Middle Linebacker
This season Jasper Brinkley saw his first time as a starter since he filled in for EJ Henderson in 2009. It'd do the Vikings well if they went into 2013 with a different plan at middle linebacker for the future. Brinkley was an inconsistent all season long, and just didn't look like he was cut out to be a starting middle linebacker.
The Vikings could possibly get away with simply limiting how often Brinkley saw the field. He was awful in pass coverage, but was at least serviceable against the run. It'd make much more sense for Minnesota to pursue a new starter altogether, though.
Additional Needs
Quarterback
Considering the utter lack of weapons that Christian Ponder has been dealt with to start his career, it'd be unfair to label him a bust at this point. Still, the Vikings would be wise to address the lack of talent behind him. Joe Webb isn't someone who is going to push Ponder for playing time, and they need a legitimate back up option.