During the course of the 2013 preseason, in Philadelphia it was obvious that Nick Foles was nothing more than the backup quarterback. Michael Vick seemed tailor made for the Chip Kelly offense, and he'd decidedly out-played Foles throughout the summer.
Even with Foles leading the Eagles to a win over the Giants, Kelly and the Eagles coaching staff seemed to be sticking with that mind set, stating that when Vick was healthy he'd be the starter. But now that Foles had an even better performance this week, Kelly has changed his tune. It's decision time for Kelly and the Eagles now – is Foles really a better option for Philadelphia at quarterback for the rest of the season?
If this was a decision that was based solely on statistics, this is a battle that would be won by Foles in a land slide. Foles is completing 67% of his passes, throwing a touchdown on almost 10% of his throws, and has a passer rating of 127.9. Vick, on the other hand, is completing just half his passes, throwing a TD 4% of the time, and has a passer rating of 90.6. In almost every statistic used to evaluate quarterbacks, Foles has the edge.
In reality, of course, statistics don't tell the whole story, and often times they can even be misleading. On the surface it might appear that Foles is the beneficiary of playing weak defenses – neither the Giants nor the Buccaneers have been playing elite defense lately. Take a look at the tape, however, and you'll see that Foles has made some surprising improvements to his game that make the argument for his taking over the starting job pretty convincing.
RELATED LINK: Rookie Review – Chiefs Need to Stay Patient With Top Pick Eric Fisher
One of the biggest knocks on Foles was that he didn't read defenses quickly enough, and because of that would look only to his first read and then would turn immediately to his check down. That tendency lead to stalled drives time and time again, and it was a big reason Foles wasn't the clear cut starter at the start of training camp.
In the past two weeks that's changed, however. Foles is no longer looking to take the easy short pass immediately. Against Tampa Bay he averaged 9.5 yards per attempt, a huge improvement from his past starts. More importantly than the depth of his targets though, was what he did with those looks down field. In his three throws beyond 20 yards on Sunday, he couldn't have done any better, as all three of those passes ended up being touchdowns.
Not only is Foles getting the ball down the field at a much higher rate, but he's doing it after he's progressing through all of his reads. And perhaps most importantly, he's doing that while still getting the ball out of his hand quickly. According to ProFootballFocus.com, Foles is throwing the ball in 2.63 seconds. That is significantly quicker than Vick (3.4 seconds), and it puts Foles in the same neighborhood as Aaron Rodgers (2.58 seconds), Tony Romo (2.68 seconds) and Drew Brees (2.73 seconds).
Foles' newfound ability to move through his progressions quickly has been one of the most notable changes in the Eagles offense over the past two weeks. The extra time Vick has been taking in the pocket put an already less than elite offense line under quite a bit of stress, and it led to Vick getting sacked twelve times thus far in the season. Foles has been sacked only twice this season, thanks in no small part to the rate at which he's getting rid of the ball.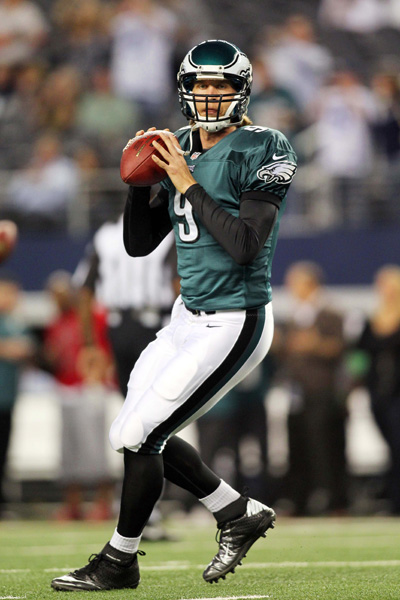 The Eagles' offense line still isn't pass protecting particularly well, but Foles has proven he's able to play well under pressure as well. According to PFF, Foles is by far the better of Philadephia's two quarterbacks when the pocket begins to collapse. Foles has completed 50% of his passes under pressure, and he's been sacked on only 9.1% of those plays. Vick, on the other hand, is completing only 34% of those passes and getting sacked almost twice as often.
Prior to Foles' move into the starting job, the Eagles had been simply awful in the red zone. They were near the bottom of the league in red zone efficiency, and Vick had been a key problem in particular: he'd only completed 3 of 19 passes in the red zone before getting injured. Once again, Foles has been a difference maker for the Eagles. Without counting a drive near the end of the game in Tampa Bay where the Eagles were focused on running the clock, while under center he's led the Eagles to four touchdowns on six trips inside the twenty.
Switching to Foles as the full time starter at this point of the season wouldn't be without hiccups, of course. Foles isn't nearly as mobile as Vick, which makes the read option a little easier for opposing defenses to defend. The move would force Kelly to adjust his offense slightly, but not as drastically as some might think. Foles ran the read option pretty effectively against the Buccaneers, and even picked up a touchdown on the ground. You'd see fewer quarterback runs with Foles as the full time starter, but they wouldn't be eliminated from the offense.
Regardless of which quarterback starts once Vick is healthy, there will be a vocal group of fans in Philadelphia that will be unhappy with the decision. Without Vick the offense loses some big play potential, but without Foles the offense will become much less efficient. Michael Vick and Chip Kelly seemed to be a match made in football heaven, but it appears at this point that Foles is probably the better option if the Eagles want to compete for the NFC East title.