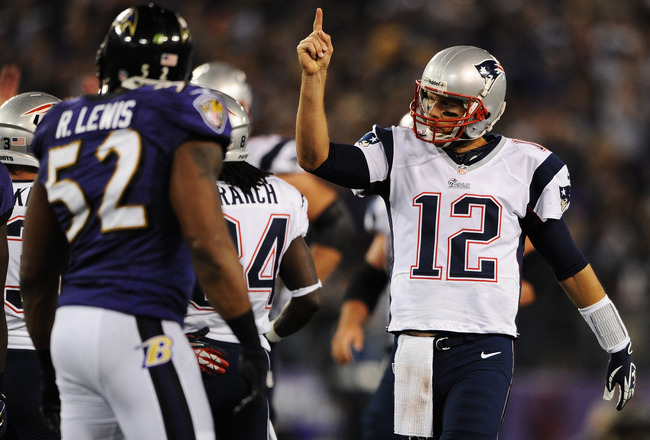 As we near the end of another NFL season, the possible story lines that could stem from this weekend of conference championships is immense. Will Tom Brady add another title to his storied career? Will Atlanta finally silence their doubters, or will San Francisco finally return to the Super Bowl? Can Ray Lewis extend his career for one more game?
We should be in for another fantastic weekend of football. What should you keep an eye on?
San Francisco at Atlanta, Sunday 3:00
As one of the least respected #1 seeds in recent memory, Atlanta has the unique opportunity to shock the world in winning the NFC title at home against the surging 49ers. What will it take for the Falcons to prove the rest of the NFL wrong and show that they truly are the best team in the NFC?
Key Match-ups to Watch
49ers's Versatile Rushing Attack vs. Atlanta's Front Seven
Following Colin Kaepernick's explosive performance against Green Bay last weekend, the focus for Atlanta's game plan on defense has to be slowing down their rushing attack. San Francisco's offense is one of the most versatile in the league, incorporating read-option looks out of the pistol formation, capitalizing on Kaepernick's outstanding athleticism and Frank Gore's tremendous abilities running the ball.
It could likely be a big problem for the Falcons. They gave up 350 rushing yards to Carolina's similar offensive scheme during the course of the season, and Atlanta especially struggled to contain Cam Newton in both their meetings.
Fortunately for the Falcons, their rushing defense is trending upwards. Over the second half of the season there's been a great improvement in their front seven, and their performance last week versus Marshawn Lynch was outstanding, holding him to just 46 yards rushing. Russell Wilson however was able to gain 60 yards on ground. Will Atlanta finally put it together and contain both Kaepernick and Gore, or will the 49ers run wild?
San Francisco TE Vernon Davis vs. Atlanta's Linebackers
Atlanta stopped Marshawn Lynch last weekend, but they've struggled all season long defending against tight ends. In a typical season for Vernon Davis, this would seem like a scenario where he should have a huge game. But since Kaepernick took over Davis has seen a big drop off in targets and production.
It's been one of the strangest parts of the 49ers season. Whether there's something going on behind the scenes, or the 49ers just feel he's better suited as a decoy in this offense, it's preventing San Francisco from really maximizing both his potential as well as the potential of their offense.
Sunday would be a great opportunity to go back to targeting the athletic tight end. The Falcons were exposed by Seahawk tight end Zach Miller last week, and likely won't be focused too much on Davis this week based on recent film. Will the 49ers take advantage?
San Francisco LB Aldon Smith vs. Atlanta OT Sam Baker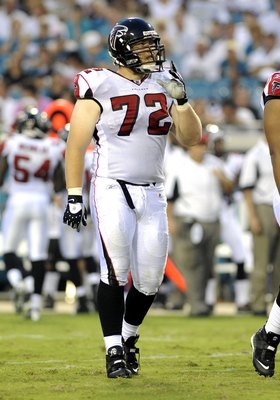 If Atlanta has one huge advantage in this match-up, it's in their passing game. Matt Ryan, Julio Jones, Roddy White, and Tony Gonzalez can combine to score quickly from anywhere on the field, and even a talented defense like the 49ers will be vulnerable against such a high powered offense.
The great equalizer here is a strong pass rush, and with the return of Justin Smith to the lineup, San Francisco's chances of getting to Matt Ryan will greatly improve. The key here will be the play of Aldon Smith against Sam Baker. Smith was red hot for most of the season, but in the last several weeks he hasn't seemed to be totally himself.
Baker hasn't been known as a great left tackle, but he's made a huge jump in his play this year and has played at least a respectable level during the course of the season. The Falcons need him to play at an even higher level this weekend. If Smith returns to form, it could be a long day for Ryan, unless Baker can somehow slow him down.
Prediction:
Atlanta has played at a higher level than most have given them credit for all season long, and this is a great opportunity for them to claim some well deserved respect. Unfortunately for the Falcons, they're coming up against a team that is suddenly on fire. Assuming San Francisco's offense continues to run the ball like they have thus far, they should earn a trip to the Super Bowl.
San Francisco 35, Atlanta 27
————
Baltimore at New England. Sunday 6:30
Joe Flacco took a huge step towards earning "elite" status as a quarterback last week. Beating Tom Brady on the road would be another huge step in that direction. Do the Ravens have what it takes to pull it off?
Key Match-Ups to Watch
Baltimore CB Corey Graham vs. New England WR Wes Welker
Historically, the Ravens have done a solid job of slowing down Wes Welker. Typically they've done that by match-up Welker with with Ladarius Webb. Now that Webb is out for the season, however, this match-up becomes much more dangerous for Baltimore.
The duty of covering Welker will now most likely fall to cornerback Corey Graham. Graham has been primarily a special teams ace during his career, but has been a pretty decent job as a cover corner this year as well for Baltimore. Of course, "pretty decent" isn't going to cut it against a player of Welker's caliber and the Ravens need to get a great game out of Graham.
It's often tough to predict who the Patriots will build their offense around from week to week, but it seems like a good bet that Tom Brady will look to test Graham early and often in this match-up. It's also a good bet that this winner of this individual match-up will go a long way in determining how effective the Patriots' offense will be. Is Graham up to the task?
Baltimore WR Torrey Smith vs. New England CB Aqib Talib
Much of the focus on this game will be on Joe Flacco's quest for greatness, but the more pivotal match-up will likely be between Torrey Smith and Aqib Talib. Since his arrival in New England Talib has been used to frequently shadow the opposition's top receiver, and there's no doubt that Smith is the biggest threat in the passing game.
The Ravens were able to stretch the field against the Broncos with Smith last week, and there's no reason to think that they won't be able to do that again this week. Talib has been an improvement in the secondary, but he'll still be vulnerable to Smith's speed and ability to get open down the field.
Baltimore's Interior Defensive Line vs. New England's Interior Offensive Line
Baltimore has been known for it's strong defenses, but this season has been somewhat of a disappointment, especially on the defensive line. Defensive tackles Terrence Cody and Ma'ake Kemoeatu take up a lot of space in the interior, but they don't do much more than that. They've struggled in run defense all season long, and that's not likely to get any better Sunday.
They'll be facing one of the better offensive lines in the league. Center Ryan Wendell doesn't get the credit he deserves, as he makes a huge impact in the running game almost every week and very rarely gets pushed backwards. Although he will be at a size disadvantage this weekend against Baltimore's defensive line, it's tough to imagine him having too much trouble in this one.
If the Patriots are able to succeed in run blocking as expected, it'll be a huge advantage for New England and one Baltimore may not be able to overcome. It tough enough to stop a Tom Brady led offense when you know he's going to throw. When your defense is off balance, it can be close to impossible.
Prediction:
Joe Flacco may be nearing the next tier of quarterbacks, but he's still no Tom Brady. The Ravens have a bright future on offense, and while their defense will need to re-tooled soon, it's a franchise that should have plenty of playoff runs in the near future. This weekend though, they're up against a team that simply knows how to win in the post-season, and New England will likely do it again.
New England 28, Baltimore 17