Just a few months ago, NFL teams preparing to face the Denver Broncos early in the 2013 season were almost certainly working on blocking schemes to attempt to protect their quarterbacks from the deadly pass-rushing duo that was Von Miller and Elvis Dumervil. Fast forward to the present however, and things don't look quite so daunting for those opposing offenses.
Thanks to a fax debacle courtesy of Dumervil's (former) agent, and more recently a six game suspension handed out to Miller, Denver's pass rush isn't likely to pack the same punch Broncos fans would have been looking forward to during the offseason. How will Denver cope with the losses? Will Miller's absence be reflected on the scoreboard as the Broncos strive for a Super Bowl?
Losing Dumervil, especially the way they did, was beyond frustrating for Denver. However, having one of the best young pass rushers in the league in Miller helped ease the pain quite a bit. It's clear that the Broncos' front office felt that Miller was more than capable of picking up the slack – even with the loss of Dumervil, Denver made no real push to sign veteran pass rushers like Dwight Freeney or John Abraham, instead choosing to make Miller the sole cornerstone of a defense with Super Bowl expectations. Considering that Miller racked up a whopping 18.5 sacks in 2012, that was a reasonable enough move.
Now that Miller has been slapped with a six game suspension, things look much different for the Broncos. Instead of the 50 sacks that Miller and Dumervil combined for over the past two seasons, Denver will instead be looking to players like Shaun Phillips and Derek Wolfe to provide a pass rush in Miller's absence. Phillips is a strong pass rusher, but even though he totaled 9.5 sacks last season he's still not a player of Miller's caliber.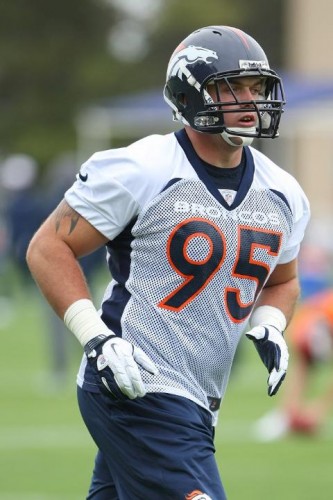 As for Wolfe, the second year defensive end was having a strong training camp and appeared to be set to have a break out season. But after a scary injury led to his being taken off the field in an ambulance in the Broncos' second preseason game, his availability is now in the air. Wolfe tweeted that he expects to be back on the field soon, but until we hear more from Denver, his 2013 season is certainly in question.
Whether Wolfe is healthy or not, Miller's suspension is going to put more pressure on defensive end Robert Ayers as well. As a player playing in a contract year, there's no question that Ayers will have plenty of motivation, but with just 6.5 sacks in four seasons it's difficult to imagine him having the same impact in the passing game that Miller would. The same can be said for the newest Bronco, linebacker Paris Lenon. Lenon is a solid, consistent player that 48 straight games over the last three years in Arizona. However, he was able to record only seven sacks during that time. Lenon is a nice addition to the defense, but he's simply not a dynamic pass rusher.
Fortunately for the Broncos, the first six games of the season contain match-ups with Oakland and Jacksonville – games that Denver should easily handle with or without Miller. Beyond that, however, things get a little more questionable. Philadelphia should provide another win for Denver, but a Chip Kelly offense brings the potential to surprise a Miller-less defense that could still be dealing with injuries to Champ Bailey and Wolfe.
Things will be even tougher for the Broncos against the New York Giants and Dallas, as both those NFC teams figure to be on the upswing and Denver will be on the road for both battles. The most difficult match-up will likely be the season opener, as they host the defending Super Bowl Champion Baltimore Ravens. Sans Miller, it's not a stretch at all to envision the Broncos opening the season 3-3 or even 2-4.
It's obvious that no one on the Broncos' roster will have the same impact on defense that Miller would. So who should Denver look to to offset his loss? That pressure will rest solely on the shoulders of Peyton Manning. It's not a scenario he's unfamiliar with – for years his stellar play helped make up for a lackluster supporting cast, especially on the defensive side of the ball. With players like Demaryius Thomas and Wes Welker, Manning has perhaps one of the most talented collection of skill players he's ever had at his disposal.
Manning has overcome far worse situations in the past. If he's able to do it this time in Denver, the Broncos will likely be able to secure the number one overall seed in the AFC in spite of Miller's suspension. If he can't, however, the Broncos' Super Bowl dreams could be on hold for yet another season.