With a memorable Super Bowl and 2012 NFL season now in the books, it's time to fully focus on the off-season, free agency, and of course the draft. Without a solid idea of what teams will be looking for, it's impossible to be really prepared for the next several months.
Where better to start than the AFC North, home of the world champion Baltimore Ravens?
Baltimore Ravens
The emergence of Joe Flacco during the post season isn't the only bad news for the other teams in the AFC North. Sure, the Ravens are the newly crowned world champions, but they did it with a roster that could be quite significantly improved during the offseason. If Ozzie Newsome is able to navigate a sticky salary cap situation, Baltimore could very well be an even more talented team in 2013. The priority will be on adding youth to an aging defense, but they shouldn't ignore some offensive needs as well.
Primary Needs
Inside Linebacker
You may not have heard, but long-time linebacker Ray Lewis has played his last snap in the NFL. That leaves a big void in the locker room and on the field. The drop in leadership won't likely be addressed through the draft or through free agency, and will be something that will have to develop organically.
On the field though, a new face in the middle of the defense could actually provide a marked improvement for Baltimore. For all his positive attributes, Lewis struggled in coverage throughout the season, and his overall play left a good deal to be desired especially during the playoffs.
The Ravens' other inside backer Dannell Ellerbe is a free agent and it's not a guarantee that he'll return. With Jameel McClain (third on 2012's depth chart) battling back from a spinal contusion, it's clear that Baltimore will need to but a high priority on finding at least one inside linebacker, and perhaps more. Manti Teo is the more well known inside linebacker in this draft, but Kansas State's Arthur Brown could be a great fit here late in the first round.
Free Safety
Lewis isn't the only key defensive piece that could be out of the Ravens' lineup in 2013. The potential absence of Ed Reed from Baltimore's roster will probably hurt much more than Lewis' retirement, at least on the field. Reed still continues to play at a high level, and that will probably make his contract demands more lucrative than the Ravens will be able to afford.
Baltimore did draft free safety Christian Thompson in the fourth round of last year's draft. It's possible that they view Thompson as a potential replacement, but the reality is that he's not a player that can really have hopes of playing at a level similar to Reed's, and if the Ravens want to continue to get a high level impact from the free safety position they'll need to look elsewhere.
Left Tackle
Shuffling the offensive line heading into the playoffs may have been the decision that won Baltimore the Super Bowl, but it's revealed some long term holes on their roster. Kelechi Osemele's move from right tackle to the inside was outstanding, and he flashed top tier potential during the Super Bowl. Michael Oher played well moving to right tackle, filling Osemele's former spot, and he should stay there in 2013 and beyond.
This does, however, leave a void at left tackle. Bryant McKinnie deserves a good deal of credit for his performance there down the stretch. He's a free agent however, and at 33 years old it's far from certain that the Ravens will look to sign him to a new contract.
Considering the success this unit had during the past month, it may be wise for Baltimore to sign McKinnie for the short term and look to the draft for the long term answer. There are plenty of mid round offensive tackles that could be ready to start within a couple of seasons. Will the Ravens take that route
Additional Needs
Nose Tackle
Neither Terrance Cody nor Ma'ake Kemoeatu have had rousing success during their recent time in Baltimore. The Ravens have been able to hide those shortcomings in the past, but it's an area that could be addressed if they find a free agent at the right price.
Wide Receiver
Joe Flacco will be taking up a huge portion of the Ravens' salary cap in 2013. Ironically, two of the players who helped him earn that payday might end up as cap casualties because of it. Both Anquan Boldin and Jacoby Jones played pivotal roles in Flacco's emergence, however they'll take up a combined $10 million in 2013. Is that a price the Ravens will be willing to pay?
Cincinnati Bengals
The next six months will be huge in Cincinnati. The franchise has emerged from the bottom of the NFL after spending decades mired in mediocrity. Now it's time for them to take the next step as they work towards obtaining success in the postseason. There's some significant issues to address on both sides of the ball, as well as some concern surrounding the development of their starting quarterback. Can the Bengals improve during the off season?
Primary Needs
Linebacker
The Bengals won several games this season on the backs of their defense, but surprisingly there's a good bit of re-tooling that needs to be done. Depending on how the cards fall, their linebacker group could prove to big remarkably different in 2013.
Rey Maualuga proved to be only decent against the run and a huge liability in coverage as a middle linebacker. It cost them in the playoffs, and the free agent middle linebacker should probably be on his way out of Cincinnati. Moving Vontaze Burfict inside could be one step towards patching that hole.
The Bengals will likely be doing some adjusting on the outside, too. Both Manny Lawson and Thomas Howard are free agents, and it's uncertain whether either one will be with the team in the future. Both outside backers, as well as Maualuga are upgradable, and Cincinnati should look to do just that.
Safety
The Bengals struggled to find a combination of players that worked at safety all season long, but the play in the secondary hit its low point when Reggie Nelson was injured. His absence revealed just how badly Cincinnati need to address the position.
The main need is at free safety, where both Nate Clements and Chris Crocker will be free agents. They do have the young George Iloka on the roster, and he probably deserves a chance to see playing time in 2013. Even if he performs well, depth at both free and strong safety desperately needs to be improved.
Running Back
BenJarvus Green Ellis wasn't exactly a disappointment during his first year as a Bengal, but he wasn't particularly impressive either. He is what he is – a plodding running back that isn't ever going to break a game open.
For a team with low aspirations, he's a serviceable back. But Cincinnati has its sights set much higher than that, and they need some explosion outside of AJ Green. At the very least, a change of pace back (Mike Goodson, perhaps?) needs to be added. Finding a younger, more explosive running back that can carry the load via the draft would be an even better addition.
Additional Needs
Quarterback
In a quarterback driven league, it feels strange to question the starting quarterback of a team that has made the playoffs two straight years. In the Bengals' case however, it's something worth discussing. If Andy Dalton did anything in year two, it was regress. While Cincinnati isn't likely to go acquire a new starter heading into Dalton's third season, they do need to upgrade the back-up quarterback spot. Bruce Gradkowski isn't going to lead a team to postseason success, and the Bengals need insurance in case Dalton's regression continues.
Cleveland Browns
Another year, another regime change in Cleveland. The move to Ray Horton as the new DC this year means that the Browns will again be transitioning to a 3-4 defense. It's a move that requires plenty of personnel changes, and it's a process that typically takes more than just one season to accomplish. Can the Browns shorten that transition?
Primary Needs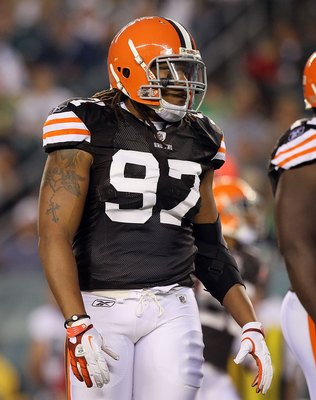 Outside Linebacker
It's a rare occurrence, but the transition in defenses shouldn't be too difficult for Cleveland, at least on the defensive line. With players like Phil Taylor and Ahtyba Rubin, they'll at least have to pieces to work with in year one. Inside linebacker shouldn't be too big of an issue, either.
The glaring need is a outside linebacker. The only option on the current roster is defensive end Jabaal Sheard. Sheard hasn't done much as a DE during his career, but a move outside could provide a jump start to his career.
Free agents like Anthony Spencer or Paul Kruger might look appealing, but it's likely that both players could end up being overpaid. Would the Browns be willing to gamble on a player with injury concerns like Dion Jordan with the sixth overall pick?
Cornerback
Joe Haden is one of the best in the league, but for numerous reasons Cleveland needs to add some more help at corner. Haden's availability will constantly be in question due to his suspension history, and neither Trevin Wade nor Buster Skrine are solid options on the outside.
With all that considered, it would certainly make sense for the Browns to consider taking the best available corner with their first round pick. It's likely that they would have their choice of defensive backs at that spot, and they'd be getting a key contributor from day one.
Additional Needs
Quarterback
Like Cincinnati, there should be some considerable concern surrounding the quarterback position. Although he's pushing 30 years old, Brandon Weeden proved he has a ways to go yet to develop into a NFL caliber quarterback. A developing quarterback needs the faith of the coaching staff and the front office, and neither one has really come out and backed Weeden 100%. It's pretty likely the Browns will be on the lookout for another player they feel can come in and be the starter.
Offensive Guard
Cleveland has done a good job of assembling offensive talent, and outside of the quarterback spot there aren't a ton of glaring holes. However, with Jason Pinkston's status up in the air for 2013, they'd be wise to add another offensive guard.
Pittsburgh Steelers
Once the dominant force in the AFC North, the Steelers have quite a bit of work to do to reclaim the top spot in the division. Numerous issues on both sides of the ball plagued them during their late season collapse, and with so many issues they're going to need to put together some great work during the draft and free agency. They'll have to be wise with every dollar they spend, however, as they don't have a favorable salary cap outlook heading into the off season.
Primary Needs
Cornerback
The Steelers have plenty to address during the offseason, but priority number one needs to be re-signing Keenan Lewis. Play in the secondary has been an issue for the past several seasons, but 2012 saw a reversal of that trend. Lewis was a big factor in that improvement, and retaining his services would allow the Steelers to address other key issues instead.
Unfortunately, Pittsburgh isn't going to have much cap room to work with, and in a pass-heavy league good cornerbacks are at a premium. It may cost more than the Steelers can afford to keep Lewis in the line-up, which would in turn create a gap on the roster that would need to be addressed quickly.
If Lewis can't be re-signed, Cortez Allen would likely get promoted from the nickle. Allen had a solid year himself in 2013, and this move would allow Pittsburgh the freedom to address the nickle via the draft or free agency.
Tight End
Heath Miller has been a key to the Steelers' offense for quite some time. But the injury he suffered in week 16 leaves his status for 2013 and beyond very much in the air. On top of that, his two back-ups have accomplished next to nothing, meaning tight end is need that is very much near the top of the list for Pittsburgh's offseason.
Miller should be back at some point during the 2013 season. Will the Steelers look to settle for a stop-gap in free agency and save some salary cap room? There are a number of solid and aging tight ends that will be hitting the market that could fill that role.
Miller's return isn't guaranteed of course, however. The Steelers could make a more expensive play for a more athletic, pass receiving tight end like Jared Cook and find blocking help already on their roster. They also could look to the draft and get younger at the position. Regardless, it's going to be a pivotal decision for the offense.
Running Back
As good as Ben Roethlisberger is, the Steelers must make an attempt to find a running back that can consistently help take some of the pressure off of Big Ben. Jonathan Dwyer, Issac Redman, and Rashard Mendenhall are all free agents, and none of them got particularly confident reviews from coaches at the season's end.
There's almost certain to be some big changes at the position. The free agent market isn't necessarily a strong one at the postion, and because of that there's likely to be several players that get overpaid. Those high prices are likely to force the Steelers to turn their attention to the mid-rounds of the draft, where they can find an every-down back with a much more friendly price tag.
Additional Needs
Inside Linebacker
Larry Foote was pretty disappointing in replacing James Farrior this season, struggling in all phases of the game. He missed far too many tackles and could definitely be upgraded.
Wide Receiver
The departure of Mike Wallace is a necessary move considering the cap situation, but it takes away quite a bit of fire power. Antonio Brown and Emmanuel Sanders aren't slouches, but don't stretch the field much either. It may not be in the budget, but Pittsburgh could use a deep threat.