Thursday night saw Andrew Luck pick up where he left off last Sunday, looking nothing like a rookie and leading the Colts on a suprising push for a play off spot.
While the rest of the AFC South ponders just what they did to get a decade of Peyton Manning followed by Andrew Luck, we look ahead to this weekend's action. Who should you keep your eyes on in week ten?
Top Match-ups to Watch
New Orleans' ground game vs. Atlanta's rushing defense
When Darren Sproles broke his hand in practice, it had the potential to be the final, crushing blow to the Saints' season. Their rushing game was already lethargic, and the loss of Sproles would likely only make that worse. And while New Orleans will still try to get the speedster back on the field as quickly as possible, their outing against the Panthers in week nine was actually their best rushing performance of the season. Chris Ivory, Mark Ingram and Pierre Thomas each had a YPC average of over four yards, and for at least one week the Saints offense didn't have to revolve entirely around Drew Brees.
Meanwhile in Atlanta, the Falcons have excelled at just about everything while going undefeated to this point. The one exception has been their run defense. They're ranked number #25 in the league at stopping the run, and they'd likely be ranked lower if they weren't forcing opposing offenses to play catch-up so often.
The Falcons defense should get a boost with the return of a full strength Corey Peters to the line up. He's been knocking the rust off over the last couple weeks, and if he's able to increase his reps again this week, we could see the Falcons use even more of their three defensive tackle package they've used to try to help slow running backs down. Will it work against the Saints?
Cincinnati DT Geno Atkins vs. New York's Offensive Line
Geno Atkins is probably one of the most under appreciated players in the league. Since he was drafted in the fourth round in 2010, he's been one of the better defensive tackles in the league, and yet he hardly gets much credit for it outside of Cincinnati.
One of Atkins' best talents is that he can play effectively pretty much anywhere on the defensive line. That makes him tough to game plan for, and on many snaps the Giants' offensive linemen won't have any idea who Atkins will be lining up against until they break the huddle.
As a whole, the interior of New York's offensive line has not been impressive during the season, especially in pass protection. That will be a major concern for the Giants as Atkins can be a dominate pass rusher. Eli Manning has shown he can be an elite quarterback, but can't make plays if he has Atkins breathing down his neck.
Tampa Bay WR Vincent Jackson vs. San Diego's Secondary
Many in Tampa Bay weren't quite sure what to expect when the Buccaneers went out and signed Vincent Jackson, one of the first big splashes in free agency this past summer. Sure, he was a good receiver, but could he be great? So far, the answer to that has been a resounding success. He's helped Josh Freeman and the rest of the Tampa Bay offense take a huge step forward, and the offense as a whole is drastically improved.
San Diego has clearly missed Jackson on offense, and now they'll have to turn their attention to stopping him on Sunday. Quinton Jammer is having yet another stellar season at corner for the Chargers, but he's also been flagged for more than his fair share of penalties down the field. When matched up with Jackson, Jammer will have to resist the urge to get too physical with the bigger wide out.
On the other side of the field is Antoine Cason, and for the Bolts that a nightmare matchup. Cason has been quite bad in coverage all season, and it'd make sense for the Bucs to try to get Jackson and Cason matched up as much as they can. If they're successful, it'll but a ton of stress on Eric Weddle to try and get Cason some help.
————
Rookie Watch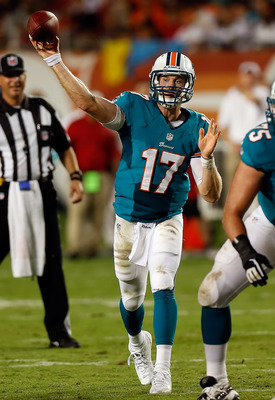 Miami QB Ryan Tannehill
In almost any other season, a rookie year like Ryan Tannehill has had would garner him a ton of media attention and talk of rookie of the year honors. But because of the almost absurd level of success Andrew Luck (are we SURE he is a rookie?) and Robert Griffin III are having, Tannehill's strong start is getting very little attention.
He may finally get a chance to put up some eye popping numbers of his own Sunday afternoon. He gets the immense privilege of going up against a Tennessee Titans defense that is on pace to give up a record number of points and has already given up 20 touchdown passes.
Carolina CB Josh Norman
Josh Norman was supposed to get some time to develop in Carolina before he was asked to be a full time starter. A season ending injury to Chris Gamble forced the Panthers to disregard that schedule, however, and Norman has started every game this season. He's given up plenty of catches, but fortunately he's avoided giving up big plays.
He'll face yet another tough test as he lines up against the Denver Broncos. Peyton Manning is probably the most cerebral quarterback he's played against to this point, and you have to figure that Manning is going to be testing the rookie early and often. Will Norman be up to the task?
Tampa Bay RB Doug Martin
Will the streak continue, or will San Diego's strong run defense slow down the rookie sensation? Doug Martin didn't appear to be affected by the loss of offensive guard Carl Nicks last week, but his absence may loom larger this time around.
Linebacker Donald Butler has been making quite an impact in the run game, and both Corey Liuget and Aubrayo Franklin have been doing an outstanding job of occupying opposing offensive linemen. Martin obviously has the talent to over come that, but can his battered offensive line do the same?
————
Fantasy Quick Hits
Surprise, surprise: Jake Locker's shoulder suddenly got much better after Bud Adams put the entire organization on notice. Locker is now expected to start at Miami. We saw early that he has a high fantasy ceiling – if you've got a roster spot to spare, he could be worth it.
Calvin Johnson mentioned this week that nerve damage resulting from stinger could be to blame for his issues with dropping passes this year. He went on to say that he feels as though he's getting back to his pre-injury form. His fantasy owners can only hope that means a disappointing year will get turned around soon.
It looks like in the carosel that is Pittsburghs running back rotation, Issac Redman is going to be the guy to get the start on Sunday. Jonathon Dwyer will get snaps as well, and it's expected that the Steelers will go with the hot hand. Both guys are high risk/high reward plays.
Brandon Marshall has been one of the hottest fantasy receivers of the last month, but don't look for that same sort of production Sunday. The Texans are going to double team Marshall on every play, meaning you should expect guys like Alshon Jeffery to get chances this weekend.