The AFC playoff picture is nearly cemented, and the NFC awaits their East division to determine a champion on Sunday night. As we celebrate the Holidays this week, we're also nearing the most wonderful time of the NFL season.
Before we jump into the final week of the regular season, let's take a quick look back at week sixteen.
Recapping the Top Match-Ups to Watch
Washington QB Robert Griffin III vs. Philadelphia DEs Trent Cole and Brandon Graham
Trent Cole and Brandon Graham had the tough task of slowing down the mobile Robert Griffin and the Redskins' option attack. Fortunately for the Eagles, Griffin's injured knee still hasn't fully recovered, and his mobility was quite limited on Sunday. Unfortunately, RGIII isn't just a mobile quarterback.
Griffin ran the ball sparingly, but instead led the Redskins to a big win through the air. He didn't play a perfect game, and he made some mistakes that could have been crucial had his team not rallied around him. But they did, and playing effectively while being limited could prove to be a huge step in the already fast development of the rookie.
Cincinnati WR AJ Green vs. Pittsburgh CB Cortez Allen
Forced into the starting line up with Pittsburgh's top corners banged up, Cortez Allen was paired up against AJ Green with Pittsburgh's playoff hopes on the line. For most of the game Allen played quite well, but unfortunately the same couldn't be said for the Steelers' offense.
As one would expect, giving a player like Green opportunity after opportunity to make big plays is not a strategy that will win games, and while Allen didn't have a bad game personally, Green would end the game with ten catches for 116 yards. That's a big stat line to concede, but considering Green's talent level and the fact that he saw nearly twenty targets, it's a performance that Allen can feel good about. The loss certainly didn't fall on his shoulders, and it's a bright spot for a defense that desperately needs young talent to step up in 2013.
Dallas RB DeMarco Murray vs New Orleans' Run Defense
For the Cowboys, their game plan was simple. Keep the ball out of Drew Brees' hands by handing the ball to DeMarco Murray, who should have had little trouble overpowering the Saints' shaky run defense. Eleven carries for forty yards isn't what Dallas was looking for out of Murray, but it is exactly what they got.
Instead of Dallas controlling possession it was New Orleans that dominated, allowing Murray only four first half runs; carries that he was bottled up on just like he was in the second half. Not only could Murray not get any momentum carrying the ball, but he again had trouble with ball security, losing a fumble that led to a New Orleans touchdown.
It was a terrible time for Murray to have a poor outing, and it's not a stretch to say that it played a large role in Dallas' defeat. Will he and the Cowboys bounce back next Sunday Night and win the division?
————
Rookie Watch
Rookie Quarterbacks Set the Stage for the Playoffs
As has quickly become the standard this season, rookies again took games over across the league and went a long way in determining how the playoffs will shape up during week sixteen. This was no more apparent than in Seattle, as their new star Russell Wilson took another huge step in his development with a tremendous showing against the rival 49ers.
Wilson completed 15 of 21 passes, threw for four touchdowns, and was incredibly accurate throughout the game. The offense in Seattle is still centered on Marshawn Lynch, but we can no longer just assume that Wilson is being "hidden" or is simply a game manager. Wilson is far more than that. The third round pick is a rising star in the league, and as the quarterback on the hottest team in the NFL, we'll hear a lot more from him this year.
On the flip side, in Philadelphia rookie signal caller Nick Foles suffered through a less than enjoyable learning experience, again struggling to decipher the Redskins' defense. Statistically, the game wasn't a disaster for him and it was much improved from his initial game against Washington. Foles completed 66% of his passes and threw one TD and one INT.
However, Foles made poor reads throughout the game, and as the final seconds of the game ticked away he took an intentional grounding call that ended the game instead of hitting two open receivers in the end zone. It was revealed later that Foles' suffered a broken hand during the contest, adding injury to insult and likely cutting the rookie's season a game short.
Green Bay OT Don Barclay
It feels nit-picky to point out an aspect of the Packers' performance that was sub-par in their 55-7 drubbing of the Titans, but there was a player that didn't have the same dominant performance that the rest of his teammates did. And likewise, one Titan defender was able to have a solid game in spite of the poor game the rest of his defense played.
Rookie right tackle Don Barclay struggled again in protecting Aaron Rodgers, and for most of the game was entirely over powered by Tennessee defense end Derrick Morgan, who continues to develop well. Barclay allowed Morgan to record two hits and three hurries of Rodgers on the day. It clearly wasn't a big enough issue to hurt the Packers' chances against the lowly Titans, but it could prove to be a much larger problem in the playoffs.
————
Scouting Notes from Across the League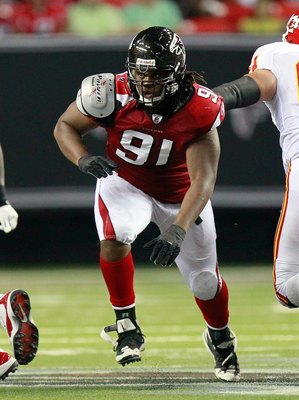 The Falcons defense has been widely criticized for being weak against the run, but they've stepped up and answered the call in recent weeks. Defensive tackle Corey Peters has been especially solid, and he had a career high four tackles against the Lions on Saturday.
Clay Matthews was sorely missed on Green Bay's defense, and he's played at a very high level since returning from injury. He hit Jake Locker twice and recorded a sack against the Titans this weekend.
St. Louis' rookie corners Janoris Jenkins and Trumaine Johnson have had up and down rookie seasons, but both guys looked like the real deal on Sunday against Tampa Bay. Was it their true talent shining through, or was Josh Freeman just really that bad?
It may be time to end the DPOY debate. Aldon Smith looked overwhelmed without fellow 49er Justin Smith on the field, while JJ Watt had another stellar performance even though his defensive teammates played far below their typical levels.
It's time to dispel the myth that CJ Spiller is a finesse runner. Nearly all of his 138 yards came after contact against Miami. There's no question he should be the workhorse next season in Buffalo.