Week nine opened with the train wreck in Kansas City only getting worse, as the Chargers rolled over their divisional opponent. The Thursday night kickoff may not have been the exciting game that we would have hoped for, but that doesn't mean the rest of week nine will be a dud.
There are some big-time match ups across the country set for this weekend. What should you be focusing on?

Top Match-ups to Watch
Tennessee RB Chris Johnson vs. Chicago's Run Defense
Much was made about the demise of Chris Johnson early in the season. He looked slow, uninterested, and pretty much the exact opposite of the player that ran for over 2,000 yards just a few seasons ago. And now that Johnson has led the NFL in rushing yard over the last five weeks, there's been plenty of talk that CJ?K is now "back". CBS highlighted his speed on one run against Buffalo, where he ran 40 yards in 3.77 seconds. Regardless of what you think about him, it's indisputable that that sort of speed with pads on is just insane.
So which is it? Is he washed up or still one of the league's top running backs? How he plays against Chicago's rushing defense will go a long way towards answering that question. The Bears have been one of the league's best rushing defenses in 2012, allowing only two running backs to go over 100 yards.
It might not be fair to look for Johnson to run all over Chicago's defense – no one has thus far, and his offensive line is dinged up. But he does need make himself a factor in the game – minimize the negative runs, show decisiveness, and avoid putting up one of those 1.3 ypc days he's been known to have lately. Otherwise, we'll be talking again about how he's washed up.
Buffalo DE Mario Williams vs. Houston OT Derek Newton
Houston fans were crushed while Buffalo's rejoiced when Mario Williams signed his blockbuster deal with the Bills early in free agency this summer. Williams was thought to be a critical part of the Texans' defense and was supposed to be the key piece that would turn Buffalo's defense around. But after all the hype, so far it appears to have been much ado about nothing.
Hindered by a controversial wrist injury, Williams has been one of the biggest free agency disappointments in recent memory. His addition has done nothing to improve the Bills' defense, now one of the league's worst.
Williams will need to have a big homecoming if the Bills hope to slow down the Houston offense. The Texans offensive line has been solid for most of the year, and quarterback Matt Schaub has had a clean pocket to work with. Derek Newton will have the once daunting task of keeping Williams out of the backfield. Will the defensive end formerly known as Super Mario return to his old ways, or will the Houston offense roll?
Indianapolis WR Reggie Wayne vs. Miami CB Jimmy Wilson
Andrew Luck has appeared to revitalize Reggie Wayne's career, but Wayne's resurgence isn't all due to Luck's presence. Wayne is not playing out of the slot more than he has before in his career, and it's created mismatches through the season. It is a move that many Colts fans wanted to see for quite some time, and now that it's paying dividends many are wondering why we didn't see that wrinkle in Indianapolis' offense sooner.
The Dolphins typically have Jimmy Wilson covering the opposition's slot receiver, meaning this will be the match up to watch in this clash of AFC teams. Wilson hasn't given up much in his two year career, but he hasn't been tested too much either. He's only seen a handful of passes thrown his way, but he also hasn't matched-up with a player of Wayne's caliber, either. Will Wilson be able to shut down Wayne, or will the Colts' offense continue to rack up yards out of the slot?
————
Rookie Watch
Three top rookies face off in Washington
Robert Griffin III is the rookie that everyone is talking about in Washington DC and across the league, but he's not the only rookie making a big time impact for the Redskins. We all expected RGIII would make an impression early in his career, but it's not as likely that many people expected running back Alfred Morris would even get much playing time. He's done that and much more, winning the starting job and rushing for 717 yards.
He and Griffin will be squaring off with another rookie, Carolina linebacker Luke Kuechly in week nine. Kuechly didn't get off the quite the hot start that RGIII and Morris did in Washington. The linebacker was considered one of the safer picks in the draft, but until the last few weeks looked like the game was moving just a little too fast for him.
He's caught up now though, and has become a reliable presence in the middle of the field against the run. Kuechly's play has been a big part of what's help pull the Panthers' defense out of a dismal stretch to start the season. Can he get the same sort of results this weekend, or will Morris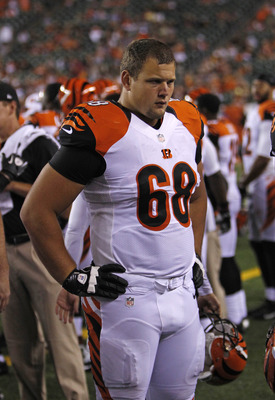 and Griffin work their magic again?
Cincinnati OG Kevin Zeitler
Rookie offensive linemen hardly ever get the credit they deserve when they have strong starts to their careers. This is a league where above average play in the trenches can go largely unnoticed for years, so it's not surprising that the play of Kevin Zeitler hasn't received much national interest. The rest of his offensive line has played poorly for most of the season, and the running game has struggled to gain any momentum.
That shouldn't take away from Zeitler's outstanding debut, however. He's quickly developed from a rookie who looked overwhelmed in training camp to a player who now looks poised to be a perennial Pro Bowl talent.
He'll have the tough task of leading his offensive line against the stout defensive front seven that Denver puts on the field this weekend. The Broncos have excelled at both stopping the run and rushing the passer, and it will take one of Zeitler's best efforts of his career to help stop that trend.
Tampa Bay RB Doug Martin
Doug Martin finally lived up to expectations last Thursday night, exploiting the Minnesota's defense as both a runner and a receiver. Buccaneer fans were ready to watch Martin ride that momentum to a big second half of the season, but a season ending injury to offensive guard Carl Nicks could throw a wrench into those plans.
Nicks was by far Tampa Bay's best run blocker, and Martin had much more success running to his side than anywhere else on the offensive line. Martin's performance against Oakland, who boasts a strong rushing defense, should be a good indicator of how the Buccaneers' ground game will look without Nicks. Can Martin build on his last strong performance, or will the loss of Nicks be too big a blow to overcome?
———-
Fantasy Quick Hits
Will the Cam Newton of old return on Sunday? He's not played well this season, but he also just came out of a brutal stretch of opposing defenses. The rest of his schedule looks much better, starting with a great match up against a struggling Washington defense. This might be your last chance to buy low on Newton before he takes off.
Memo to Andy Reid: the offense is struggling to the extent that you considered benching your big money quarterback in favor of an untested rookie. The best solution? Run your offense through its most talented player, LeSean McCoy. Not only will your offense dramatically improve, you'll also dramatically lower the blood pressure of McCoy's fantasy owners across the country.
Jonathon Stewart isn't a great fantasy pick up – the Panthers' offense is a mess and his ceiling is pretty limited – but it appears that he's going to dominate the backfield for the rest of the season. In a league where running back by committee is king, that alone is enough to give him value as a flex player at least.
Cecil Shorts has scored three touchdowns this season, is averaging 20 yards a catch and looks to be the focal point of the Jacksonville offense for the foreseeable future. Calvin Johnson has only scored once in the entire season. Fantasy football is weird.