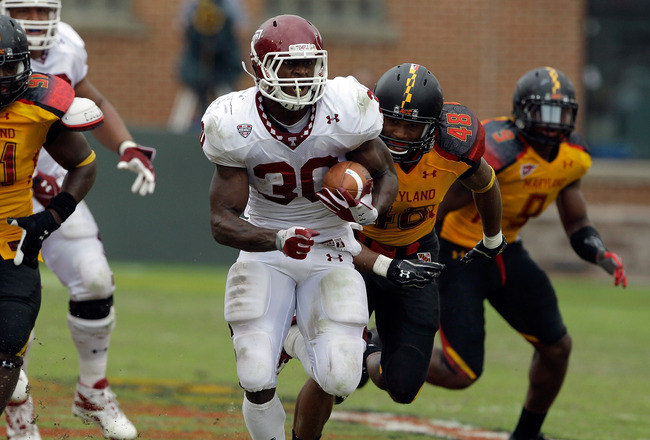 One of the results of the NFL's evolution to a pass first league is that there isn't much of a need for a true work horse running back on most teams. Gone are the days of true "ground and pound" football where a running back would carry his team up and down the field for 16 games.
Now the majority of teams instead rely on a group of running backs instead of one work horse. While it's brutally frustrating for fantasy football players, it's created some memorable competition in training camps and throughout the season for a limited number of carries.
2012 is shaping up to be no different, as there are plenty of running backs that will be fighting for just a handful of carries.
Baltimore Ravens
Contenders: Anthony Allen, Damien Berry, Bernard Pierce (R), Bobby Rainey (R), Ray Rice
After Ricky Williams elected to retire, the Ravens were left without a back up for Ray Rice that they could feel confident in. It was an area they desperately needed to address, and they may have found one of the steals of the draft in Bernard Pierce.
Pierce has the talent of a second round pick that, due to injury concerns fell to the Ravens in the third round. He's arrived in a perfect situation: Rice will continue to get the lion's share of carries in Baltimore, giving Pierce a chance to contribute while still staying healthy.
His style of running will compliment Rice's extremely well. Pierce is a one cut runner, which will allow him to pick up some of the short yards that Rice sometimes gives up by looking to make a bigger play.
Behind Rice and Pierce are a ton of question marks. Anthony Allen and Damien Berry are entering their second year in the league, and Bobby Rainey is an undrafted free agent out of Western Kentucky. It'd be almost impossible to predict who will come out of this group as the third running back, and in fact the third stringer may not yet even be on Baltimore's roster. Pierce should be a solid player, but will the Ravens be comfortable with having Rice as the only running back with NFL experience?
Regardless of whether the Ravens stick with what they have or acquiring a veteran backup, the division of carries will remain the same. Rice will get the large majority of carries, and Pierce will be the guy to spell Rice.
Denver Broncos
Contenders: Lance Ball, Ronnie Hillman (R), Willis McGahee, Knowshown Moreno
The Broncos were one of the best rushing teams in the league last year, which makes it odd that they found themselves in need of a running back heading in to the draft. But the need was there: with no Tim Tebow, an aging Willis McGahee and an ineffective Knowshon Moreno, Denver desperately needed a shot of energy to the position.
McGahee was the team's leader at running back last season. He averaged nearly five yards a carry, and went for 1200 yards on the ground. He's taken a beating over his nine years in the league, and there is plenty of concern that he doesn't have much left in the tank.
The addition of Peyton Manning greatly changes the dynamic of the Broncos' offense. They're no longer a run oriented team, and because of that what Denver needs in a running back has changed as well. They need a player that can catch the ball as well as an effective runner, and that's where Ronnie Hillman will come in. He was one of the best, if not the best receiving running back in the draft, extremely explosive, and at the same time a tough runner when he needs to go between the tackles.
McGahee is tough, grinding runner; and those qualities have a place on every NFL team. But Hillman is a perfect fit in the Broncos' offense, and once he gets on the field it will be very hard for the Denver coaching staff to take him off of it. He'll quickly surpass McGahee and become a sleeper candidate for rookie of the year honors.
Detroit Lions

Contenders: Jahvid Best, Mikel Leshoure, Kevin Smith
With an offense that boasts Calvin Johnson and Matt Stafford, the running game could easily become an afterthought in Detroit. And in 2011, it was: the Lions ranked 31st in rushing attempts and 29th in rushing yards. But considering Jim Schwartz's background, and the fact that the Lions have both a 1st round pick (Jahvid Best) and a 2nd round pick (Mikel Leshoure) at the position, the running game should become more of a factor in 2012.
The big question will be who gets the majority of the carries. Detroit drafted Best and Leshoure to be a "Thunder and Lightening" combination – Best is the speedster and Leshoure the bruiser. Unfortunately, neither of the two have been able to stay healthy. Best was lost for the 2011 season due to concussion related issues, and Leshoure tore his Achilles tendon before the season ever began. Additionally, Leshoure was arrested for marijuana related charges twice during the offseason, and is likely facing a suspension for the beginning of the 2012 season.
It's not clear whether or not Best or Leshoure will be reliable options through 16+ games for the Lions, and it's also clear that Detroit isn't entirely comfortable with what they currently have on the roster. They signed Kevin Smith last season when they were without any other options, but he struggled to stay healthy as well. They also attempted to sign free agent Ryan Grant this month, but those contract talks stalled.
While it's likely to be a running back by committee approach, Leshoure's off the field troubles should land him in the dog house for at least part of the season. Until he can demonstrate that he's developed maturity, the Lions will have to depend on guys like Smith to contribute. For the foreseeable future, it's likely that Best get the most (or at least the most meaningful) touches in 2012.
Miami Dolphins

Contenders: Reggie Bush, Lamar Miller (R), Daniel Thomas
Prior to the draft, most would have thought that Miami would feel pretty confident about where they stood at running back. Reggie Bush was coming off one of the best seasons of his career, and the Dolphins also had a young running back in Daniel Thomas who had shown some promise. Drafting another running back early in the draft wasn't something many expected Miami to do, but they did just that when the added Lamar Miller in the fourth round.
The addition of Miller was a puzzling one initially, but it makes some sense. He's a guy very much like Bush – a fast back who can make big plays out of the back field or as a receiver. On paper, there doesn't seem to be much room for Miller on the roster. But over Bush's career, he's had difficulty staying healthy. 2011 was the first time he played in 15 games in one season and while that's encouraging, that's not enough of a track record for the Dolphins to bank on.
Like the much of the league, Miami will most likely spilt the touches pretty evenly between Bush and Thomas. The Dolphins are planning to make an effort to get Bush more involved in the passing game than he was in 2011, which will open the door for Thomas to get more carries. Miller will probably be the third guy in line to get touches, but his explosive style of running will give him the chance to make some plays as a change of pace back.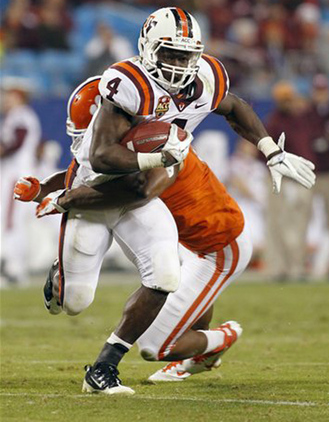 New York Giants
Contenders: Ahmad Bradshaw, David Wilson (R), D.J. Ware
The Giants have long gone with a two running back system, and for the large part it's been a success. The duo of Ahmad Bradshaw and Brandon Jacobs helped New York win another Super Bowl in 2011. However, now Jacobs is in San Francisco and the Giants needed someone to help shoulder the load with the often injured Bradshaw.
New York believes they've found that in David Wilson. He's not a short yardage specialist like Jacobs is; instead he's an explosive player who is a solid receiver as well. He's a smaller running back (5'10) but very strong and doesn't go down easily. As a first round pick, he'll be competing for playing time very soon.
D.J. Ware is a player that hasn't gotten much of a chance to play, as he's been buried behind Bradshaw and Jacobs. When he has played, he's been largely a disappointment. He's struggled particularly in pass protection. If he's going to see the field in 2012, it'll be as a short yardage back, a role he hasn't done much of before.
Wilson is the running back of the future in New York. Over the next season or two he'll need to focus on improving his ball carrying (he has a problem with fumbles), and pass protection. Those two areas are things Tom Coughlin preaches daily, and if he can't master those he'll have a tough time staying on the field. Until then Bradshaw will continue to be the starter, but he has to know his days with that titled are quickly coming to an end.
Pittsburgh Steelers
Contenders: Jonathon Dwyer, Rashard Mendenhall, Chris Rainey (R), Isaac Redman
By revamping their offensive line during the offseason, the Steelers are hoping that their running backs will see some big holes opening up for them in 2012. With Rashard Mendenhall out for at least part of the season with a torn ACL, Pittsburgh will need all the help they can get.
By all accounts, Isaac Redman is going to be the guy to replace Mendenhall in the starting line up. He played well in 2011 action, racking up a 4.4 yards per carry average on 110 carries. At 230 pounds, he's an inside runner that will have the advantage of running behind rookie offensive guard David DeCastro.
Redman will be sharing carries with Chris Rainey and Jonathon Dwyer. Dwyer spent his rookie 2011 season adjusting to the NFL game after playing in the option at Georgia Tech. 2012 will be his first chance to really show if he can perform at the game's highest level. Rainey is a fifth round pick out of Florida with blazing speed who will play not only at running back but all over the Steelers' offense.
Redman looked like a guy who could carry the load for Pittsburgh in 2011, and there's little question that he'll be asked to do that in 2012. He'll get some help from Rainey and Dwyer, but in reality the success of their running game will depend on Redman. If he performs well, Mendenhall may be playing somewhere else in 2013.
San Francisco
Contenders: Anthony Dixon, Frank Gore, Kendall Hunter, Brandon Jacobs, LaMichael James (R)
To say the 49ers are stacked at running back is a massive understatement. Frank Gore has been one of the league's best backs over the last seven years, but he's nearing the dreaded age 30, and San Francisco is wisely putting together a group of running backs to help prolong Gore's career.

Kendall Hunter is often thought of as a scat back, but he's actually much more than that. He's a complete running back that has the talent needed to carry the load for an offense. During his senior year at Oklahoma State, he had 20+ carries in nine games. He's capable of being a first string running back, and it's likely he'll see many more carries in 2012 in an attempt to keep Gore fresh.
Brandon Jacobs is an interesting addition to the 49ers offense. He was brought in to be a short yardage back, a role that 2010 sixth round pick Anthony Dixon had hoped to secure. Will San Francisco keep the younger Dixon, or the proven Jacobs?
In contrast to the bruising Jacobs is the explosive LaMichael James. Drafted in the second round, James brings an aspect to the game that none of the other running backs on San Francisco's roster can. He racked up over 2,000 all purpose yards in his final season at Oregon and although he's undersized, his explosiveness will earn him a spot in the 49ers' rotation.
It's difficult to tell how San Francisco will divide carries here. Gore is obviously the starter, but just how many carries are the 49ers willing to give him? Based on their past two drafts it's clear that they want to save him for the play offs as much as they can. Hunter can contribute, but the 49ers spent a second round pick on James and will want his play making ability on the field.
The most likely scenario? Gore gets the majority of the carries, he's spelled primarily by Hunter, and James is used as a situational change of pace back. It's tough to find a way for Jacobs get on the field much at all, and since he doesn't play special teams (Dixon does) there's a good chance he doesn't make the final roster.
Tampa Bay Bucaneers

Contenders: LeGarrette Blount, Doug Martin (R)
For many outside of Tampa Bay, it may have been a surprise when the Buccaneers drafted running back Doug Martin in the first round of the draft. LeGarrette Blount's bull dozer-esque running style, paired with his penchant for hurdling would be tacklers landed him on Sports Center on an almost weekly basis. With that sort of playmaking ability, why did Tampa Bay trade up to draft another running back?
In spite of all the highlight plays, Blount severely lacked consistency in 2011. After breaking 1000 yards in his 2010 debut, he only rushed for 781 yards in 2011. He also had trouble holding on to the ball (he fumbled five times) and often found himself on the sideline because of that. He's also struggled in the passing game: he only has 20 receptions in his career, and has yet to show he can make an impact pass blocking.
In drafting Martin, the Bucs acquired a fast, consistent running back. Martin has much, much more speed than Blount, is a much better receiver, and rarely fumbles the ball (8 fumbles in 617 career carries while at Boise State). He's very similar to a running back head coach Greg Schiano coached at Rutgers, Ray Rice. They may not be the same caliber players, but Schiano clearly know how to maximize Martin's talent. He should be the primary ball carrier in 2012, but there will still be plenty of chances for Blount to run over (or hurdle) fatigued defenders in the second half.
Washington Redskins
Contenders: Roy Helu, Tim Hightower, Evan Royster
Like much of the Redskins' roster, the running back position is full of both potential and question marks. Tim Hightower, Roy Helu, and Evan Royster have all flashed at times during their careers, but none of them have really shown they can be a consistent NFL starter.
The fan favorite in Washington is Tim Hightower, and for good reason. He's been the epitome of toughness, fighting through countless injuries throughout his NFL career. A torn ACL sidelined him for over half of 2011, but he's reported to be healthy ready to go for 2012. The fact is though that Hightower wasn't overly effective before the most recent injury: he was only averaging 3.8 yards per carry, and while that was accomplished while battling through other injuries it just won't get it done in today's NFL.
Helu and Royster both showed a great deal of promise in relief of Hightower. Helu had three straight 100 yard games as a starter, and was posted 49 receptions as well. He's the most explosive running back on the Redskins' roster, and even if he isn't starting he still should see a good deal of playing time.
Royster posted back to back 100 yard games after being called up from the practice squad, and ended the season with 328 yards rushing. He's not the receiving threat that Helu is, and he struggled at times with pass protection. He's got talent, but he needs to continue to develop as a running back.
If he's healthy enough, Hightower seems to be penciled in as the starting running back for the Redskins. He's a well rounded player, who should help take the pressure off Robert Griffin III. Helu should see the field quite a bit as well, and his talents combined with the dual threat RGIII brings to the game should benefit both players. Royster could grow into a good running back, but until his pass protection improves the Redskins can't risk having their rookie franchise quarterback getting hurt because of a missed assignment.