Each NFL off-season leading up to the draft, a college player will appear seemingly out of nowhere and impress everyone with his play and professional demeanor. This year was no different. The path to the 2012 draft was highlighted by the Senior Bowl in Mobile, Alabama where we saw the best NCAA seniors go head to head in their quest towards the millions that the National Football League offers them.
At this Senior Bowl a certain wide receiver from the University of California burst onto the scene and swayed scouts with his dazzling explosiveness, impressive speed, precise route running and flypaper hands. His name? Marvin Jones.
I sat down with Marvin Jones for an in-depth interview and saying that I came away impressed would be an understatement. Jones is a extremely motivated young man who has his eyes set on a successful football career. When watching Jones go through the drills, the first thing you will notice is his relentlessness and willingness to make plays. Big plays.
"Making plays is like second nature to me. I train myself hard and go all out in the practice drills. Making sure I know the exact steps of every route, so that it becomes automatic. You're at your best when you don't have to think. The most important part is the footwork, getting in and out of my breaks hard and confuse the DB. There's still a lot of work to be done, but I will put in all the time necessary. To achieve big things, I will have to focus on the details."
Jones had to work with different quarterbacks in the North team led by the Minnesota Vikings coaching staff, but he seemed to be able to build a good rapport with the quarterbacks quickly.
"Great quarterbacks. The very first pass that was thrown to me was perfect and it kind of marked the beginning of a terrific week. I believe it was Kellen Moore who threw the first pass, and I was immediately comfortable. I got a chance to see how good these guys are. Just crazy!"
Scouts in attendance were in agreement when it came to evaluating the Senior Bowl performances by the participating athletes. No one did himself a bigger favour than Jones. He was great in the drills all week and distinguished himself as a great competitor. He even scored a touchdown in the game on Saturday, before leaving the field with a minor knee tweak. It was a great way to end the week on a high note and the ultimate proof that he was ready to take his game to the next level.
The past year wasn't all good for the 6'2 athlete. The wide receiver's senior year did not shape up the way he expected it to. He was surpassed by five star recruit Keenan Allen, the half brother of QB Zach Maynard, and was relegated to playing second fiddle.
"It wasn't easy, but I had to make the best of a humbling situation. I had to take somewhat of a backseat, but have absolutely no regrets. It's all about grabbing the opportunity when it presents itself. Just trying to focus on what I can control, opposed to worrying about what I can't control. And just making big plays when I get a chance. I refused to venture into bad talk, into complaining. Just went out every day and tried to be a leader. You can't control the stats. They obviouly fell short of my expectations, but I'm a team player and football is all about winning as a team. Not as an individual."
The Etiwanda High school star was a late add for the Senior Bowl, but he did not dissappoint when he hit the turf.
"I wasn't down, just kinda mad. Because I really wanted to showcase my talents, prove that I can hold my own against elite competition. But I was truly ecstatic when the invite came. I just knew it would be a great week."
The most impressive thing we saw all week was his ability to go up and get the ball. Jones is outstanding at playing the ball in the air, and more often than not will come down with possession of the rock.
"I pride myself in being aggressive when going up to get it and truly don't care who's in front of me. I just feel like I have a connection with the ball."
There are obviously parts of his game that need to be worked on to become a prime-time NFL receiver. Marvin elaborated on that a bit.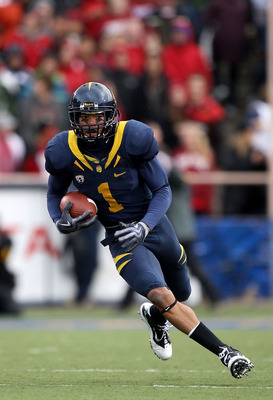 "I need to consistently get depth, especially when the DB is on the break point. Make sure I get by the still squatters and not get pushed off my route. Making sure I confuse them, and making them believe I'm running a different route than the one I'm actually running. Also, an important part of playing receiver is obviously blocking. I love it! I want to really master that part of the game. My specials teams coach always told me he wants guys that want to, not have to. I believe I'm one of those guys and I will make sure I can become an integral part of the running game by opening up lanes for my teammates. It's going to take a lot of hard work, but I am definitely up for it. I truly enjoy contact and try to be as physical as possible. Just being a new age wide receiver."
My belief is Jones will be a better pro than he was a college receiver, because his skills translate perfectly to the next level. His ability to beat the press coverage and tremendous leaping ability will give him huge opportunities, especially in man to man situations. The Golden Bear agrees.
"I haven't even scratched the surface yet. There is so much more I still want to accomplish. I'm hungry. I was good in college, but nowhere near where I want to be."
What sets Jones apart is his work ethic and understanding of the game. When asked about different coverages he faced and how he handled them, he was quick and sharp in explanations. A trait that will definitely help him in the interview room. The Orange County kid showed me a part of him that teams will absolutely love. As we all know, NFL teams are high on receivers who know exactly what defense they're facing and are prepared to beat everything that's thrown at them. I started out by asking him how he handles press coverage.
"First part is to determine how they're playing me. If the DB is lunging or going forward, I must be prepared for that. I will either pull out the step back, reduce my shoulder or chop down. The most important part is being confident in every move you make and not wait for the DB to get his hands on you. My favorite move is probably the three hard-away. You take three hard steps to make the DB flex his hips, and when he gains momentum I try to get him off balance by slapping him on his shoulder or back."
It's obvious Jones watches a lot of film to ensure he knows his weaknesses and his strength. When I asked how he tries to beat a CB that's playing off, he was swift to answer.
"It's imperative that I press vertical, to sell every route as if it were a go-route. There is no need to give anything away, so every route must look the same. I'll attack him hard, make sure he's bailing and turns his hips and then I can threaten the comeback. For the DB the backpeddle is his comfort-zone, when he gets out of that he has to start thinking. That's when I can get in his head. If I have the basics down I can focus on staring down the DB, trying to get in his head. Then I just know he won't be there when I get to my breaking point."
Marvin Jones seems to realise football is not just a physical game. The game is won by being strong mentally and being prepared for anything the opponent throws at you. The all-time greats spend countless hours in the film room to find ways to beat their opponent, to look for chinks in the armour (No pun intended). But above all, the greats look for weaknesses in their own game and work on that endlessly.
"For me, personally, it became instrumental that I got in and out of my brakes without wasting energy or motion. So in practice I started focusing on using three steps to get in and out of my cut. So let's say I'm running a comeback route. As soon as I reach my break-point, it will take three hard steps, 1-2-3, and make sure I get out of my break on 3. I focus on staying low, sinking my hips and getting my shoulders over my shins. I have to be low enough. It's still an ongoing process that I have to keep working on and try to get better everyday. Because these defensive backs have gotten so good, if I'm late in coming out of the route they will just jump the route and take it to the house."
Jones makes a great point. A lot of football fans don't take their eyes off the ball and will blame a quarterback for throwing picks but it's rarely completely on the gunslinger. It can be any combination of things and a wide receiver giving away his route is one of the easiest ways for a DB to undercut the route and add an interception to the quarterback's box score. I gave the aspiring NFL wide-out a chance to elaborate more on his years at the University of California.
"I had some great years at Cal, from the first day I set foot on campus. It was just such a great experience. I started my first game as as freshman, but then messed up early on. But nonetheless, coach Tedford stuck with me. After I got injured the third game, I wasn't supposed to travel with the team. As injured players in college more often than not have to stay home for the away games. But coach still took me with the team and I'm truly grateful for that. Watching the team from the sidelines gave me a chance to take mental reps and really become a part of the team, to just look at the bright side of life. I just felt really at home because of how coach treated me. It's fair to say, I loved every moment of it and it blew by so fast."
His time at Cal was also a great preparation for the next level, because of the pro-style offense ran at Berkeley and his familiarity with terminology used in the NFL. We touched on why he picked Cal.
"I'm a Southern-Cal guy but really didn't know about Berkeley. Until they started to recruit me. That's when I saw Aaron Rodgers play, learned about DeSean Jackson and Marshawn Lynch. That was just crazy and I was just drawn to the school. When I got a chance to visit campus I immediately loved it. To me it came down to Cal and Oregon. Oregon was mostly because of their uniforms. I was young and thought it would be terrific to play in those stunning uniforms. But in the end, I made the right decision to play for Cal. It was only a five hour drive from home. I got to go to a top institution and receive a great degree in African American studies."
Being a true USC fan and having spent countless days in Southern California with relatives, I pressed him on why he didn't pick the more popular Trojans or the Bruins of UCLA, especially since he grew up in Orange County.
"I just couldn't. My mom and my sisters all went to USC, and my sister, Vanessa Jones, actually runs track at SC. So I wanted to take my own path. And UCLA was going through a coaching change, so the decision to not go with them was pretty easy."
Not only is Marvin Jones a tremendous football player, he's also a caring father of two young boys, Marvin jr and Mareon, who he's raising with his high school sweatheart Yasmine Matthis.
"It's a huge responsibility and I want to give my family all they need, and be able to provide and do good by them." Having kids did come as a shock to Marvin as he his girlfriend told him about her pregnancy during his freshman year. "It was tough and I really didn't know how to handle it. I called my father, crying all the way through the conversation, but he was such a great support and gave me some of the best advice I had ever received. He made it so much easier on me and my family. Just by being there for us. I want to do the same for my boys. But it wasn't just my dad. My coaches and teammates all supported me and it was a true blessing to know that people had my back. But there's no better thing that spending time with my sons and my girl. It truly is a blessing."
If you're interested in Marvin Jones and a look at his private life, there's a great feature on him and his family you can find on Youtube. I more than recommend it. As you are reading this, the wide receiver is probably working his butt of to get prepared for the combine and his pro-day. Jones is working out at Fischer Sports in Arizona.
"So many great athletes work out there. Darrelle Revis, Roddy White and Vincent Jackson. Just to name a few. And they all come back every year because it such a great place to work out and prepare your body to the rigours of the NFL. I'm hitting muscles I didn't even know existed and the results have been great so far."
When asking him if he'll go one on one against the NFL's best cornerback, Darrelle Revis of the New York Jets, Jones said with a big smile. "Of course! If I can catch a ball against him, I can catch a pass against anyone. To be the best, you have to able to beat the best."
All the work he's putting in, is going to pay off at the end April as Jones will surely hear his name called at Radio City Music Hall and become an NFL player.
"It's going to be a dream come true. I love it! I have to pinch myself from time to time, to know that I'm actually where I am now. Especially if I get Drafted. To be able to hold off Skyler, haha."
Skyler is Skyler Fulton, a friend of both Marvin and myself and a former NFL wide-out who didn't get his name called at the draft. But the young Cal receiver is not just flabbergasted.
"At the same time, this is what I do. I should be here and I will not back down from any challenge. I aim for being a true pro, to develop new skills. There's a tremendous amount of resources available and I will use them to the fullest to become the best I can be." I asked the always smiling young man, what the first thing is he'll do when he does get to call himself a pro. "I'll make sure my family is fine. Get them settled in." Spoken like the true family man he is.
But he won't forget about himself either. "I'm gonna buy a car. I just love the new Tahoe. It's going to be the first car I buy. I'm aiming for the FlexFuel, and want to get it black on black. I'll just ride it stock, no huge rims for me. I want to keep it clean. And of course, two car seats in the back." Like I said, a true family man.
Sam Alzahawi is a writer for "USA Sports" in the Netherlands. A former professional football player himself, he now covers all of the NFL and College Football for the "USA Sports" publication. Follow him on twitter @SamAlzahawi.