The pretenders are beginning to be separated from the contenders. After a quick start, the Titans are all but eliminated from playoff contention after a great second half performance by the AFC North leading Bengals. The Bills are in danger of losing considerable ground in the AFC East after a loss to the Jets, and Tampa Bay dropped a crucial game against New Orleans in NFC South action.
All eyes will be on the key matchup between the Patriots and the Jets next week, as that game will go a long way in determining how the playoff picture will look in the AFC. But before we focus on that game, lets review the week nine action across the NFL.
Joe Flacco: Comeback King?
It was a nightmare scenario for Baltimore Ravens quarterback Joe Flacco. As he stood on his own eight yard line, he looked up at the score board; he saw his team down four points, and just over two minutes on the clock. A loss would put the Ravens in third place in the hyper competitive AFC North, a deficit that would be nearly impossible to make up. It was simple: 92 yards and one of the NFL's top defenses stood between Flacco and a huge win over the Pittsburg Steelers.
Just a few short weeks ago, Flacco was struggling to move the ball against the lowly Jacksonville Jaguars. On a Monday Night in Jacksonville, Flacco's Ravens couldn't even manage a first down in the first half of the game, and wound up losing 12-7. It was the low point of the Ravens' season, but it wasn't the only time Baltimore's offense had struggled. In an earlier game against Tennessee, the Ravens had only been able to score three points in the second half, leading to a shocking 23-13 loss.
Coming off those performances, saying the Ravens' chances looked bleak as they began the two minute drill would be an understatement. No one in the stadium expected Flacco to lead to Baltimore to a game winning touchdown with just seconds left in regulation. Flacco has been wildly inconsistent throughout his career, and this season has been no different. Ray Rice has been consistently good for the Ravens, but at the end of the day the offense's is predicated on what Flacco is doing, not Rice.
And through three quarters on Sunday, Flacco had been remarkably average. He'd thrown for 208 yards and no touchdowns. It seemed almost certain that Flacco's sixth trip to Heinz Field would mirror the first five, over which he'd accumulated a 1-4 record.
The Ravens needed Flacco to step up in a big way on that last drive. Fortunately for Baltimore, Flacco did just that. But he didn't have much help from his receivers. Both Torrey Smith and Anquan Boldin had bad drops during the final drive. Smith's was especially tough to swallow, as he dropped a near perfect pass from Flacco in the end zone. In spite of those drops, Flacco refused to lose faith in his receivers.
Flacco guided his offense down the field with exceptional poise, staying patient in the pocket without lingering too long and risking a costly sack. He converted a fourth down at mid field when a failure would have dashed not only their chance for victory on Sunday, but any reasonable chance of winning the AFC North. He converted that play and continued a march down the field that could go down as a season, or perhaps even career defining for Flacco.
As Flacco dropped back to pass with ten seconds left in the game, he had a decision to make. He had Smith to his right, and it looked as though he'd be open. But Smith had already dropped one potential touchdown pass, could Flacco risk throwing it to him again? The quarterback showed faith in his rookie receiver in spite of his previous drop, and it paid off. Smith was able to make the most of his second chance, and his touchdown stunned not only everyone at Heinz Field, but the rest of the league as well.
So has Flacco shown enough to be regarded as an elite quarterback? He's completed two remarkable comebacks in a row, last week rallying from a huge deficit to beat Arizona. He's putting up better numbers than he has in the past. He and his offensive coaching staff finally appear to be on the same page, putting Flacco in the spread out shotgun formations he can thrive in when they need to throw the ball through the air.
Flacco has plenty to improve upon, for sure. He's prone to having bad games against bad teams, and some have accused him of playing to the level of his competition. He will make several inaccurate throws a game that often times end up getting intercepted. Even on his game winning drive Sunday night, he had a couple passes that would have been intercepted if the football gods had been so inclined.
Even with the inconsistencies that continue to crop up in his game, Flacco is a much better quarterback now than at any point in his career. The talk heading into this season was that the Ravens' would have to win in spite of Flacco playing quarterback, and not because of it. But now, two weeks in a row, Baltimore has been led to victory by Flacco. And if that keeps up, the AFC may have a new team on top.
Surprise of the Week

Times are changing in the AFC. The Houston Texans are cruising towards their first ever playoff appearance, thanks to Peyton Manning's absence in Indianapolis. The Cincinnati Bengals are surprisingly atop the AFC North after nine weeks, led by the potent combination of rookie quarterback Andy Dalton and his star receiver AJ Green.
One of the biggest surprises in the AFC the year is just how vulnerable the New England Patriots have looked. They lost their second game in a row on Sunday to a surging New York Giants team that made New England look extremely beatable. After a slow start, suddenly it looks as though the New York Jets could be the favorites to win the AFC East.
The Patriots' offense was off to a sizzling start earlier in the season, but the secret is out on how to slow down Tom Brady & Company. Defenses had been playing soft coverages to protect against big plays, but that's not how to stop New England. Teams now are playing tight man coverage, and it's proving successful. Wes Welker isn't a deep threat, and keeping him from getting open underneath takes away a big part of his game. Brady struggled to cope with that coverage on Sunday, and it kept him from looking comfortable for most of the game.
The Patriots' biggest problem has clearly been the defense. On Sunday against the Giants, New England gave up two 80 yard drives in the fourth quarter, series that ultimately cost the Patriots the game. That's nothing new for New England. On the season, the Patriots have given up 416 yards per game, ranking dead last in the league. They're giving up a whopping 6.3 yards per play, a number that will never win you games without an extremely potent offense of your own.
The upcoming match up with the Jets will be huge for New England. It was expected that the Patriots would be the team coming into the game on a roll, but instead it's the Jets who are hot. If New England can't get things sorted out and get a win this weekend, it could spell trouble for their chances of winning the division.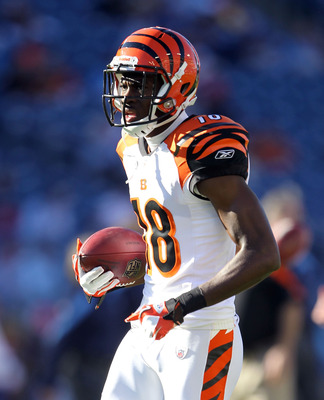 Rookie Watch
There were a few scouts that had wide receiver AJ Green ranked above Cam Newton as the top player in the 2010 draft. It was even rumored for a time that he would be the number one pick, before the Carolina Panthers finally settled on Newton. And while Newton is having a great rookie season, Green is showing he would have been worthy of the top pick as well.
On the season, Green has caught 40 passes for almost 600 yards. He's the league's leading rookie receiver and comes in at 12th overall in the league. When fellow rookie Andy Dalton has needed a big play, Green has been the guy to look to. The former Georgia Bulldog has already recorded 11 plays over 20 yards, and four of those have gone for over 40.
Green was a dominating force in the second half against Tennessee on Sunday. After a sluggish first half (two catches for sixteen yards), Green was nearly impossible for the Titans to cover, catching five passes. But he did more than just catch passes. The biggest play he made was drawing a 45 yard pass interference penalty on corner Jason McCourty. The penalty lead to a Bengals' touchdown, and the play changed the momentum of the game and eventually led to a Cincinnati win.
Fantasy Notes

The hands down biggest fantasy disappointment of year has been Tennessee Titans running back Chris Johnson. He started to flash some of the big play ability that has been lacking this season on Sunday, but it only lasted for a half. By the time the second half was over, it was back to the disappointing 2011 version of CJ for the Titans. Stay away from putting him in your starting line up unless you have no other option.
One of those options you should look at is Cleveland running back Chris Ogbonnaya. He wasn't particularly inspiring in his start on Sunday (13 carries, 28 yards), but he has an outstanding match up next week against the St. Louis Rams. Peyton Hillis is likely to miss another week with that lingering hamstring injury, and Ogbonnaya should be able to have some success as a flex play in week 10.
Another injury to Cowboys wide receiver Miles Austin has fantasy owner scrambling again for a replacement, as Austin is expected to miss at least two weeks with a hamstring. Look no further than fellow Cowboy Laurent Robinson. He's available in almost every league, and he's going to get a fair amount of targets during Austin's absence. He's scored in two games in a row, and he'll benefit from teams focusing on Dez Bryant and Jason Witten.