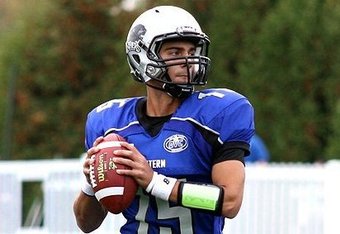 Stats never tell the whole story when it comes to scouting prospects, especially quarterbacks. So much goes into production, whether it's system, competition, talent around the passer, etc, that using it as even a baseline to measure a prospect can lead to costly evaluation mistakes. However, it never hurts to notice production, and scout thereafter. And that's exactly what most evaluators, including myself, began to do last season when Eastern Illinois's Jimmy Garoppolo began putting up gaudy numbers.
And in this case, the prolific passer has the talent to back it up, as Garoppolo has impressed many (including myself) with his talents on the field and demeanor off it.
Like many small school prospects, Garoppolo wasn't highly recruited out of high school. After receiving initial interest from Big Ten programs like Iowa, Purdue, and Indiana, that "interest" faded away quickly.
"In my junior year, the bigger schools talked to me a bit." Garoppolo said. "But, by my senior year, they started to fade away, or say they weren't interested. It was awkward a little bit, but I had to accept it. Accept that I was more of an FCS guy."
Garoppolo had his options narrowed to three schools: Illinois State, Montana State, or Eastern Illinois. Eventually landing at Eastern Illinois, Garoppolo made an instant impact as a freshman. Starting 8 games in his first year at the school, Garoppolo had already seized his opportunity to play quarterback at the college level early in his career.
But as the starting quarterback, Garoppolo was at the head of a team struggling to win games. Finishing with a 2-9 record as a freshman, Eastern Illinois followed that with another 2-9 record. After that season, long-time coach Bob Spoo was set to be replaced. The program decided to hire a wide receivers coach from Baylor, Dino Babers.
"We were told about the new coach (Babers), and we were all nervous. We didn't know what to expect. But we all watched the Baylor Bowl game, and we started getting jacked up. That was going to be our new offense."
That bowl game was the 2011 Holiday Bowl against the Washington Huskies. In that game, Heisman trophy winner Robert Griffin III had a total of 777 yards, leading the Bears to a 67-56 victory. In the victory, the Bears put up the most yards and most points in bowl game history. And one of the mean in charge, assistant coach Dino Babers, was ready to bring his offense to Eastern Illinois.
Dino Babers had been at Baylor for three seasons, learning the Art Briles offense during his tenure. But that wasn't his first coaching stint. Babers also brought offensive coordinator experience at Arizona, Texas A&M, and UCLA before Baylor and eventually now to Eastern Illinois.
"When the coaches first came in, we actually watched more Baylor tape than our own practice tape. It was a really tough offense to grasp in the beginning, but now I feel much more comfortable with it in my second year."
After making an immediate impact in the production spike, especially for Garoppolo, the Eastern Illinois offense is hitting marks only surpassed by Babers's former team, Baylor.
The Baylor offense is known for two things: It's difficult to consistently have the right personnel in, and it puts pressure on every part of the field for defenses. Here's a much better breakdown of the entire offense (provided by FootballStudyHall.com), but in essence, it's a spread offense with roots in every major productive scheme in passing history.
On pace for over 4,800 yards and over 56 touchdowns this year, Garoppolo has already had the chance to prove his ability against Northern Illinois and San Diego State, both FBS teams.
Garnering a top five ranking in every FCS team rankings in the country, Garoppolo and the Panthers are expected to make and FCS playoff run if their season finishes the way it's started. While Garoppolo maintains that he's focused on the current season at hand, he's destined to be the topic of discussion for NFL teams once his senior year is completed.
Based on his play this year and coaching scheme, Garoppolo has a lot going for him as it relates to the NFL. From an on-field perspective, he possesses a very quick release, has ample arm strength on west-coast routes, has the necessary height for an NFL quarterback.
But mentally is where Garoppolo really distinguishes himself. Off the field, there's been nothing but rave reviews about his focus and relationship with his teammates as a leader. Speaking with him, you immediately realize that he's genuine and humble, yet focused and decisive in his team and individual goals.
And on the field, few quarterbacks handle the type responsibility that Garoppolo does in the country. Responsible for not only helping in pass protections pre-snap (like most quarterbacks do), Garoppolo has the "keys to the Cadillac" as he coach Babers says. He has full control at the line to adjust receivers routes or audible at the line.
"Coach [Babers] is a great playcaller and game planner, and usually puts us in the right play, I have full control if I feel we need to make a change or alter a route. It's a great feeling that he has that type of confidence in me."
After the season has finished, Garoppolo will need to instill that same confidence into NFL teams if he hopes to be a Top 100 pick and in position to develop as a team's "franchise quarterback". That won't be an easy task, thanks to as many as five junior quarterbacks declaring along with a handful of talented senior quarterbacks.
Hailing from an FCS program, dealing with a rough start to his college career and a new offense, Jimmy Garoppolo has certainly made the most of his college career and is well on his way to getting his NFL shot. Some have even speculated that, based on his work at post-season all-star games and events, he could shoot all the way up to the first round.
That may be a long ways away mentally for Garoppolo, it's an opportunity he'll need to seize. It's no easy task for small school quarterbacks to earn the respect of NFL teams as legitimate franchise quarterbacks. But Steve McNair enjoyed a long career and a near Super Bowl victory after coming out of Alcorn State. And Joe Flacco just won a Super Bowl after going first round out of Delaware. And while he hasn't spoken (yet) to former Eastern Illinois quarterback Tony Romo, Garoppolo may join him soon enough as a former Panther leading an NFL team.