"No days off."
A tattoo on Thomas Mayo body serves as a reminder and motto for him to live by.
"In high school, I had coaches tell me and my mom that I'm only a Division III player, which hurt. But at the same time, it motivated me."
Now, Mayo has become one of the most productive receivers in Division II history, boasting stats and consistent dominance over his level. From high school mediocrity to a lack of attention initially to now securely on NFL radars, Mayo owes a lot to his coaches, his athleticism, and his motivation to not lower himself to others' expectations.
"In high school, my first love was basketball. As a junior, I was getting a few looks from Division I colleges, but after I got injured, that was all but finished. So, I went to focus on football."
Mayo didn't have the wowing stats in high school to lure Division I football programs, and playing next to future Penn State wide receiver recruit AJ Price overshadowed him. So, while his teammate went to get his shot at the big levels, Mayo chose small Division II Concord University to play football at.
After putting together a 41 catch freshman year, Mayo went on to have back to back 70+ reception, 1300+ yard, and 10+ TD seasons at Concord. By the end of his junior season, he couldn't help but gain more attention. But playing the Division II level in the WVIAC, where not a single player as been drafted from the past five years, wasn't going to get the type of attention need to get to he next level.
But, a new opportunity arose. Mayo's head coach at Concord, Mike Kellar, agreed to become the offensive coordinator of the California PA Vulcans in the PSAC conference. Mayo had the opportunity to join the team without losing eligibility, enrolling early in the summer.
"[Thomas] came in the summer and got to know a lot of the guys." Coach Kellar said. "He and the quarterbacks developed a rapport pretty quickly."
Mayo said similar things of his transition to the new school. "It was hard to fit in right way, but I worked with the quarterbacks a lot in the summer, started running routes outside or practice. I started feeling totally comfortable maybe around the 2nd or 3rd game. The first game was hard, being around better players [than at Concord] and not being the focus as much early."
Still, Mayo's production didn't and still hasn't slipped at all in his new college home. Already at 59 catches and over 1000 yards through nine games, Mayo reached the 4,000 career receiving yard mark last week, something only 15 other Division II receivers have ever done.
"It's a work ethic type of achievement for me [to reach 4,000 yards]. I just never take a day off, and it's just something that kind of happened"
No days off has seemed to pay-off so far. Some close followers of the Division II level knew who Thomas Mayo was and what his talent level was, but NFL scouts have started taking notice since summer workouts.
"At Concord, it would have been crazy to see NFL teams, you'd never see it. Now, here at California, it's like regular, since he off season. I think Rishaw (Johnson) brought a lot of the attention too."
Rishaw Johnson, Ole Miss transfer, has big time NFL guard size, great talent, and maybe is a firm draft selection. Still, Mayo now is starting to get some attention as well.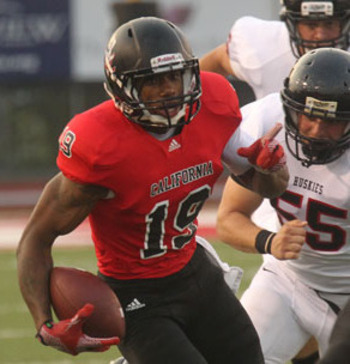 Coach Kellar has noticed the attention NFL teams are paying to his players as well. "I think 17 scouts were at a Thursday practice last week. Usually, that's not your most outstanding practice. They were looking at everything these guys were doing. It really makes the practice more competitive and keeps the guys focused."
"I've seen at least 20 different teams here," Thomas said of NFL teams at practices and games. "I remember a Saints scout say me laughing in between drills, and that was a concern for them. I wasn't messing around, but they don't miss much."
As far as that off-the-field scouting that every team does, and must do, team's need to know how players can fit in the new situation, primarily an NFL team. Mayo's move from Concord maybe shows that he can handle a new situation.
"[Thomas] is a do the things the right way, lead by example type leader.kel" Coach Kellar said, "He's not a real vocal guy, but others feed off of his work ethic."
On the field, though, scouts are impressed with his talents. At 6'2 , 200 pounds, the scouting report on Mayo has the length and size that could develop into an NFL outside receiver. His in air ball skills, quick vertical routes, and confidence in attacking the ball have made him dominant down the field in his college career. He stays low off the snap and in his breaks, cuts well with the ball in his hands initially, and has very soft hands. He still doesn't have great open field moves, is a little too willing to jump for a ball instead of finishing his routes, and is a little thin in his lower body.
Coach Kellar agreed there are still some things Thomas could work on before he goes to the NFL level. "I think getting in and out of his breaks a couple of different ways would be a good place to start. And, recognizing coverages, something he didn't do as much of at Concord, and planting off his foot harder in his cuts are things that we've been working with this year with Thomas."
Only two games remain (and hopefully playoffs afterwards) on California (PA)'s football schedule, and only two more chances for Mayo to impress in-game for NFL teams. But, after Mayo is done focusing on his team right now, he'll still have a long way to go before he reaches his next goal: the NFL.
"Rishaw and I have talked about the NFL the most, kind of what our plans might by after the season, stuff like that. We don't really know, we'll have to figure that out after the year."
Since leaving Concord after his junior year, things have moved pretty quickly for Thomas. From lesser known productive Division II player to moving to maybe one of the two or three best (talent-wise) at the level has given Thomas a chance to get some much-needed attention. While the WVIAC conference (where Concord plays) hasn't had a draft pick in the last five years, the PSAC has had 3 in the last two years, and that's not including current 3rd string quarterback Josh Portis of the Seattle Seahawks, a California (PA) grad himself.
If Thomas can finish his season strong, stay focused on his goals after the season, and take advantage of the chances he'll have to further impress scouts, he could once again prove his doubters wrong.
"If I do make it, I want to go back to my high school and tell them I made it. ANd that they helped me because all doubters do to me is motivate me and that's what they did."
From today until the first day of the NFL draft, 175 days separate. And even after Mayo gets drafted or gets a chance after the draft, he'll need to fight every day to get a job and keep it when he does.
Thomas Mayo doesn't have time to take days off. And as his tattoo reminds him, he doesn't plan one taking one anytime soon.