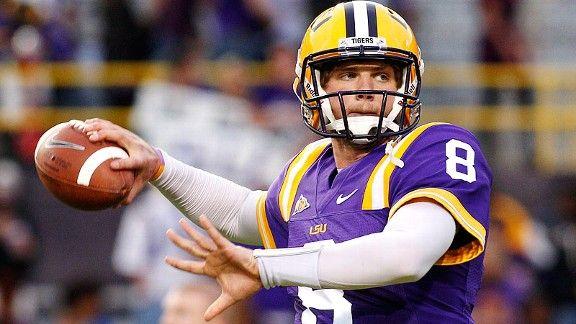 Along with our Monday Scouting Notebook, we'll be posting the notes from our entire staff every week here as well.
Notes from: LSU vs. TCU, Clemson vs. Georgia, Penn State vs. Syracuse, Virginia Tech vs. Alabama, Western Kentucky vs. Kentucky, Louisville vs. Ohio, Washington vs. Boise State, Wyoming vs. Nebraska
Notes by: Alex Brown, Mark Dulgerian, Dan Claycomb, and Chris Tripodi of Optimum Scouting
-Entering his fifth consecutive season with a new offensive coordinator and heading the top of our senior quarterback board, Zach Mettenberger needed to build off the momentum he gained over the second half of last season and he did just that versus #20 ranked TCU. The stat sheet doesn't tell the whole story of this game, as Mettenberger wisely threw the ball away when receivers were covered and even avoided three sacks with his feet. One very telling sign I found in the coaching staff's trust of Mettenberger was the fact that the team opened a new set of downs 9 times with a play action passing concept. Attacking all levels of the field, Mettenberger completed a handful of bench routes and deep comebacks –some of which were thrown from the far hash to the far sideline. Adjusting for a throwaway on a busted screen play, Mettenberger finished the night with 10 3rd down conversions on 13 passing plays (one first down picked up with a 5 yard scramble). Improving in the presnap phase as well, Mettenberger made several second read decisions with confidence and accuracy. By shortening his stride length and tightening his delivery, he now is able to get full hip rotation on his passes and snap off more accurate passes. He's always had elite arm talent and prototypical size –as suspected by the staff here at Optimum Scouting, 2013 could be the season where he puts it all together.
-Catching 13 of Zach Mettenberger's 16 completions were LSU's top two receivers Odell Beckham Jr. and Jarvis Landry. Beckham led the way with 118 yards receiving to go along with his 136 kick return yards, showcasing outstanding athleticism and elusiveness with the football in his hands. At receiver, Beckham can really climb the ladder and win with his vertical leaping skills around the catch point –on three deep pass attempts (25+ yards), Beckham caught one of three passes with two clear cut drops. Opposite Beckham was the star of last night's game in Jarvis Landry. Controlled in his route running and a natural hands-pass catcher, Landry consistently was able to bring himself to balance and pluck the football at its' highest point. Winning contested catches with physical play and strong hands, Landry adjusted seamlessly for back shoulder receptions and displayed pro-level instincts at the position. Having Beckham as the deep, explosive threat and Jarvis Landry as the consistent, possession receiver in the intermediate levels of the field, LSU's pass attack should be a strong point in 2013.
-Defensively for the TCU Horned Frogs, despite taking the loss on Saturday night, defensive tackle Chucky Hunter flashed a disruptive skill set at the 3-technique, under tackle position. Having excellent body control and lateral quickness, Hunter was able to shed blockers with violence off the snap and quickly close into a position to make a play. He'll have to continue to improve at taking on double teams, but Hunter was a factor against the run and the pass.
-Before last night's game, we had stamped a UDFA grade to TCU quarterback Casey Pachall due to red flags off the field. With that being said, it was still a surprise to see he and his receivers struggle so mightily against a youthful LSU defense. Lacking timing and generally not in sync with his receivers, Pachall continued to have weight transfer issues as he delivered many passes flat-footed or falling away. Positive signs in Pachall's game are his ability to throw from various arm slots when pressured, athleticism to extend plays outside the pocket and ability to push the ball vertically. Pachall took a step back on the field this week and was clearly outperformed by his teammate, sophomore quarterback Treyvone Boykin. Spinning this forward, Pachall will have to make the most of his opportunities the rest of the way in order to save his starting position, let alone work himself into a draftable position.
-North Carolina TE Eric Ebron has definitely spent some time in the weight room. Coming into the year, Ebron's blocking skills had a lot more questions than his receiving skills but he looks to have improved in that area. It's still the weaker part of his game, but he may no longer be a liability in that area.
-In a conference with multiple QB prospects, Logan Thomas stands out as perhaps the most interesting. He had what was likely the most difficult matchup in the nation going against Alabama in the first week, however it was a night to forget. Most of the talk about Thomas this offseason was about his focus on improving mechanics. While mechanics did improve, it didn't seem to help his accuracy and decision making. Thomas only threw for 59 yards and had one INT. Some have talked about Thomas possibly going in the first round but he will need to improve quite a bit for that to happen. While his arm strength and athleticism look good, he still has major questions with his accuracy. Based on the Alabama game alone, Thomas looks a lot more likely to be a Day 3 Pick than a Day 1.
-The Virginia Tech defense performed well and defensive end James Gayle was one of the reason. He did well at pressuring AJ McCarron, through use of mainly his speed and goo hand use. While he didn't pick up a tackle, he stood his ground in the run game and didn't get moved off the ball. Another good sign for Gayle, was that a majority of Alabama's rushing yardage came when running away from Gayle.
-If you watched the Clemson-Georgia game, then you certainly noticed Sammy Watkins turn an 8 yard in route, into a 77 yard touchdown. He showed a great ability to accelerate quickly and then just a much skill to turn the corner on the safety. Watkins will get his share of touches in this offense as he ran twice and was targeted nine times in the passing game. He was used in punt return as well until fumbling after a terrible catching attempt. Watkins will be a highlight machine this season, keep your eye on him.
-Vic Beasley made a big impression this weekend by coming up with two sacks on Aaron Murray. He shows an exciting blend of size and speed, however he seemed to disappear through most of the second half and didn't do much against the run, although few on the Clemson defense did. Difficult to tell if second half disappearance was due to facing additional focus from Georgia or his own play, it's something to keep an eye on going forward to see whether Beasley is pass rushing specialist or full-time defensive end.
-The Syracuse offense had a rough day on Saturday against Penn State, however 1 bright spot was Jerome Smith. Smith showed some solid quickness for his size, breaking a 22-yard run to the outside and finishing the run strong. His only negative on the day was a fumble in the 2nd quarter. The fumble was due to a strong rip out by a Penn State defender and not how Smith was holding the ball. Smith only had one lost fumble last season so this is will likely not be a problem going forward.
-Western Kentucky was victorious over in-state rival Kentucky for the 2nd year in a row. If you haven't seen the hit Andrew Jackson laid on RB Jonathan George, google it now. Jackson ended the game with 8 tackles and a pass deflection. The scouting report on Jackson is still the same, very explosive player who needs to improve against the block and whose game doesn't translate well to the NFL where LBs need to have better speed.
-In one of the most exciting games of the NCAA's opening weekend, Derek Carr and Fresno State edged Rutgers, 52-51. Despite the loss, the Scarlet Knights have to be intrigued by their offensive potential. Junior quarterback Gary Nova continue to have struggles with consistency but had a great day overall, throwing for 348 yards and 5 touchdowns. Potential first-round pick Brandon Coleman caught 2 of those scores and showed the strong hands and impressive catch radius that comes with a 6-6, 220-pound frame, but the real star of the day was sophomore receiver Leonte Carroo. The 6-1, 200-pound Carroo caught 5 passes for 135 yards and Nova's other 3 touchdowns.
-Redshirt Sophomore running back Paul James showed great one-cut burst and staked his claim to the lead back role over starter Savon Huggins with two 50-yard runs. Neither went to the house as James lacks the breakaway speed to avoid getting caught from behind but he showed impressive patience, vision and the ability to plant and quickly get through the hole.
-Defensively, Rutgers lost a lot of talent from last season but had a few young players step up against Fresno State. With senior defensive end Jamil Merrell sitting with a foot injury, sophomore defensive tackle Darius Hamilton was in the backfield consistently with great quickness and hand fight to make plays while showing ability in pursuit. He had a few penalties, including an unsportsmanlike conduct that gave the Bulldogs a free first down, but he has the potential to be an impact player on the inside of the Rutgers defensive line.
-Redshirt freshman cornerback Ian Thomas was impressive as well, showing great fluidity in tight coverage. A former wide receiver, he has transitioned seamlessly into the secondary and showed good awareness and ball skills coming off a shorter route to intercept Carr early in the game. He was beat for a touchdown as well but it took a perfect fade pass from Carr to get past his tight coverage.
-Staying in the AAC, Louisville's top quarterback prospect Teddy Bridgewater destroyed the Ohio defense. Bridgewater went 6-for-6 on his opening drive, finishing it with a strong throw downfield to Damian Copeland while rolling to his left. His composure and ability to manipulate the pocket was impressive and he kept his eyes downfield while resetting his base throughout his progressions. As usual, he led his receivers into easy yards after the catch and it looks like he improved his deep ball in the offseason. Bridgewater didn't sail any throws high in this game, one of the few issues he dealt with last season. While the Bobcats are not much of a challenge defensively, Bridgewater already looks like a better quarterback than he was last season.
-Former Auburn and Arkansas State running back Michael Dyer made a big splash in his first game, showing great patience on a 46-yard touchdown run in the third quarter. Dyer hit the hole quickly and stiff armed an Ohio defender in the hole to break free down the sideline. Sinorice Perry and Dominique Brown both saw more work than Dyer, but Brown runs too high at 6-2, 216 and Perry got mostly what was blocked for him. Dyer has a chance to take the lead in the backfield sooner rather than later if he can fly straight as Lousville's most dynamic runner.
-Defensively, linebackers Preston Brown (senior) and James Burgess (sophomore) were all over the field, finishing with 9 and 8 tackles, respectively. Brown was quick to diagnose plays and fill the hole with force downhill, while the smaller Burgess showed range out of the sideline and the ability to quickly read and react to running backs coming out of the backfield. Senior safety Hakeem Smith made just his second career interception in four years as a starter off a tipped pass, as he showed impressive concentration and hands to keep the ball from hitting the ground. If Smith has improved his playmaking ability in the offseason, he could see his draft stock could rise into the middle rounds.
-Moving to Conference USA, Rice had a strong showing for three quarters against a shorthanded Texas A&M team missing reigning Heisman winner Johnny Manziel for the first half and half of their starting defense. Senior running back Charles Ross had a big day with 19 carries for 107 yards and 3 touchdowns, including one through the air. A 235-pound straight-ahead bruiser who shows great leg drive and falls forward on almost every run, Ross could work his way onto the late-round radar as a short-yardage option with more performances like this.
-Junior wide receiver Jordan Taylor had 7 receptions for 68 yards and a touchdown and has some Riley Cooper to his game. He doesn't create much separation but wins battles in the air with his 6-5 frame. He prevented an interception and stole a touchdown from a Texas A&M defensive back on the goal line after the ball was tipped up into the air, snatching the ball at its highest point and diving for the endzone. He showed great concentration, a nice catch radius and strong hands on multiple plays during the game. He's tough enough to fight through the first tackler but his lack of speed and game-breaking ability with the ball in his hands is a limiting factor.
-Rice struggled defensively without preseason Conference USA defensive player of the year Phillip Gaines (suspension) and top linebacker Cameron Nwosu (knee), but sophomore defensive tackle Christian Covington flashed well against the Aggies. Covington showed good rip and swim techniques to get past blockers and shot the gap quickly to disrupt plays in the backfield. He even beat Jake Matthews to the inside for a sack, showing that he could take on NFL-level talent and win.
-In what may have been one of the worst showings by a Chris Petersen-led Broncos team, Washington put on a surprisingly strong performance with most of their big name prospects living up to expectations. The Huskies defense had an outstanding night led by tone-setting true sophomore weakside 'backer, Shaq Thompson. As for the draft-eligible guys, defensive tackle Danny Shelton is a nose guard-type who did a solid job of managing double teams and disrupting the interior to free up the linebackers. Safety Sean Parker is somewhat stiff in coverage but he looked sharp reading and reacting, keeping plays in front of him and intercepting an underthrown pass deep down the near sideline. On the Broncos defense, defensive end Demarcus Lawrence's explosiveness and edge bending ability was impressive but he struggled to finish plays and make a consistent impact against the run.
-Offensively, three of Washington's "big four" showed up with tight end Austin Seferian Jenkins sitting out due to suspension. Quarterback Keith Price had a very efficient game showing comfort within the system and great timing with his receivers. Size and lack of arm strength limits him as an NFL prospect, but he showed very good mobility in the pocket and made some very accurate throws downfield on Saturday night. Running back Bishop Sankey ran hard and showed good balance running through tackles but looks more like a mid round player as he lacks any elite qualities. Receiver Kasen Williams has a similar frame to the Cowboys' Terrence Williams. He showed strong hands and extension and had an outstanding night as a blocker. Boise St quarterback Joe Southwick was off-and-on all night. He flashed good accuracy on the move but he'll need to show scouts he's capable of pushing the ball downfield if he's going to earn a draftable grade.
-Aside from a bad interception in which Wyoming quarterback Brett Smith hurled a pass into coverage in the end zone, he was the most impressive prospect in the game. Smith showed a "live" arm in which he can sling it accurately from virtually any platform. His mechanics were all over the place but he executed well and was the reason Wyoming was competitive for 4 quarters. In the second quarter, speedy receiver Robert Herron showed terrific toughness and concentration plucking a pass over the middle through coverage before getting crushed by a defender. The best draftable prospect on Nebraska's offense looked to be guard Spencer Long. He showed good mobility and quickness reaching to the second level but there were some strength issues.
-On Nebraska's defense, defensive end Jason Ankrah showed upside as a pass rusher using his quickness off the snap and active hands to win but I'd like to see him play with more physicality. A guy who emerged as a prospect in this game is Wyoming defensive tackle Patrick Mertens. At 6'5 290 he has good length and played from the 1-technique and the 3-technique. There were several occasions he put All American Spencer Long on skates and he also showed the ability to peel off blocks to make plays in the A gap. Mertens could really benefit from NFL coaching technique-wise but he'll be one to watch based on raw ability moving forward.