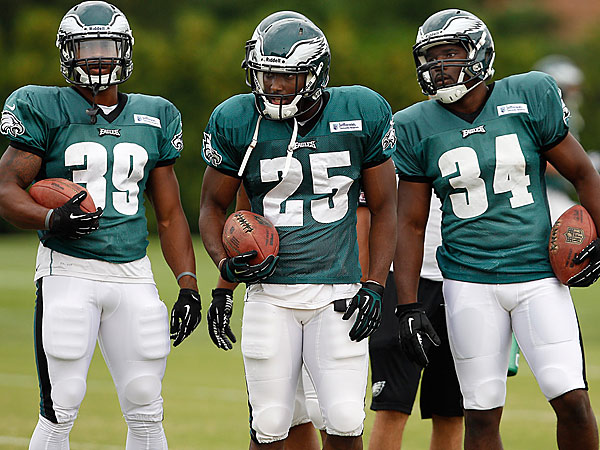 Despite the diminished importance of running backs, NFL coaches still feel that establishing a strong running game is as important as a strong passing game. And it helps that four of the teams who made the playoffs—and the two best teams in the NFC—were more likely to run in a given situation than pass.
A running game can be highly dependent on an offensive line, and this will often muddle simple statistical analysis. Further, coaches often care less about yards per carry—the traditional method used to rank running backs—and more about how often a running back is successful. This can be a measure of consistency that's defined by Bob Carroll, John Carroll and Pete Palmer as getting 40 percent of required yardage to convert on first down, 60 percent on second down and 100 percent on third and fourth down—and NFL coaches will often use a similar definition (though some will count all four-yard runs as successes).
This means a team with a low yards-per-carry from their running backs can have a relatively effective running game (like Cleveland, Cincinnati and Miami) that gets more done on the ground than a team with the inverse situation (New York Jets, Buffalo and Detroit).
Beyond that, coaches will ask their running backs to do different things. Under Scott Linehan in Detroit, the running backs were often used to take advantage of the space provided by the passing game instead of establishing offensive identity. In Minnesota under Bill Musgrave, the running backs were the focus of the game and ran between the tackles to punish the defense.
Some coaches will roster different kinds of running backs to do different things depending on the situation, like New Orleans, while others will attempt to have their backups mirror the starter in usage and ability—like in Seattle. Add in the fact that some teams will rely on fullbacks, while others rarely use them (or not at all, forgoing even the step of rostering them), and the process becomes complicated.
As such, any needs list needs to take any number of variables into account. Here, the needs will be listed as the need for a primary running back, a backup and a lead blocker. Teams that play with a running-back-by-committee will simply be assessed by their overall running ability and depth.

Other Breakdowns
Quarterbacks - Receivers - Offensive Linemen - Edge Rushers

Corps Overhaul
Jacksonville Jaguars (#1 Overall, #1 Primary, #1 Backup, #7 Lead Blocker)
The Jaguars are the only team that really has to fill the entire roster, as Maurice Jones-Drew and Jordan Todman are hitting free agency and a poor lead blocker in Will Ta'ufo'ou. They seem uninterested in signing MJD, and Todman's career has been sporadic. Denard Robinson is not likely going to be a full-time RB, so the Jaguars will have to search for a number of replacements.
Needs a Starter
Indianapolis Colts (#2 Overall, #3 Primary, #13 Backup, #13 Lead Blocker)
With Donald Brown likely to leave, the Colts are left with Trent Richardson and Vick Ballard, though technically Dan Herron and Chris Rainey could contend, too. While there's a good chance one of those four could produce a high-quality backup, no one—including touted first-round pick Trent Richardson—has shown any ability to produce at a starter level, particularly with Richardson's vision problems. As a blocker, Stanley Havili has been wanting, but unlike many teams who have a system needing a fullback, the Colts have a young player contracted at the position.
Cleveland Browns (#3 Overall, #2 Primary, #24 Backup, #12 Lead Blocker)
Fozzy Whitaker is set to be a starter, unless Dion Lewis can win the job. Both of those are likely to be very poor choices, but the Browns would move much further down the chart if they move Chris Ogbonnoya back to halfback as he has at least been serviceable in his career. Outside of that, however, their running ability is severely limited. Ogbonnoya's ability to back up whoever starts prevents the Browns from having a truly abysmal situation.
New York Giants (#10 Overall, #6 Primary, #22 Backup, #21 Lead Blocker)
The Giants don't seem particularly confident in David Wilson, which makes their need for a primary starter paramount, as Brandon Jacobs' age, injury history and decline demand a positional answer. They will have solid blocking and a relatively reliable backup, but just need to secure the foundation of their running game. If Wilson solves his fumbling issues, it could very well be him.
Tennessee Titans (#11 Overall, #7 Primary, #15 Backup, #23 Lead Blocker)
Chris Johnson has been a 1000-yard rusher every year of his career, but lately that has had more to do with opportunity than ability. Wildly inconsistent, Johnson has averaged just over four yards a carry in the past three years, just under NFL average for running backs (including backups). More to the point, a running back who can consistently gain four yards instead of several runs of low-yardage before a big play is much more valuable. Behind Johnson is a competent but aging Shonn Greene.
Needs Ballcarriers
Oakland Raiders (#4 Overall, #4 Primary, #2 Backup, #24 Lead Blocker)
With both Darren McFadden and Rashad Jennings hitting free agency, the Raiders are in a bind. Marcel Reece can run the ball very well, but he has been excellent as a fullback, too—and as much as the NFL has been phasing out lead blockers, it is still difficult to find a good one. Taiwan Jones has been effective in extremely limited duty, but it seems unlikely he will be the bellcow or key backup.
Atlanta Falcons (#5 Overall, #5 Primary, #9 Backup, #19 Lead Blocker)
While Atlanta can trust Patrick DiMarco to block well, it's clear that Jacquizz Rodgers can only serve as a change-of-pace back and Jason Snelling doesn't have the quality to take over. That means an aging, declining and injury-laden running back like Steven Jackson won't be enough in a league absolutely stacked with running back talent.
Houston Texans (#12 Overall, #8 Primary, #5 Backup, #28 Lead Blocker)
Houston will be losing their fullback, but will probably not need one in Bill O'Brien's offense, given how he never used one in New England (though did at Penn State). That said, Arian Foster's injury raises serious concerns, and it looks like they will not be able to keep Ben Tate, meaning that Houston will definitely need to find one running back, if not two. If they have faith in Dennis Johnson, that would be one thing, but his preseason and career have been less than impressive.
Needs Support
Detroit Lions (#15 Overall, #18 Primary, #10 Backup, #2 Lead Blocker)
Reggie Bush is a fine running back on his own, but Joique Bell will get a good deal elsewhere and Mikel Leshoure has been given enough chances to be considered in the bottom half of backups. The Lions' current offensive coordinator has previously only worked in offenses with fullbacks, and the head coach liked having a lead blocker, too. Unfortunately, they do not have one on the roster.
Miami Dolphins (#14 Overall, #17 Primary, #4 Backup, #3 Lead Blocker)
Lamar Miller may have been given somewhat of a short stick in Miami as the clearly more talented running back, but he should expect to see more carries this year. Daniel Thomas has shown worrisome production even for a backup at his position. Bill Lazor has shown a penchant for working with fullbacks on the roster before, and Miami currently does not have one.
Arizona Cardinals (#8 Overall, #15 Primary, #6 Backup, #1 Lead Blocker)
Assuming Andre Ellington takes over as the starter while Rashard Mendenhall tests free agency, the Cardinals will have an intriguing if not completely tested prospect who likely went underdrafted. But if they do that, they'll have an undersized power back as a backup and no fullback despite a run-oriented OC who has almost exclusively worked with lead blockers in his history.
Needs Lead Blockers
Cincinnati Bengals (#20 Overall, #26 Primary, #16 Backup, #4 Lead Blocker)
Giovani Bernard should be set to take over as the primary back, and the Bengals should look into long-term solutions for BenJarvus Green-Ellis, who seems to be declining both in terms of his totals and his snap-to-snap reliability. With Orson Charles, Cincinnati went to a team that had over 200 fullback snaps to one with 70 (and 300 in 2011), and their short-yardage success rate dropped from one of the best to below league average. They either need to upgrade there or see him improve, especially with a smaller primary back.
Baltimore Ravens (#7 Overall, #11 Primary, #14 Backup, #5 Lead Blocker)
It would be accurate to say that the Baltimore running game was so horrid that they need to upgrade everywhere, but there's still hope for Bernard Pierce and Ray Rice—and they certainly deserve another year—but Vonta Leach had been a crucial part of the offense for the past few years and has been extremely poor this past year, despite stellar 2012 and 2011 seasons. He shouldn't get another chance—he's 32.
Tampa Bay Buccaneers (#28 Overall, #30 Primary, #25 Backup, #8 Lead Blocker)
Doug Martin countered his stellar 2012 with a mediocre 2013 before suffering from injury. His backups performed better with the same line and that might raise concerns. But it will be a while before Tampa Bay moves on from Martin, and he's more likely to match his peak than his trough.
Green Bay Packers (#21 Overall, #24 Primary, #23 Backup, #9 Lead Blocker)
Eddie Lacy may have won the offensive rookie of the year award, but that doesn't necessarily mean he's a sure thing—Doug Martin is a good example. Nevertheless, the likelihood is high that the Packers have figured out a solid running game, especially with Johnathan Franklin backing Lacy up—even with James Starks hitting free agency. The problem is that their regular use of a fullback will require re-signing John Kuhn or finding a new lead blocker.
Needs Backup Running Backs
Minnesota Vikings (#28 Overall, #28 Primary, #3 Backup, #27 Lead Blocker)
They may have the best running back in football, but they will want to look to the future, as durable as Adrian Peterson may seem to be. Part of that will come with replacing Toby Gerhart, who assuredly will look to compete for a starting job elsewhere. Given how the Vikings are built, even a Norv Turner version of the offense will need to be able to run while Peterson spells himself on the bench.
Dallas Cowboys (#25 Overall, #23 Primary, #8 Backup, #32 Lead Blocker)
Injury problems may be the common refrain for DeMarco Murray, but there's good chance the concerns are overrated. Nevertheless, Joseph Randle hasn't shown he can take the load in Murray's seemingly likely absences. Lance Dunbar has shown some flashes of ability, but the Cowboys are no means locked up here.
Kansas City Chiefs (#31 Overall, #31 Primary, #12 Backup, #29 Lead Blocker)
The Chiefs can trust Jamaal Charles to perform, but if he gets injured again, an injury-prone, fumble-friendly running back like Knile Davis might not be the best option. Underrated as a pure runner, Davis could very well pick up Charles' slack should an absence occur, but he'll need to solve those issues. Kansas City may want to create more competition at the backup position than Cyrus Gray or Joe McKnight, with Dexter McCluster hitting free agency.
Needs Overall Insurance
New York Jets (#6 Overall, #9 Primary, #7 Backup, #11 Lead Blocker)
They may not be looking to replace any of the players they have slotted to play, but it should be noted that Chris Ivory, Bilal Powell and Tommy Bohanon all underperformed either due to inconsistency or poor overall performance. They should find a way to insure either the halfback or fullback positions if they want to maintain their offensive identity just in case Ivory and Bohanon don't live up to their obvious potential.
Buffalo Bills (#9 Overall, #10 Primary, #19 Backup, #10 Lead Blocker)
In the same boat as the Jets, C.J. Spiller has obvious talent but inconsistent performance. His 4.6 yards-per-attempt 2013 has been sorely underrated, but neither is it an accurate portrayal of how his season played out as he couldn't grind out successful runs at a consistent rate. Fred Jackson has long been overlooked as a consistent producer, but will need to be replaced soon and it's not as if Evan Rodriguez is Lorenzo Neal. All three positions are secure for now, but by no means guaranteed.
Pittsburgh Steelers (#13 Overall, #12 Primary, #11 Backup, #14 Lead Blocker)
Le'Veon Bell's poor overall numbers belies the fact that he was able to turn it on in the second half of his season and provided a more reliable running game than people might remember. That doesn't mean he's a starting quality back, but neither does it mean he should be replaced anytime soon. He and Jonathan Dwyer are both young players that could show more but are not in a referendum season. Pittsburgh should prepare for them not to turn out, but not bank on it.
St. Louis Rams (#16 Overall, #13 Primary, #17 Backup, #16 Lead Blocker)
Zac Stacy's emergence as a top option for the St. Louis Rams surprised a lot of people and he's better than his number suggest, thanks to playing three of the league's top defenses twice (and Carolina once). When playing non-divisional games, he looks even better. Behind him are a good stable of backs, but it's not as if the Rams' running game set the world on fire, even after switching quarterbacks due to injury. Add in the fact that their lead blocking is merely average and it looks like the Rams should find options in case things go south.
New Orleans Saints (#17 Overall, #16 Primary, #26 Backup, #6 Lead Blocker)
The classic running-back-by-committee team, the Saints were not nearly so potent on the ground this year as they were last and might want to add another body to revitalize things, especially with age about to catch up to Pierre Thomas. The biggest hole, however, is with Jed Collins hitting free agency. He's a restricted free agent, but it's doubtful they tag him. Still, they will likely re-sign their fullback.
Denver Broncos (#18 Overall, #14 Primary, #18 Backup, #30 Lead Blocker)
Knowshon Moreno hits free agency, but the Broncos will probably be happy with Montee Ball taking over the load. Given his already high-carry career, some attention should be given to seeing whether or not Ronnie Hillman could really take a backup role.
Chicago Bears (#20 Overall, #21 Primary, #21 Backup, #17 Lead Blocker)
The Bears continue to get production out of Matt Forte in multiple offenses, and Michael Bush remains a solid goal-line option. Chicago has a fine fullback situation for the first time in a while, but concerns remain about Forte's durability at age 29. It won't likely amount to anything soon, but because Bush is more of a situational back than a backup, the Bears should figure out if Michael Ford could really carry a load.
San Diego Chargers (#23 Overall, #20 Primary, #31 Backup, #18 Lead Blocker)
Ryan Mathews had perhaps the most underrated season among all running backs, and Danny Woodhead is a fantastic change-of-pace option and the two of them represent a solid duo that has had the most consistently successful running games in the NFL in 2013, and by quite a margin—fewer of their runs were failures than for any other team. It hasn't been a ton of additional production, and Mathews' injury history might demand more than Kerwynn Williams as the third back.
Carolina Panthers (#23 Overall, #19 Primary, #30 Backup, #26 Lead Blocker)
It might be said that Jonathan Stewart is the best pure running back backup in the NFL. DeAngelo Williams has been good but not great in the past few years but is still reliable. Age is a big question, but Carolina has the unique capability of distributing carries by situation without hurting production. Given that age concern, though, Kenjon Barner might be more important than some realize.
Washington Redskins (#30 Overall, #29 Primary, #20 Backup, #22 Lead Blocker)
In all of Washington's struggles offensively, Alfred Morris' sustained excellence has gone unnoticed. His totals have gone down due to opportunity, but he still produces running successes and additional yardage at a great rate. They have better than average backups, but could do better than Roy Helu and Evan Royster if need be. Darrel Young is a more than adequate blocker to boot.
Leave it Alone
San Francisco 49ers (#24 Overall, #22 Primary, #27 Backup, #25 Lead Blocker)
Frank Gore has been called an aging running back for a while and it hasn't slowed him down, but it will catch up to him sooner rather than later. Luckily, there's a chance the preternaturally talented Marcus Lattimore returns from injury in fine form. Absent that, Kendall Hunter has been productive in limited snaps and so has LaMichael James been. They also have one of the best lead blockers in the NFL with Bruce Miller.
New England Patriots (#25 Primary, #29 Backup, #15 Lead Blocker)
While the passing game suffered in New England, the running game flourished. With Stevan Ridley, Shane Vereen, LeGarrette Blount and Brandon Bolden, New England had one of the highest run success rates in the league—even though they didn't have the highest yards-per-carry, it was hard to stop the offense from getting as many yards as they needed. Even with Blount leaving, they're young, capable and versatile.
Seattle Seahawks (#29 Overall, #27 Primary, #28 Backup, #20 Lead Blocker)
The Seahawks won the Super Bowl on the back of their defense and a strong running game, but concerns about Marshawn Lynch's age could vault backup Christine Michael in importance. Either way, Seattle will be safe with Robert Turbin holding the line as the third RB. Fullback Michael Robinson is leaving again, but the Seahawks have two other fullbacks on the roster ready to go, though they do have something to prove.
Philadelphia Eagles (#32 Overall, #32 Primary, #32 Backup, #31 Lead Blocker)
The Eagles have the best running game in the NFL, and it's not particularly close. They don't need to use a fullback and all of their running backs have so far proven to be massively productive within the system. They may not have the NFL's best running back (although they are not far from it), but they're young, productive, and perfect for their environment.