Not too long ago, many had written off Penn State's football program as one doomed to irrelevance for the next decade. Instead head coach Bill O'Brien has quickly began the rebuilding process, and is already seeing some significant improvements.
First up on their 2013 schedule is a clash with Syracuse. Both teams will be heading into the season with new faces at quarterback. What other positions should you keep an eye on in this matchup?
Syracuse
Although Ryan Nassib graduated, broke a multitude of passing records and went on to become the New York Giants 4th round draft selection, there is plenty of reason for optimism with the Syracuse Orangemen in 2013. Returning their top two ball carriers in Jerome Smith (#45) and Prince Tyson-Gulley (#23), Syracuse brings to the table both experience (52 combined games) and production (385 carries, 2066 yards, and 12 TDs rushing). Smith is a junior that runs with a high motor, aggressive style, wasting no steps dancing in the hole; he will fall on his sword behind the o-line, drops his pad level in traffic and burns his feet to work through first contact. Tyson Gulley on the other hand, is a much smaller, quicker and creative ball carrier; as a senior, he'll have to improve his ball carrier instincts and trust his first read.
Oklahoma-transfer Drew Allen (#8) gained immediate eligibility this season as a grad student and should lay claim to the vacant starting quarterback job. A former high school All-American, Allen chose to transfer after redshirting in 2009 and backing up now-Pittsburgh Steeler QB Landry Jones for three seasons. Allen's reasons for choosing Syracuse as his destination, included similarities to the offense he learned at Oklahoma and the fact that there was an open quarterback competition with Nassib's departure. Despite not having ideal experience or production, Allen's big frame (6'5, 226 lbs), plus arm and refined mechanics should serve him well within Syracuse's pro-styled passing attack. It will be important for Allen to separate himself in this opener, as this is his last chance to be a full-time starter at the collegiate level. His top receiving target will be Jarrod West (#88), who caught 43 passes a year ago for 588 yards and two touchdowns.
HisDefensively, Syracuse is led by two team captains in the front seven, defensive tackle Jay Bromley (#96) and linebacker Marquis Spruill (#11). Spruill has played in every 'Cuse game dating back to his freshman season and showcases very good closing burst, playing instincts and playing speed as the weakside linebacker, while Bromley works inside as a shade nose tackle on 4-man fronts.
Others to watch:
Beckett Wales, TE, Syracuse – #85, 6'3, 225
Adrian Flemming, WR, Syracuse – #22
(JR) Dyshawn Davis, LB, Syracuse – #35, 6'2, 225
Keon Lyn, CB, Syracuse – #8, 6'1, 201
Ri'Shard Anderson, CB, Syracuse – #9, 6'0, 190
Penn State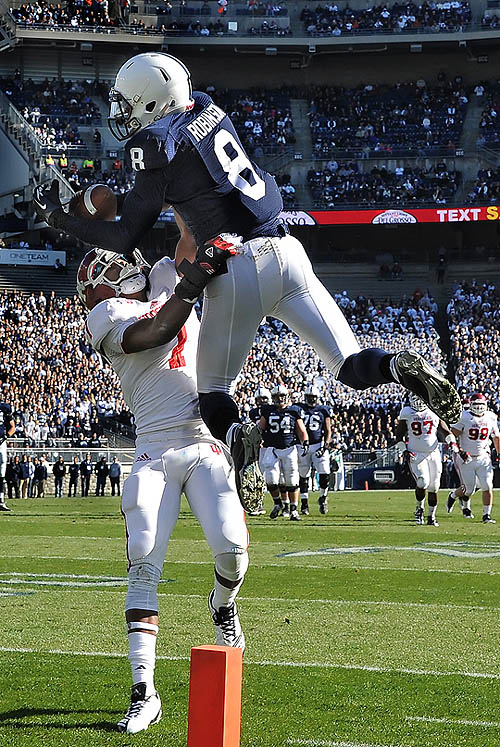 For the Nittany Lions, Allen Robinson (#8) headlines as a wide receiver with ideal measurables (6'3, 210 lbs, mid 4.5 speed) and a refined skill set, in that he varies his route stems off the line of scrimmage to attack the defender's leverage in coverage. To reach his full potential, Robinson will have to be more consistent with his hands and disguise the top of his patterns more effectively, as he tends slow down and raise his pad level before making his cut. Downright impressive on double move routes such as the slant-and-go, corner-post and post-corner, Robinson's fluid and graceful movement skills allow him to string together multiple cuts without loss of balance.
For a team that will be starting a sophomore (Tyler Ferguson) or a freshman (Christian Hackenberg), a reliable target like Robinson will be one to keep an eye on. On defense, the Nittany Lions have a couple explosive defensive ends in Deion Barnes (#18) and Anthony Zettel (#98) that could challenge the draft waters as third year-sophomores. Barnes looks like the better pure athlete with more length and speed to his game, attacking the quarterbacks on various stunts and blitz packages. Very balanced and coordinated, Barnes only needs to correct his pad height off the snap and develop his hand usage at the point of attack. His teammate Anthony Zettel seems more willing to combine speed and power to collapse inside with his hands, but did not see the same amount of reps as Barnes. Although he's not as highly regarded, Zettel is every bit a player NFL teams will take note of. Both players run the arc naturally and have a chance to develop into very good NFL prospects, with Barnes presenting top round potential. And while the defensive end position shows promise, Penn State also has a solid defensive tackle in DaQuan Jones; more a plugger than a playmaker, Jones wins with his wide body and natural strength. You'd like to see more range and improved leverage, but Jones remains effective as the team's primary nose tackle. I'd also be remiss if I failed to mention that "Linebacker U" is returning their leading tackler from last season in Glenn Carson (#40).
Others to watch:
Matt Lehman, TE, Penn State – #84, 6'6, 254
John Urschel, OG, Penn State -#64, 6'3, 301
Glenn Carson, ILB, Penn State – #40, 6'3, 235
Malcolm Willis, S, Penn State – #10, 5'11, 215