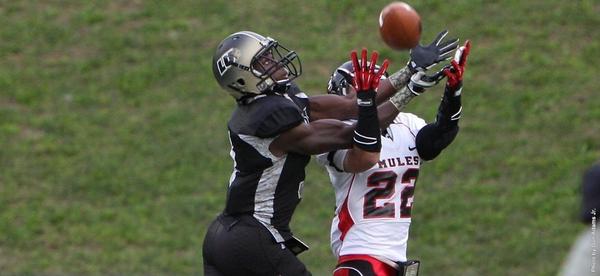 Pierre Desir, a lengthy Division-2 corner, allowed us to interview him via phone in December. Projected as the top small school corner in the 2014 NFL Draft, Desir has the potential to rise media draft boards during the draft process.
An All-American at two universities, he'll have a chance to compare his talent against FBS competition at the East-West Shrine Game.
OS: As a St. Louis area native, were the Rams your team growing up?
Desir: No. I liked the Atlanta Falcons, actually.
OS: In a recent interview you stated that Green Bay or Seattle would be the best schematic fit for you. Care to elaborate why?
Desir: I picked Seattle just because I know they like bigger corners, like Richardson Sherman and Brandon Browner. I'm a bigger corner, and I think I would fit to their scheme. I like how Green Bay uses their corners and their defensive scheme to press and in zone coverage. I thought those two teams would be the best fit I could see myself into, so that's why I chose those teams.
OS: You mentioned that you're a taller corner. You're listed at 6'2", is that accurate?
Desir: I'm 6'1 3/4", but I'm cool with 6'2".
OS: As a taller corner in a class seemingly lacking tall corners, how do you feel about your mold compared to the rest of the class?
Desir: I feel that with my height I have an advantage over the other corners, who are not as tall as I am. Going against receivers, they're going to be a lot taller. With me being a bigger corner, I'm going to be able to use my height and my length to be able to match-up well with receivers. I think that's my advantage.
OS: You were a D2 All-American and a member of the MIAA honor roll, why did you begin your career at Washburn?
Desir: Coming out of high school, I was getting heavily recruited going into my senior year. Basically what happened was that with my ACT score, I was ineligible to go D1. I looked at a different option. Rather than go to a junior college, I decided to go to D2. I visited other D2 schools, but I felt that Washburn was the best fit for me. Originally I was being recruited as a wide receiver, but I made the transition to defensive back, because I wanted to get some playing time.
OS: A tall corner who was a former receiver convert. A little Richard Sherman there, Right?
Desir: Right. (laughs)
OS: You started your career at Washburn, but then you transferred to Lindenwood. Why do you want to elaborate on why?
Desir: I transferred to Lindenwood, because it's nearby my home. One of the reasons I transferred was because out there in Kansas, where Washburn is, I had my fiancée and my two daughters living with me. Just trying to balance school, football, work, and family didn't all mesh together. I was just trying to find a way to still focus on football and not let it affect my school. It had nothing to do with the players or the coaches. I'm still friends with the players that graduated and are on the team now. I just had to leave so I could get more help with my family.
OS: There's going to be some top talent at the East-West Shrine Game, which you'll be attending, but who's the best player you ever faced in your college career?
Desir: The best player I ever faced was John Brown. He's out of Pittsburgh State, I think his number if number five. He's not tall, but he's very quick and very fast. I just liked to compete against him, because he's one of the best.
OS: That's interesting that you said Brown. Green Bay, a team you said would be a good fit, was actually there to see that match-up.
Desir: I knew there were going to be scouts there, but they never told us who would be there. That's pretty awesome. I know for our defense, I don't get to play man coverage. The times I did go against him, it was a good competition.
OS: Could you give me a self-scouting report? What do you think you do well, and what do you think you need to work on?
Desir: What I think I do well is attacking the ball. Whenever the ball is in the air, I think I can get the ball from anyone. Anticipating the routes the receivers are running, and just having a good knowledge of the game. What I need to work on is tackling, being a better tackler, help in run support, and just showing a little bit more physical ability. I know I can, I just need to show a little bit more.
OS: The consensus is there's a lack of quality safety play in the NFL, and we've seen guys like Malcolm Jenkins make the transition to a quality safety/corner. Do you think you could do so?
Desir: I think so. I think with my ability to understand the game, it wouldn't be a difficult transition for me to move to safety. I haven't played it in college, but I don't think it would too difficult. Even though the safety is the sheriff, kind of like the quarterback of the defense, which would be different from corner, where you're just worried about man or zone. You're not worried about too much there. I can make that transition.
OS: Your father was a soccer player in Haiti, is that where you get your footwork from?
Desir: Yeah. Actually, I played soccer most of my life. I didn't start playing football until I was a freshman in high school.
OS: Your fondest football memory to this point is what?
Desir: I would say being at Washburn where we won the Kansas Bowl. It's a D2 bowl game, and I had an interception in that game. It was the first football ring that I got, because I didn't get one in high school. That's someone that I'll remember forever.
OS: Mel Kiper Jr. recently said you were a late third round pick. Do you think you go higher or lower than that?Desir: I think the sky's the limit for me. I haven't really shown anybody anything, just because of the players I went against in our college. I think I can only go up from here. Especially with a good East-West Shrine game, and being able to show everyone that I can compete. It's only up from here.