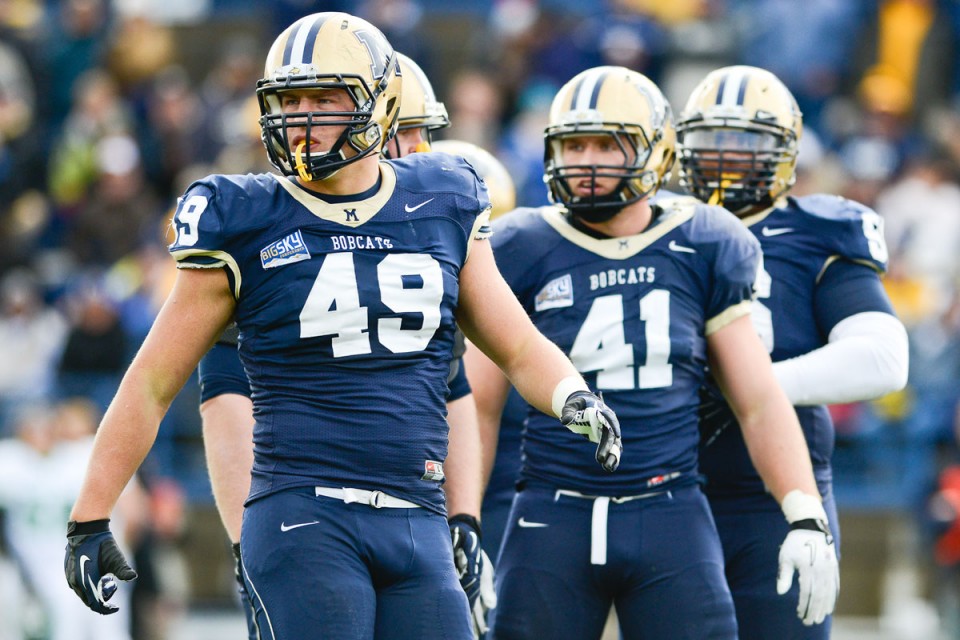 A productive day to evaluates the offensive and defensive linemen, as well as focus on the receiver/defensive battles that were the focal point of practice.
Khalid Wooten, Caleb Schrebeis, and Keith Pough really impressed, while Blaize Foltz disappointed, and Tanner Hawkinson and Wes Horton intrigued.
Quarterbacks
-Tried not to focus on the quarterbacks too much today, as things seemed pretty clear from the get-go about each of these quarterbacks. I did notice that Matt Scott of Arizona continued to struggled with his ball placement vertically, and really lacked the touch I saw at film on times from him. He does spin a clean ball and has the strongest arm of the West roster, which isn't saying much against Seth Doege and the adequate but not great Alex Carder.
Running Backs/Tight Ends
-Unfortunately I missed the only drill I wanted to see from running backs today in the pass blocking drill, but I was told by Chris Kouffman (@ckparrot) that Kerwynn Williams of Utah State was the most consistent and showed the best understanding of pass blocking, which is surprisingly considering his size. That's a big plus for the speedy edge runner, who also flashed today in team drills in his cuts upfield.
-Also from Kouffman, Josh Hill, Idaho State's tight end, was didn't look to have much polish as a pass blocker, concerning because he's considered an H-Back only type player. Zach Sudfeld was adequate.
Receivers
-Another solid day for Keenan Davis working on the interior, running efficient routes, catching away from his body well, and showing the route definition needed to succeed early in the NFL. He did struggle a bit on the outside, but in my opinion, that's not his best fit. He could be a fantastic interior-working receiver.
-Tyrone Goard of Eastern Kentucky runs a great vertical route, uses his hands well, and extends away from his body downfield. But his interior breaking routes, at any level, leave much to be desired in terms of burst, definition, and body control. Chad Bumphis had a good day, getting separation with burst in his cuts, working especially well on the interior in the slot.
Offensive Line
-The lineman I was most intrigued by today was Tanner Hawkinson of Kansas. Though he wasn't consistently impressive and he needs more work in his anchor inside, he showed an adequate kick slide, didn't make the same mistake twice in his footwork, and arched his back and used his hands well. Not a draft-grade guy at this point, he could certainly be in that discussion.
-On the other hand, Blaize Foltz of TCU really struggled today. He couldn't maintain his anchor, and unless he's able to shoot his hands up with force initially, he played on ice skates and was easily over powered by power rushes and easily beaten inside by quicker/more agile guys.
Defensive Line
-The most impressive defensive lineman from my view today was Caleb Schrebeis from Montana State. The speed rusher was extending away from his body well to drive his legs with good pad level, attacked the edge well, and stunted inside very well with speed/pad level. He attacked the edge the active hands consistently.
-Wes Horton of USC plays away from his body very well, and shows the bend to get around the edge and rush the quarterback inside or out. The problem is that he is very raw with his hand placement, and doesn't have defined rush moves. He's flashed, but blockers with more consistent hands and kick slide will neutralize him.
-I came into the game a big Travis Johnson from San Jose State fan. He has very strong hands, had three vicious hits and knock downs on either stunts or bull rushes, and shoved with his hands very well. However, he showed he can be a bit slow off the snap at times, and if he is, he can be neutralized easily. While it'd be a minor surprise, he may be the first defensive lineman call up to the Senior Bowl.
Linebackers
-The most impressive linebacker again today was Keith Pough from Howard. He has consistently shown thus far this week that he can pick up running backs well in coverage, and has opened up with his hips very well to deep coverage. He's reacting and bursting in coverage well too. Combine those two skill sets I didn't know he had with his intense leadership this week, and he may be a team-by-team favorite.
-Also today, AJ Klien flashed coverage ability, while Nathan Williams and Steve Greer struggled in those two areas, especially when working outside of the box.
Defensive Backs
-The best of the defensive backs today was Nevada's Khalid Wooten. The cornerback wasn't great in zone drops, but as a press cornerback, he drove with his hands well initially, opened up smoothly, and stayed tight to his receiver on multiple occasions. He's impressed enough this week to be more than just a "draftable" guy. Fellow Nevada defensive back Duke Williams didn't show much today, struggling in the slot and not reacting as well as expected in 12 vs. 12 drills.
-After a solid day yesterday, Terry Hawthorne of Illinois struggled to close in off-coverage, and didn't show the same reactions and burst that he did yesterday. He's still the most physically gifted cornerback here, but he'll need a rebound day tomorrow to merit that idea. Problem is, this may be the last day most NFL teams are here.
-Zeke Motta of Notre Dame was impressive again today in man coverage, and for a likely Cover 2 safety at the next level, Motta is showing a wide range of skill sets I didn't know he had. I like Motta quite a bit before this week, and he's shown the ability to fit in multiple roles now.
-Sheldon Price of UCLA had a better day today than he did the past two, and seemed to be in much better position to use his frame in coverage. He's too highly built and may need to be a short area coverage guy, but he made plays today when he was able to use his hands, especially outside the hashes.