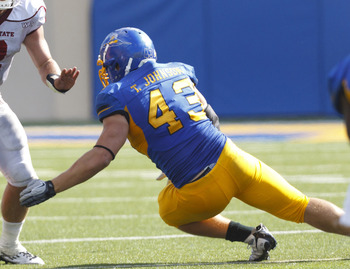 The final of our Shrine Game previews, the West defense features some of the most intriguing prospects in the entire event as well as plenty of defensive line and cornerback depth, two positions that always are the focus of NFL teams.
Travis Johnson won't be under-rated for long after this week, Keith Pough will work to take his FCS production to the next level, fellow FCS stud defender trying to impress, and plenty of talented cornerbacks and safeties to inspect before the week starts.

OUR SHRINE GAME HEADQUARTERS: HERE
Defensive Line
1. Travis Johnson, DE, San Jose State
-While a bit unheralded in the media, Johnson has elite strength in his hands and upper half, and collapses the pocket as well as adjusts after initial contact very well. His ability to drive his inside shoulder inside, and adjust after that initial hand placement by the tackle is maybe his best quality, and he rarely ends up on the ground or in poor position to make a tackle. While he lacks great athletic upside and is a bit slow laterally, he's an effort, powerful, and balanced edge rusher.
2. Josh Boyd, DT, Mississippi State
-The ideal 3-technique prospect, Boyd plays with great leverage, active hands, and quick reaction upfield as an interior presence. He has the pass rush ability to anchor and redirect on the inside, showcasing the ability to locate the ball well and redirect his initial path. Not consistent or stand-out in any one area, a good week here can make a big impact on Boyd's grade.
3. Wes Horton, DE, USC
-The once highly thought of prospect for USC, Horton suffered through injuries on a roster that, not playing only opens up the door for other talents to step up. He struggles with consistency, a major concern for Horton, as that's been the norm for USC talents that struggled in the pros. However, his long arms, good initial burst and first step, and natural rushing move is intriguing. But he can get engulfed by bigger rushes, needs to keep his pad level lower, and can be pushed off balanced too easily. NFL teams will be curious to see his development this week.
4. Caleb Schreibeis, DE/OLB, Montana State
-The Buck Buchanan award winner (give to the FCS's best defensive player) has great athleticism lateraly and explosivness in transition to go along with his length and burst through his hips upfield. Possibly making the transition to a 3-4 linebacker at the next level, he'll need to utilize his flexibility and bend around the edge as well as utilize his athleticism. This is a big stepping stone for the small schooler who hasn't faced many talented offensive tackles.
5. Craig Roh, DE, Michigan
6. Brandon Thurmond, DE, Arkansas-Pine
7. Will Pericak, DT, Colorado
8. Cameron Meredith, DE, Nebraska
9. Will Campbell, DT, Michigan
10. Rob Lohr, DT, Vanderbilt

Linebackers
1. DeVonte Holloman, South Carolina
-The safety/linebacker 'tweener at SC this year, Holloman made the transition easily, and shows the ability to stack and shed, close quickly on the ball, and getting downhill in the open field. We'll see if he can adjust in coverage and show the same polish as the other linebackers here, but he should have the best chance to stand out this week.
2. Keith Pough, Howard
-No question the player I'm most excited to evaluate this week is Pough, who I've watched plenty of over the past two productive season's he's had at Howard. Asked to do a bit more 4-3 linebacker reads and adjustments this year (as well as being the focal point of offensive gameplan by opposing teams), Pough can be a devastating outside rusher, showcasing elite body control, adjustment in pursuit, and the range to finish tackles all over the field. He should be a fan and media favorite, and could shoot up to the 4th round or higher after this week.
3. AJ Klein, Iowa State
-Consistent and effective in the run game, he an instinct and reaction-based linebacker who can finish tackles on the interior thanks to being in ideal position, and tacking with consistent form and always near the ball. While it's unlikely he'll be a top four rounder, but he could contribute instantly in the NFL, and that may draw up his value.
4. Nathan Williams, Ohio State
5. Steve Greer, Virginia
6. Albert Rosette, Nevada
Cornerbacks
1. Terry Hawthorne, Illinois
-Built well as a cornerback, Hawthorne has good speed and burst in the open field to transition upfield against receivers as well as coming up in the running game. Hawthorne is a strong tackle finisher who works hard in the run game and has experience attacking off the edge. Hawthorne has great upside as a cornerback thanks to his run defense ability and physicality on the outside.
2. Micah Hyde, Iowa
-With ideal NFL size and the ability to anticipate receivers well to minimize hip and speed concerns, Hyde gets the most value for his body, staying physical and using his instincts and run support to consistently make an impact on the game. Despite his consistent technique, physicality, and recognition, his speed and hip concerns will linger, and they may show this week against some speedy West receivers.
3. Khalid Wooten, Nevada
-Still very raw as a defensive back (could play cornerback or safety), Wooten has fantastic speed and flashes fluidity in his hips to turn and run vertically. Potentially dime back in the NFL because of his tackling concerns yet great hips and speed to run with slot receivers, Wooten may have upside most as a returner.
4. Nigel Malone, Kansas State
5. Demontre Hurst, Oklahoma
6. Aaron Hester, UCLA
7. Sheldon Price, UCLA
Safeties
1. Shamarko Thomas, Syracuse
-An active, aggressive, and fluid strong safety prospect, Thomas has shown just about everything you need to see for a safety prospect. He's flashed the ability to play man coverage in the slot, press coverage experience, and drops to a shorter and deeper zone this season. He's not developed in really any of those areas, and his pass coverage could be improved in making more efficient zones and in transitioning receivers in zone pick-up. Still, he shows the ability to defend the run very well, is explosive upfield, and shows the tools to develop as a safety at the next level.
2. Zeke Motta, Notre Dame
-A perfect fit in a Cover 2 defense, he comes downfield with great burst thanks to a strong lower half and powerful yet balanced and decisive cuts. He could be a bit more patient in attacking upfield and lacks top end range, but his NFL build, experience in Cover 2, versatility to play either safety spot, and his tackle finishing ability at the 2nd/3rd level could make him a mid-rounder.
3. Duke Williams, Nevada
-Another Cover-2 styled defensive back, Williams was asked to fill a lot of different roles in the Nevada defense. Williams has the instincts in the run game, physicality when working against slot receivers, and the feet to adjust his position and open up vertically very well. A do-it-all type safety, Williams could showcase that value and versatility this week.
4. Jahleel Addae, Central Michigan
5. Bradley McDougald, Kansas
6. Keelan Johnson, Arizona State
7. Cody Davis, Texas Tech