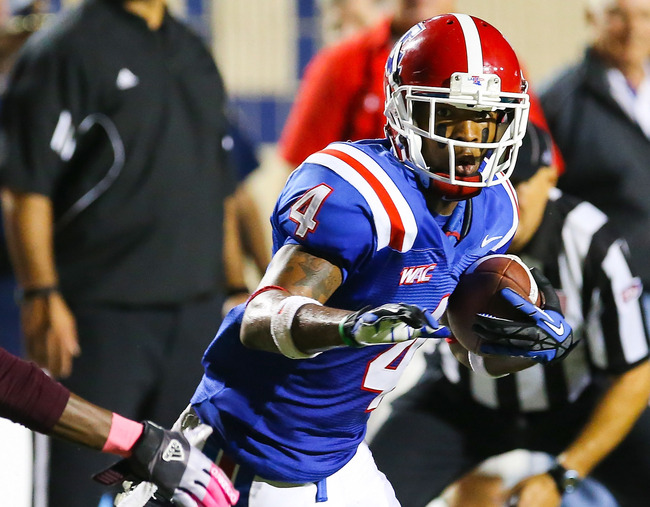 Another practice with myself and fellow Optimum Scouting member Alex Brown today, as I broke down QBs, WRs, and DBs for the South squad, while Alex took the pit drills and watch OLvs. DL
Tyler Wilson and EJ Manuel battled for the day's best quarterback, Quinton Patton proving his "top senior receiver" merits, Larry Warford looked the part of a starting NFL guard, John Jenkins tore up the inside, and Leon McFadden continues to make a name for himself.
Quarterbacks
-Arguably the best quarterback of the day (and easily the best on film) was Arkansas's Tyler Wilson. The commanding leader off the field (see our interview with him here) was impressive at times today. He seemed the most fluid in progressing through his reads (though most were working in the middle of the field, and his placement was solid on in-breaking curls, ins, and dig routes. However, his footwork still seemed like an issue, as it did on film. He still puts too much weight on his back foot at times, and that causes his ball to flutter a bit at times. Those fluttering passes aren't a major issue (see Eli Manning), but when they are on deep, timing based comebacks, it makes it harder for receivers to gather the ball. Overall, he was the most impressive in his reads, but he didn't stand out (mostly thanks to inconsistent deep ball) as much as he should have today.
-Battling with Wilson for the day's top QB was Florida State's EJ Manuel. At first, his high, structured college release seemed to be adjusted, and he started the day off with a lower, quicker release and a more natural wheel to his motion. However, as the practices when on (and especially on deeper routes), his mechanics shifted back. Still, he spun a consistently clean ball and drove the ball on inside routes well. His ball placement seemed very hot and cold, but he was willing to work outside and inside. He still looks the part of a developmental QB, but he's not too far off at this point.
-The final quarterback on the South roster, Landry Jones of Oklahoma struggled throughout the days. His release still looks like he's placing the ball at times, and his velocity suffers as a part of that. He does seem to rise through his progressions, and the more he plays on his toes, the more his velocity suffers and his release slows. Overall, he needs to utilize his lower half better to generate velocity. I'm not sure if he has an NFL starter upside.

Running Backs
-Best of the bunch today was Stefpan Taylor of Stanford, who showed a great sudden burst, was tough through the hole, and possessed great lateral balance. Also, Florida's Mike Gillislee looked solid today, and his decisive steps, especially once he passes the first level, was noticeable today in team drills.

Wide Receivers/Tight Ends
-The best receiver of the day was easily Quinton Patton of Louisiana Tech. Our top rated senior receiver before this week (and battling for our top overall spot), Patton does all the little things extremely well. He's extremely clean and decisive in his short area routes, with zero wasted steps, explosive cuts, and maintaining balance throughout his route tree. His routes across the field aren't "perfect", especially his deep out, but he's certainly top 2-3 in every route he's run so far. He snatching balls across the field well, and positioning his body in the middle of the field. It's hard to find anything not to like about Patton, besides his "limited athletic upside". He's the type of player every team will want in the to two rounds if possible.
-Opposite of Patton, Terrence Williams of Baylor struggled mightily throughout the route tree, only looking comfortable when asked to get vertical on a 9-route. He needs to sink and adjust with much better balance in his short routes, doesn't have any development in deep post routes, and struggles to get separation on hitches and comeback routes. A work in progress, deep threat athlete at this point.
-A surprisingly solid day from Tavarres King of Georgia today, as he seemed likely a slightly less impressive version of Patton, following him in most drills. His routes aren't quite as crisp as Patton's, he doesn't quite get the same separation on the interior, and his body control isn't as polished a Patton, but he did all of those things well today. King has a lot of upside, and things seemed to come together in his senior season this year.
-Also to note at receiver, Cobi Hamilton worked well with Tyler Wilson (as expected), but still didn't show off great extension. Duke's Connor Vernon didn't show great change of direction or balance in quick changing routes, but flashed a bit today in certain areas.
-At tight end, Mychal Rivera of Tennessee was the most impressive. Though not built as well as you'd like in the blocking area, he showcases some ability to drive inside. And as a receiver, he showed great extension away from his body, in both the seam and on the outside.
-Monday's tight end "darling" Vance McDonald of Rice seems a bit straight-line to me. He has ideal tight end size, and his upside (and build) is comparable to Connor Barwin was, except the TE and not DE version. He did struggle with drops today, with four by my count.
Offensive Line
-Missing from the offensive line today was Tennessee guard Dallas Thomas. With a real opportunity to climb the ranks as a blocker capable of playing tackle in a zone scheme or left guard, Thomas was unable to make an impact due to injury. No word yet on just what the injury was.
-As a result of Thomas' absence, Florida tackle Xavier Nixon earned reps at left guard. Not overly impressive at guard, Nixon was clearly more comfortable kicking out from the edge and setting up his pass set from the left tackle position. Nixon, though heavy legged in his kick slide, can cover the speed rush and protect the arc consistently; however, redirect moves with power to the inside gave him trouble. Nixon continues to pick up and put down his inside foot with heavy force, which comes across as a labored, unnatural action. He's raw, but talented and in need of extensive coaching to wring out his full potential.
-Kentucky guard Larry Warford confirmed my film evaluations and first round preliminary grade, as his proper hand usage and heavy punches consistently stone opposing rushers. Punching, locking out at the point and resetting his hands when faced with a counter move, Warford's patience and awareness in pass protection stood out among the rest of the offensive line play. In the running game, Warford created initial pop out of stance, sustained down the field and combo-blocked well to the 2nd level by taking ideal cutoff angles. All in all, it was an excellent day of full contact for the guard prospect.
-Lane Johnson also performed well in the second day of senior bowl practices, showing off the great foot speed and mirroring skills to protect the corner, as well as redirect inside to counters. His footwork in kick sliding needs refinement, as he tends to pick up his inside foot when working off the line, but the skill set to be a long term answer at left tackle is there with the Oklahoma blocker.
-In terms of surprise performances, Cal center/guard Brian Schwenke won his individual battles with consistent footwork and tight punches. Quick to reset and react to the defender's move, Schwenke understands his physical limitations and compensates by playing with technique. Don't expect him to be a high draft pick, but Schwenke has the makeup of an interior lineman that'll stick in the league for years to come.
-Dalton Freeman struggled to bend at the knees and absorb contact out of his stance, and subsequently was worked off the line of scrimmage by power rushers on a fairly consistent basis. Likely the North's starting center, I'd like to see Freeman get reps at right tackle, because he seems to possess the movement skills and length necessary.
-And finally, Virginia's Oday Aboushi showed good movement skills out of his stance to protect the corner, but failed to anchor down at the back end of his kick slide. Throwing his weight to the outside hip and occasionally overextending, Aboushi needs to settle down his weight better and tighten up his punches at the point of attack. Aboushi looks like a solid swing tackle at the next level, but won't be a left tackle, at least early in his career.

Defensive Line
-Ezekial Ansah disappointed during pit drills for all but one rep, where he pressed an outside rush and spun back to the inside. Tremendously gifted from a physical standpoint in terms of balance, redirect and hand/arm coordination, Ansah's upside was fairly evident in today's practice. Ansah performed better when the action went live in 11-on-11's, as he was active throughout the practice session, extending and separating from the point of attack with his length. Lacking elite speed to run the arc, Ansah must develop his hand placement and ability to consistently leverage underneath the blocker's shoulder pads, but the upside certainly exists with this physical specimen.
-And among the speed-to-power pass rushers, it was Cornelius Washington of Georgia, not Lavar Edwards that stood out. Very much a bull in a china shop, Washington wreaked havoc with an explosive outside-in power rush. Leveraging underneath his opponent, Washington finished each of his power rushes by collapsing the pocket and displayed tremendous explosive burst through the point of attack. One of the winners from Monday's weigh-in, Washington proved that he is more than an impressive body and had himself an outstanding second day of practice.
-Further on Lavar Edwards, a lack of extended hand usage or any sort of disengage move led to failed one-on-one bouts with Lane Johnson. Edwards possesses excellent speed and good power off the line, but too often did not know what to do after initially jolting the blocker backwards. Heavy with that initial punch but slow to reset and adjust his pass rush, Edwards needs to show improvement through the rest of the week to hold his current 3rd round grade.
-Malliciah Goodman showed similar issues at the top of his rushes, failing to finish with outside bend, inside power or inside redirect. With rare length and an ideal body type to rush the passer, Goodman flashed the ability to create an initial snap on contact, get his arms underneath the blocker and lock out. Ideally you'd like to see Goodman finish such rushes with a punch and pull to the outside, or spin to the inside, but NFL teams will have to understand that he needs further development and coaching in terms of his pass rushing repertoire.
-On the interior, Georgia nose tackle John Jenkins was an absolute brute at times. Digging his feet in to anchor against double teams, Jenkins flashes the in-line power needed to be a true 0-technique. That being said, Jenkins still falls in love with his lateral range, foot speed and athleticism, as he often forces his arm over swim move off the line of scrimmage. When Jenkins punched, locked out and drove his legs through the point of attack, he was virtually unstoppable in the pit, so physically he's everything and more at the nose tackle position.
-As for the other defensive tackles, only Everett Dawkins of Florida State and Corey Grissom of South Florida stood out. Dawkins showcased some nice burst and bend off the line, but failed to keep his footing against Larry Warford due to overextension and reaching hand usage. Grissom, though more powerfully built, also struggled with his footing and appeared out of control at times. Still, Grissom fought like a bull and won at times with shoulder adjustments, effort and motor.
Linebackers
-The most intriguing note today was from Chase Thomas at Stanford. He seemed a bit slow off the snap initally, with the slowest feet of all the linebackers, and needs ot drive better of the edge. I like what he can bring to an NFL team situatonally, but his lack of great athleticism is concerning.
-Nico Johnson of Alabama seemed slow as well in his interior burst, but closed well in run support and filled the A and B gaps well in run drills. Also, Zaviar Gooden of Missouri looked solid in his RB/WR/TE pickup in pass coverage drills at times.

Defensive Backs
-Best of the bunch today was Leon McFadden of San Diego State, who drew rave reviews after Monday's practice. Physically impressive in press, he adjusted well vertically, staying tight in the hip pocket on in and out breaking routes, as well as vertically. He collapsed on the ball well as well. Interested to see if he continues to play at this level all week, and if that causes myself and NFL teams to review his film.
-William & Mary's BW Webb had an up and down day today, but I think he's able to stay lower and more explosive than any other cornerback here. He gets good burst out of his transitions, and is able to work downfield if he times his breaks better. He could extend away from his body a bit better.
-The top safety for the day was Bacarri Rambo of Georgia, from my perspective. He had the quickest feet of any safety in drills, transitioned smoothly upfield in coverage drills, and showcased good balance to get vertical on jump balls in and out of his break. Fellow Geogia defensive backs Sanders Commings (who showed solid press and adjustment ability) and Shawn Williams (who seemed very high cut, but attacked well in tight end pickup drills) both had up and down days.
-Georgia Southern's JJ Wilcox, a former running back just a year ago, still seems very raw in his pedal and in his transitions. He'll struggle at the next level initially with his ability to pick up tight ends/running backs, but he has the length and closing speed to improve there over time.