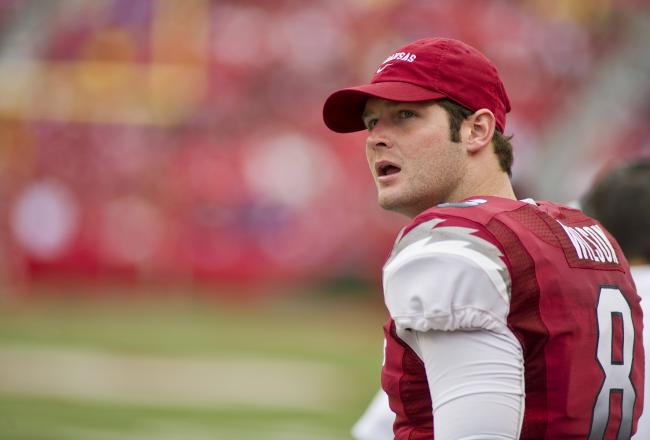 At the Media Night, it was a frenzy talking to players, grabbing who you can, getting a few minutes (if not seconds) before others swarmed to get the next question in.
I got a chance to talk to 10 players that night, asking them questions that relate to what NFL teams would ask. I tried to cover injuries, character issues, arrests, scheme changes, and testing their football knowledge.
I talked to Tyler Wilson, Zac Dysert, Quinton Patton, Denard Robinson, Aaron Mellete, Kyle Juszczyk, Justin Pugh, Eric Fisher, Hugh Thornton, and Jamie Collins.
Tyler Wilson, QB, Arkansas
The best interview of the day (for me at least, though I know I wasn't alone) was Arkansas's Tyler Wilson. The quarterback immediately came off with a confident, focused attitude, and gave off the vibe of a leader who not only understood his abilities/experiences, but also how to interact with people and teammates.
We talked about losing head coach Bobby Petrino first, and he discussed how Petrino had his hand in so many aspects of the team, from administration to the scout team. He discussed just how difficult it was from the team going from such a stable environment to immediately a tough situation for the team. He did speak about how his experience being on a struggling team could help him for who his NFL employeer may be (Chiefs, perhaps?). He discussed how he felt it was important for him to keep his focus and confidence, knowing his lack there would filter through the team.
He discussed how he's willing to take hits in the game, saying he's "not getting hit in practice" and that he's going to get hit "whether it's a touchdown or an incompletion". That seemed like an easy answer, but his confidence and honesty about it seemed awfully real to me, a big indicator of him rationalizing that "toughness" attribute he already has. Also, he talked about losing three "really talented guys" at receiver, along with his tight end, saying it was tough to adjust to and feel confident in guys who weren't familiar with the offense. That's likely why he was force feeding Cobi Hamilton at times this year.
He addressed his concussion concerns, but said that NFL teams are only really worried about just one, his concussion before the Alabama game which he was forced to sit out of. The other concussion he suffered previously was more of a precautionary reaction, so doctors aren't concerned about that. Big plus for him.
Finally, he talked about what he's working on now. He said that he's focusing on his footwork, taking attention to detail. He said that his velocity and ball spin suffers when he doesn't have his feet set ideally, and that he's working on that minor detail, and mastering it, so that one area isn't an issue at the next level. He seeded awfully aware of the NFL Draft process, what he has to work on, what he can provide to an NFL team, and what's next in his career.
Zac Dysert, QB, Miami OH
First off, I asked Dysert about his 2010 lacerated spleen injury, in his game against Bowling Green. Said it's fine now, won't be an issue moving forward.
The biggest adjustment for him in changing coaches and his offense this year was really the terminogy for him. He said that the offense wasn't all that different, but adjusting to new players (interior linemen especially) was the reason for the offensive focus shift. He mentioned the offense tried to run more quick throws to stop the defense from blitzing constantly. He also said he's a big more comfortable in the shotgun, but has experience from the dropback.
As far as the offense, he said that, although it seemed unbalanced at times, he felt it suited him well. Josh Norris (of Rotoworld/NBC Sports) pointed out and asked him about his receivers' drops this year, especially in the Ohio State game. He said that the team had a great gameplan that game (maybe Dysert's best game this year), and it was frustrating to work through this year, but he felt he did what he needed to do.
He also talked about his history of taking chances downfield. He said he's gotten better over his career in judging when to take a chance and when not to (stats reflect that). He said he's just "trying to make plays" when he's taking chances, but he's gotten much better in his ability downfield and his decision making.
Thumbs up for the interview. Seemed a bit nervous compared to the other QBs (he did play in the MAC), but certainly seemed like a guy who could handle the NFL.
Aaron Mellete, WR, Elon
The former basketball player, he said he felt like a "basketball guy", but the football scholarship outweighed that coming out of high school. He said he felt he may be a bit behind in the weight room, but not as much, and maybe just intensity/durability/conditioning-wise.
He seemed awfully proud of the Vanderbilt game (maybe his most impressive on film, in 2011), and said the coaches and his teammates put a lot of pressure on him to "prove himself", and "put the team on his back" (a la Greg Jennings in Madden).He did his offensive coordinator had experience against the Vandy DC, and that helped substantially in the gameplan.
Against UNC in 2012, though, he felt the offense wasn't nearly as developed as he wanted to, and the offensive gameplan wasn't going to work immediately after the start of the game. He tried to have the offensive coordinator adjust it, but he said the team felt it was too late to adjust much.
He said he's working the most on the curl and comeback routes in his route tree, saying he needs to get more explosive in his short stepping routes, and being more decisive with those steps (both of which I agree with).
Denard Robinson, WR, Michigan
Notice the position listed there for Denard, as he made it clear to myself and Josh Norris that he's only playing receiver here. He said he's "focusing on receiver and that's it" this week, and doesn't seem too keen on playing out of the backfield.
He said he wasn't cleared for contact for Monday practice, but should be out there in full force the rest of the week. He also said he struggled on Monday with punts because, in his short time practicing as a returner, he didn't see a left footed punter, and that lead to his struggles. While it may sound small, I've heard that it can actually make a big difference for returners, especially for first timers like Denard.
Quinton Patton, WR, Louisiana Tech
An awesome personality who was already the life of the party at the Media Night, Patton seems like the perfect locker room guy who's the perfect mix of focus and able to joke around.
After being around his QB Colby Cameron last week, I immediately asked Patton about their relationship. He spoke the world of Cameron. He said he was the "best person [he] worked with in college". He also pointed out that Cameron basically told him what to run pre-snap, and they would discuss off the field, just between the two of them, what they were seeing. That's awfully impressive for both Cameron and Patton, and speaks to their ability to interact with the other position as well as have trust/build a repertoire with others QBs/WRs in the NFL.
He said his grades were an issue out of high school, and that's why he ended up at JUCO, but said he's had no problems since. He was on track to graduate this coming Summer, but that'll likely be on hold.
Finally, he said the two best cornerbacks he's faced in his career were Johnthan Banks from Mississippi State (unsurprisingly) and DJ Hayden from Houston (who we love, but has serious heart condition concerns). Hayden was hoping to be at the Senior Bowl, and Patton raved about how talented he was against him. Always good to note things like that.
Kyle Juszcyzk, TE/FB, Harvard
Obviously an intelligent guy, Kyle seemed to understand the process and how it was going to take a lot to prove himself. I addressed him playing a true FB position this week despite being more of a slot WR/TE/H-Back in college. He said he was the short yardage back for the team this year, but certainly feels most comfortable in the slot position (where he really impressed this year, especially vs. Princeton).
He said the biggest issue he's working through now (at the true FB position) is really running through and making reads in the hole without the ball, with it being a much quicker process. He said he's working on "leaning out" and developing himself as an athlete right now, hoping to impress in multiple areas and show off his versatility. Also, he's focused on his conditioning as well.
He said he hasn't gotten a Combine invite yet (which is ridiculous at this point, but he should end up with one), but said that he "isn't as slow as some draft sites make him out to be". He said he's certainly not a 4.7 guy, and likely more in the 4.5 range, which would be really impressive for the H-Back/slot TE prospect.
Justin Pugh, OT, Syracuse
Pugh said it was great working with Ryan Nassib, and Nassib is a true leader, taking charge of that offense consistently. He said his shoulder injury felt good the first game he returned this year (cost him a few early games), and he only needed to recover condition wise, feeling at his peak about the 2nd or 3rd game back. His surgery (this off-season) was done by Dr. James Andrews, and that eases most NFL teams' minds.
Because of his length concerns, I asked him about playing guard. He said he actually wouldn't mind it (seemed VERY ready for the question), and said he feels he does a good job of that initial lock point (he does) and that could be an asset to him on the interior. He also pointed out that he played right guard in high school, so it's not foreign to him.
Eric Fisher, OT, Central Michigan
Fisher pointed out he was a former basketball player, played center, and said his footwork from his basketball years helped a lot, stating that the footwork really isn't that different.
He said his sprained knee in 2011 isn't concerning moving forward, and he's had no concerning/nagging injuries since then. He said his experiences playing both tackles and guard spots helps him in his understanding of others' responsibilities on the line and how defenses are attacking the offensive line. He said he feels comfortable sliding left and right, and while he has more experience on the left, he feels he could adapt to full time right side duties if need be.
Hugh Thornton, OG, Illinois
I'm hoping to do a more extensive look at Thornton's life history in the near future, but he's had to overcome moving multiple times in and out of the US, finding out his mother and sister were killed, attending foster homes and living with a variety of relatives, and moving in high school. Tremendous story.
I asked him about his wrestling background, and the two All-State winner (Idaho and Ohio) said he certainly has helped him. He said his experience at tackle and guard have helped him so far, but he prefers playing on the left side, either at tackle or (more likely) guard, which he played as a sophomore and junior. He said Kawann Shot and Brandon Williams gave him the most trouble today.
I asked him about his simple battery charge in 2010. He said it was a bar fight, he was drunk (underage) and he got beat up by two guys. He got a bottle smashed over his faced that required stitches. I asked him about what he's taken away from his childhood, and he said it's allowed him to grow up quicker and stay focused. He said the battery charge really made him reevaluate and look back, and realize that this is his one chance.
Impressed with his answers, mindset, and attitude. Good interview, good person, and a guy you root for to make it in the NFL.
Jamie Collins, LB, Southern Miss
Didn't get a whole lot from Collins, short answers and didn't seem too keen on talking to me. However, he did say that he feels comfortable in a 3-4 outside linebacker role (what he basically played this year), and that he's hoping to show off some 4-3 coverage linebacker skills as well.
He said his Southern Miss team's poor play is thanks to players not buying into the coaching staff, and then the season just snowballing out of control.
Also, he said he's running 4.5 range now, and is hoping to get down to the 4.4s by the combine (which would be really impressive). Big week for Collins here in Mobile.