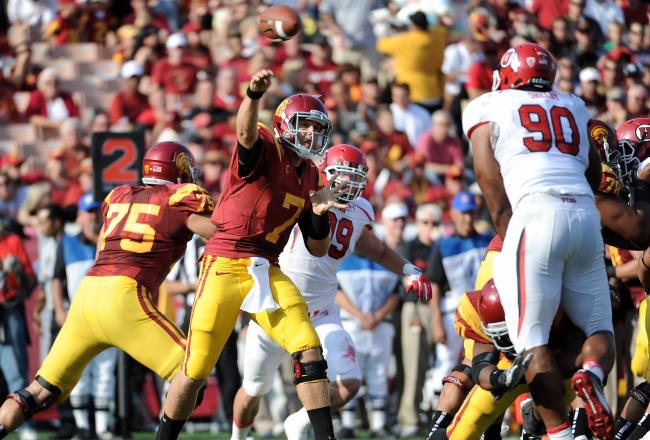 In a Friday night Pac-12 match-up, this USC vs. Utah battle features the best quarterback in college football (at least for the time being), an elite interior line match-up, and a handful of playmakers on both sides of the ball.
Read over the scouting reports for the best players for both teams to see who you should be watching in this 9:00 EST game on ESPN.
Matt Barkley, QB, USC (#7) – 6'1, 210 pounds
This is an excerpt from our Pre-Season NFL Draft Guide.
After playing his entire career under USC's sanctions, Barkley decided to return for his senior season to contend for a championship in his first year of experiencing eligibility for it. He has been battle tested after being named the team's starting quarterback as a true freshman in 2009. Physically, he's not the most impressive specimen although he is built to play a full 16+ game season. Teams would like if Barkley was two inches taller but he has played behind massive offensive lines and has shown the ability to anticipate and find windows easily. He's a perfect fit in a West Coast offense. Barkley displays advanced timing and efficiency from the pocket and delivering quick accurate throws that consistently position receivers for RAC yards. Even without an elite arm, he is also a special deep passer. It is rare to find a guy who has the accuracy and touch underneath combined with the same touch and accuracy downfield. Even the arm strength concerns are overstated as they rarely pose as problems for Barkley who puts more than enough spin on the ball. The problems arise when teams can get pressure on Barkley and flush him backward. He doesn't have great redirection ability once athletic pass rushers run loose so he struggles to reset once he's chased in pursuit and accuracy takes a hit. He could improve his strength in the pocket as well. While he shows the patience and toughness to sit in a collapsing pocket, he doesn't have the natural strength to consistently slip tackles once defenders get their hands on him. He is a fantastic locker room presence who is your prototypical franchise quarterback.
Khaled Holmes, OC, USC (#78) – 6'3, 310 pounds
This is an excerpt from our Pre-Season NFL Draft Guide.
Holmes has had success at all three interior line positions while at USC. He actually started 13 games as a sophomore at right guard and was an all conference selection there before moving to center as a junior in 2011. Linemen at USC are very well coached and it would not surprise me to see Holmes make a big leap as a prospect overall with this additional year under his belt. He projects as a better guard than center at this point but with improved field awareness from the center position he should come out a more polished prospect. Holmes is built for the position and shows above average athleticism to play in multiple blocking schemes but he's probably a safer bet in a zone scheme. He is a thickly built player who possesses natural strength throughout his core and displays the feet and tenacity to immediately impact a team's run game. The major issue with Holmes is how he executes in space. The big red flag with Holmes is how often you see him on the ground, whether it was a result lunging or simply narrowing his stance too much in crowded areas. He shows the determination to pick up multiple blocks on the same play and often you will see him running downfield as a lead blocker in the run game. He is especially adept on co-op blocks and shows smooth, quick footwork to attack the proper shoulder and generate push. On short yardage situations, USC often runs right behind the rear of Holmes where he consistently explodes out of the snap and surges the pile forward. 2011 was his first year starting from the center position so another year under his belt should help his on field awareness and lead to him taking better angles with better anticipation which could compensate for some athletic limitations.
**Currently coming off an ankle injury**
Wes Horton, DE, USC (#96) – 6'5, 265 pounds
This is an excerpt from our Pre-Season NFL Draft Guide.
Horton is an under the radar prospect on a very good USC defense. He isn't a guy who posts impressive numbers but he has a high motor who has been an effective pass rushing weapon off the edge as a part time starter. Horton is a good athlete who is somewhat undersized for the position listed at just over 250 pounds on his 6-5 frame. He is lanky and lacks bulk through his upper and lower body which really limits his abilities on the field, especially on run downs. He needs to add on some serious bulk and strength as he's not the type of gifted athlete that can get by on his speed and quickness alone. Horton only started 7 games as a junior but should get more playing time in his senior campaign, even though he's really only built for passing downs. He shows good flexibility in his 3 point and has a quick enough first step to keep OL on their heels off the edge but he does not time snaps well enough to maximize that initial burst. He's often the last defensive lineman off the ball. When he gets a good jump he shows the speed to bend the edge and the agility to counter direction and take the inside path but he has a tendency to get high and allow OL into his body. Horton displays good closing burst on the ball once he cleanly sheds at the point. He can occasionally drive back linemen when he counters his speed with the bull rush but does not possess the natural strength to do this consistently at the next level. He has long arms and has a knack for getting his hands on the ball to knock it down at the line of scrimmage. Against the run, Horton does not show the anchor to set the edge and to stack blockers when runs are at him. He is also still learning how to properly use his hands to keep himself separated from the OL. Most of his big plays are a result of his motor and sheer effort as he consistently plays to the whistle. If he can show he belongs on the field full time in 2012 he should see his stock rise as a mid-round pass rush prospect.
TJ McDonald, S, USC (#7) – 6'3, 205 pounds
This is an excerpt from our Pre-Season NFL Draft Guide.
McDonald comes from excellent bloodlines and you can see the same physicality and athleticism his father played with when he enjoyed a successful NFL career. TJ is a very good athlete who continues to grow into his body. He has experience as a strong safety as well as free safety, with the latter being the position he projects best. He has a great frame to work with and really shouldn't lose too much speed or quickness with additional muscle. Some often confuse him for being the "heat seeking missile" type of safety that simply sits back and waits to deliver the highlight hit. This is not the case however, as he is more instinctive against the run and pass and understands the technique involved in both. He is a smart box support player who plays bigger than his frame suggests and plays with an intense physicality. When he's square, he is one of the better tackling safeties in this class and he should continue to improve in this area as he becomes more disciplined. Still, he can deliver the monster blow as he has a knack for locating the football and exploding into his target, sometimes jarring the ball loose. He's a natural ballhawk who shows excellent range easily covering large chunks of real estate in the downfield. He isn't afraid to sacrifice his body in going up and making a play on the football. There were some games he played undisciplined in coverage, focusing his eyes too much in the backfield and allowing throws to be made over his head. He will creep up toward the line for a second too long and leave his zone wide open for passes over the top. With another year as a starter under his belt he should improve his overall instincts in coverage. The other liability with McDonald is his control in space. He must recognize when his speed will run him out of a play and when to gear down, especially against smaller ball carriers. Overall, McDonald has ideal physical potential and play making ability to emerge as the top safety in this class.
Star Lotulelei, DT, Utah (#92) – 6'4, 320 pounds
This is an excerpt from our Pre-Season NFL Draft Guide.
Lotulelei is the best defensive tackle to come out since 2010 when Ndamukong Suh entered the draft. Star has shown great improvement each and every year at Utah and this year's progress could mean the difference between being a 1st round pick and a top 5 pick in April's draft. He is simply an athletic freak for his size and is built solidly throughout his body. He does not have alot of excess fat, which is rare for true 3-4 tackles. His ability to occupy multiple gaps and take on double and sometimes even triple teams is rare and highly coveted by NFL teams. Few teams have an answer for his size, speed, strength combination and he has the proper tenacity and aggressiveness to translate that package onto the field. He was smart to come back for his senior year as he still needs to work on refining his overall game and learning how to maximize his natural physical gifts and turning into consistent production and playmaking ability. There are stretches where he disappears without making plays on the ball or getting to the quarterback. With improved play recognition as well as refined pass rush technique, Star should turn into a consistent play maker on both run and pass downs.
DeVonte Christopher, WR, Utah (#15) – 6'1, 190 pounds
Utah's top receiver will be heavily relied on by this offense and junior quarterback Jordan Wynn. Christopher doesn't have elite bulk, top end speed, or physicality as a receiver. But technique-wise and fundamentally, there's a lot to like with Christopher. He gathers the ball well without body catching, and positions his body well after his route. And through his routes, he's very decisive, has few if any wasted steps, and is able to get separation necessary to be a 3-wide receiver as a Z or slot re ceiver.
John White, RB, Utah (#10) – 5'8, 190 pounds
With limited size and good, not great top end speed, White doesn't have the skill set to be a high round pick. But his subtle shiftiness, explosive step to the 2nd level, and ability to keep his balance through contact is what makes him a solid running back prospect. He plays with fantastic pad level, but does have a tendency to lean into contact too much, limiting his big play ability at times.
USC Juniors to Watch
Silas Redd, RB, USC (#25) – 5'10, 200
-Former Penn State transfer has made a big impact on his new team. Great through contact, accelerates after first hit well, and has subtle open field moves to get up field and in space. Likely to declare early, he might be among the best running back prospects in the country.
Robert Woods, WR, USC (#2) – 6'1, 190
-Quick transitions after the catch, reliable hands and shorter routes, and a willing blocker, Woods is still the top receiver in the country (including juniors). Though the offense is based much around horizontal routes and run after catch ability, Woods translates those skills very well to the next level as well as the upside to be a complete receiver with time.
Morgan Breslin, DE, USC (#91) – 6'2, 250
-Surprising find for the deep USC defense, Breslin has been one of the most productive defensive end pass rushers in the country. I haven't focused on him in the past, but I'll be excited to see the flexible, balanced, and sneaky explosive rusher work against Utah. Interesting article on Morgan Breslin's character.
Nickell Robey, CB, USC (#21) – 5'8, 165
-Playing as well as any cornerback in the Pac-12, Robey still needs to consistently impress for scouts to overlook his size. Physical down the field, stays in (usually) great position. He'll hopefully be matched with DeVonte Christopher much of the game.