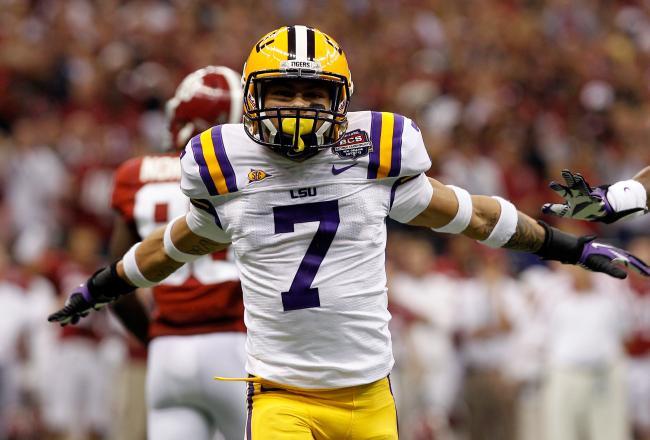 The Honey Badger is back in the news. This time, it's not about a drug arrest or transferring schools. It's about him taking the next step in his football career.
Former LSU cornerback and Heisman contender Tyrann Mathieu has decided to forgo his final year of eligibility to enter the 2013 NFL Draft, per Joe Schad of ESPN. While this is not unexpected from what I've understood all year long, it's going to make for one of the more intriguing story-lines throughout this draft process.
Is he in shape? What has he been doing the past months? Why exactly was he kicked out of LSU? Will NFL teams be willing to take a chance on a position-less defensive playmaker?
For one, Mathieu was never going to be a first round draft pick. Even during his fantastic sophomore season where he was in national headlines and was coined "the Honey Badger", he didn't show the NFL translatable ability to excite teams enough to gamble in round one.
He's too small to play safety, yet has too tight of hips (see Alabama National Championship game) to be an every down cornerback. Best case scenario, a team could use him as a 3rd safety on the field (something teams are doing more, wisely), and let him in the middle of the field in linebacker-usual coverage to allow his instincts, vision, and reaction ability take over and make plays in zone.
Even before these character concerns, Mathieu wasn't a 1st or maybe even 2nd round pick. So now, after being kicked off the LSU football team for reportedly a failed drug test but likely un-reported a LOT more, where does that leave him?
I have heard some very negative and shocking stories about what Mathieu has been up to, but none of which are confirmed nor do the process any justice. But regardless of what I've heard, the questions still arise:
Where has he been? What has he been doing for the past months?
That question will need to be answered in the interview process, something Mathieu will need to wait for the NFL Combine to experience. Being only an eligible junior, he can't attend any All-Star events, so he'll be sitting back until the NFL Combine to get his chance back on the national stage.
And the NFL Combine may be the single most determining factor in his football career. I've heard he doesn't/won't interview well at all, but he'll need to step his game up to sell at least 2-3 NFL teams if he hopes to get drafted. Along with that, he'll need to run in the 4.5s to show he's in shape and hasn't been wasting away this season. And finally, he'll need to show some coverage ability, hip fluidity, and overall some sort of development in drills if he hopes to be drafted as a cornerback/safety specifically.
It's going to be an uphill battle for Tyrann Mathieu to get drafted in the 2013 NFL Draft. We saw a player like Bryce Brown fall to the 7th round yet still get drafted, so there is hope a team takes a chance on a late round pick to try out Mathieu. And despite all the negative things I've heard around him, I really hope he adjusts to the NFL game and can get a chance in the NFL, because everyone deserves a chance to grow after making mistakes in their 20s.
But Mathieu has an uphill battle to impress NFL teams. I think he'll get his shot, but not without hard work and a little luck. The ball is in his court now, and it's up to him to force NFL teams to move past his struggles and let the Honey Badger back on the field.