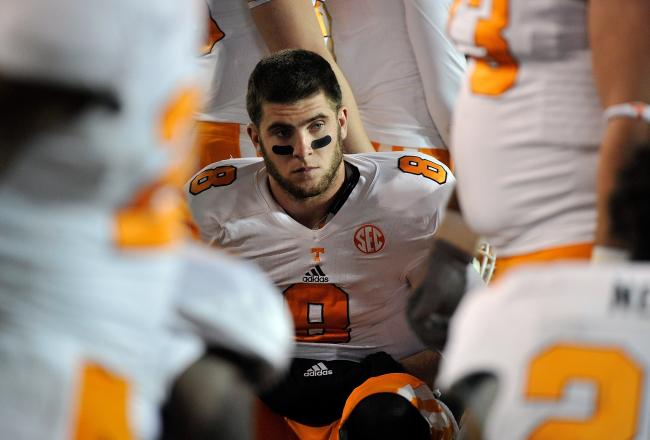 When preparing for the draft, there's only so much an NFL team can gain from watching film. They already know that nearly all of the players they're looking at are elite players that were some of the best on their team. Why then to so many draft picks fail to succeed at the next level?
In many cases, it's a matter of character. Success at the highest level requires strong mental traits as well as physical, and that's why teams devote so much of their time investigating prospect's backgrounds. Who are the ten players that will be receiving some extra scrutiny this month?
QB Tyler Bray, Tennessee
When he arrived in Knoxville as a freshman, not many people expected Tyler Bray to play four years of college football. As one of the most highly touted quarterbacks in his class, most around the Tennessee football program expected him to play three years and then depart as a first round draft pick.
Bray did end up leaving after his junior season, but he's certainly not the top quarterback that many thought he would be. Unfortunately, that's due in large part to big question marks surrounding his maturity and character. Whether it be his throat slashing gestures to the opposing team's sideline, throwing beer bottles at cars or citation stemming from an incident on a jet ski, Bray often times struggled to show the maturity that NFL teams look for in quarterbacks.
There are some larger concerns as well. There have been whispers around Knoxville since his arrival that he didn't respect his coaches, refused to participate in a rehab program his athletic trainers put together for him, and even reports that he'd call his own plays when he didn't like what the coaches told him to run. Those are traits that could easily destroy a locker room, and are going to make teams very hesitant to draft him early.
TE Travis Kelce, Cincinnati
In a time where every team in the league is looking to expand their offense by adding a versatile weapon at the tight end position, a player like Travis Kelce should be looking to be drafted somewhere in the second round. Unfortunately, Kelce's actual draft position could be lower due to a character issue that the public doesn't know too much about.
What is known is that in 2010, Kelce was suspended for the entire season for reasons that have never been disclosed to the public. Kelce has declined to discuss the subject public with the exception of saying that he's moved on and grown from the incident. However, according to The Plain Dealer in Cleveland, an anonymous NFL scout has referred to Kelce as "a train wreck" in regards to his character.
There's plenty to like about Kelce. He might be the toughest tight end in this class, and his brother's successful NFL career provide him with a strong mentor and example. However, without some good explanations to NFL teams about what exactly went on in 2010, he may be too big of a risk for many teams to look to.
DB Tyrann Mathieu, Louisiana State
There's probably not a player with more well documented character concerns than Tyrann Mathieu. Thanks to some big plays in big games, as well as his Honey Badger persona, Mathieu became one of the most popular players in college football. When LSU finally had to dismiss him from the program due to multiple violations of the school's drug policy, it was one of the biggest sports stories in the country.
It's appeared as though Mathieu has taken some positive steps in rebuilding his image in the eyes of NFL teams. He spent a month in rehab to deal with his substance abuse issues, he's made it known he no longer wants to be referred to as the Honey Badger, and by most accounts he's done well in interviews with teams.
Still, it's not all been positive in recent months for Mathieu. His disappointing four reps on the bench press in Indianapolis will cause teams to wonder just how seriously he's approached his preparation for the Draft. If Mathieu can show that that poor showing was an anomaly, and that he's truly taken the steps necessary to turn things around, he could become one of the most interesting prospects in this class.
WR Da'Rick Rogers, Tennessee Tech
There may not be a player with a more concerning background in this draft than Da'Rick Rogers. With multiple failed drug tests, clashes with coaches, reports of a diva attitude, and ultimately a dismissal from Tennessee's program, Rogers has red flags in just about every category that would scare NFL teams away.
The most well documented issues in Rogers' background are drug related. He's admitted to failing multiple drug tests while at UT and those were a big factor in his departure from the program. There were also numerous stand offs with the coaches during his time at Tennessee, including an infamous episode a day before Tennessee played Kentucky that left some around the program expecting Rogers to be dismissed prior to kickoff.
Those are all huge issues that will cause the first round talent to drop to the second day of the draft or beyond, but there are some encouraging aspects to this particular case. Rogers is reported to have passed all of the several drug tests he was given while at Tennessee Tech, and since he let Knoxville there haven't been any more reported run-ins with coaches. He sounded humbled and matured in interviews leading up to the draft. If he's truly learned from his mistakes, he could prove to be one of the biggest steals in the draft.
WR Cordarrelle Patterson, Tennessee
Tyler Bray and Da'Rick Rogers aren't the only former Volunteers that will have teams doing some extra work on their backgrounds. While Cordarrelle Patterson doesn't have quite the red flags that Rogers and Bray do, there are still some maturity issues that raise some questions.
It's not been uncommon to hear Patterson described as a "6'3 toddler". It's not uncommon to see Patterson take several plays off in a row on film, or give up on plays once it's clear the ball isn't coming his way. Furthermore, it's been rumored that Patterson never grasped the playbook and just ran wherever Bray wanted him to as opposed to actually running a route. There's no doubt that Patterson has elite physical traits, but if he doesn't gain some maturity it's questionable as to just how successful he'll be in the NFL.
LB Alec Ogletree, Georgia
NFL teams love to see dedicated players working hard to prepare for the Draft and their first NFL season. What they don't want to see, however, is a player getting arrested on DUI charges just days before the Combine. Unfortunately, Alec Ogletree falls into the latter category.
For Ogletree, the DUI arrest is probably the biggest red flag in his background, but it's not the only one. He's also got a 2010 theft arrest to explain to NFL teams, as well as 2011 suspension due to violating Georgia's drug policy. At the very least Ogletree has displayed a clear pattern of making poor choices, and that's likely to scare off some teams.
DT Sheldon Richardson, Missouri
Unlike most of the prospects with character concerns, Sheldon Richardson doesn't have any legal issues or lengthy suspensions in his background. Still, Richardson's background isn't entirely spotless and there are a few things teams will want to check out
He's made some notable comments to the media in the past about other teams (such as his comments about Georgia's style of football) but for the most part he's apologized for those comments and at worst this could represent some maturity issues. Perhaps more concerning to teams will be some questions surrounding his motor. He's shown on occasion a tendency to take a play or two off. Will he stay motivated once he receives a contract?
LB Kiko Alonso, Oregon
For many players, one of the biggest things holding them back has been a tendency to be a little too outspoken. However, in the case of Kiko Alonso, teams may actually want to hear a little more than what they've gotten to this point.
Alonso was arrested in 2009 and 2011 on DUI and burglary charges. Since then, Alonso has kept a clean record, but also has avoided interacting with the media almost entirely. Because of that, it's tough to know just how much Alonso has matured since 2011, and he'll need to make up for lost time when he's talking with NFL teams over the next month.
LB Manti Te'o, Notre Dame
It's a story that's been beaten to a pulp at this point, but NFL teams are still likely just now finishing their research on the Manti Te'o saga. The catfishing story will certainly raise some significant questions about Te'o. It will be up to teams to decide whether the issue is dishonesty, or just poor judgment.
S Bacarri Rambo, Georgia
In a strong class of safeties it's difficult for one to distinguish himself from the rest. Unfortunately, for Bacarri Rambo a factor holding him back in that regard are questions surrounding his character. He was suspended twice during his time at Georgia, once for an undisclosed violation of team rules and another for failing two drug tests. A playmaker on the field, he'll have to prove he's cleaned things up off it.