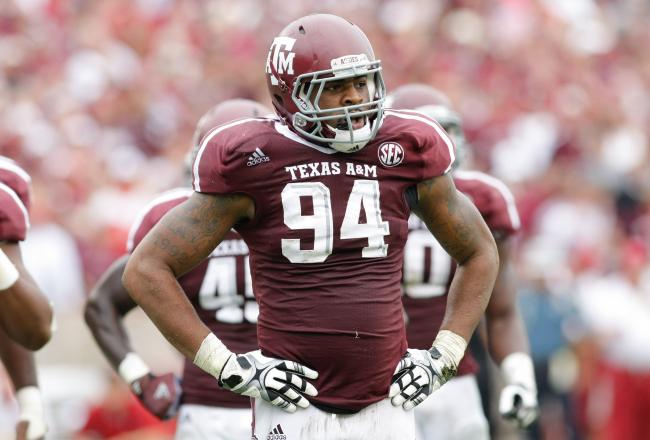 Coming into his own as a junior and dominating games from start to finish, Damontre Moore earned the awesome moniker, "DaMonster" for his consistent play in the opponent's backfield.
Now, just before Texas A&M heads into it's bowl game, Moore has announced that it will be his final game, according to Joe Schad via Twitter . And while he's not quite the Top 5 pick some are hyping him to be, it's rarely a bad decision for a 1st round pass rusher to declare for the draft.
In his first few seasons at Texas A&M, Damontre fulfilled the pass rushing role from a standup, 3-4 outside linebacker. Switching to a four-man front in 2012, however, Moore truly excelled by showcasing sideline-to-sideline range, motor and drive to finish his rushes with sacks, and the elite speed and hip fluidity to turn the corner with a speed rush. Whether you turn on the Florida game, LSU game or any other game for that matter, Damontre Moore literally flies across the screen with outside linebacker speed and finishes plays with devastating force. Hyperactive and productive with the physical tools to project to the next level, Moore undoubtedly has a place in the first round. Where exactly he'll go in the first round remains to be seen, but correctable issues are readily apparent in the way he gets after the quarterback.
One such issue is Moore's pad level throughout his pass rush. As he turns the corner, Moore tends to raise his pad level, thereby exposing his frame and midsection to the blocker's hands. Athletically, the ability to dip and bend is there with Damontre; still, he struggles to stay low to the ground throughout his rush, resulting in him being ridden down and out of the pocket. It's an issue that kept him from racking up even more sacks, but nevertheless, an issue that will limit his early production at the next level.
Regarding Moore's ability to play the run, it truly is fun to watch him fly to the ball and make plays all over the field. When he feels flow from the backside, Moore does an excellent job of crashing down the line of scrimmage at heel depth and preventing the cutback. Moore is more importantly strong enough to set the edge, disengage and make the play off the blocker for tackles in the backfield.
Could he be more efficient and polished in the manner in which he makes plays? Yes, Moore still needs work with hand placement, leverage and footwork as most NFL-bound linemen do; that being said, neither Moore's undeniable dominance against top quality opponents, nor his physical traits can be overlooked. Maybe not a top ten pick just yet, Moore certainly appears like a top 20 lock in this year's draft class.