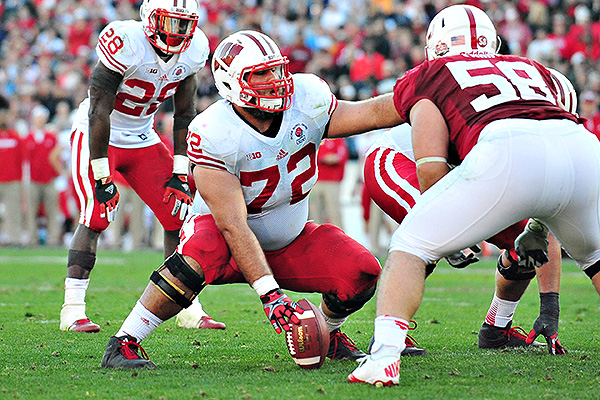 There may not have been more interesting division to follow during the draft than the NFC East. What strategies would the new look Eagles employ? Who would Jerry Jones and the Cowboys have their eyes set on? Would it be the Giants or Redskins that would find the pieces to get them to the next level?
Alex Brown takes a look at these draft classes and how the players selected will impact 2013 and beyond.
Dallas Cowboys
Pick Player
1.31 Travis Frederick, OC, Wisconsin
2.15 Gavin Escobar, TE, San Diego State
3.12 Terrance Williams, WR, Baylor
3.18 J.J. Wilcox, S, Georgia Southern
4.17 B.W. Webb, CB, William & Mary
5.18 Joseph Randle, RB, Oklahoma State
6.17 DeVonte Holloman, OLB, South Carolina
Analysis: No matter how long owner/general manager Jerry Jones and executive vice president Stephen Jones discuss charts and boards, the fact remains that the 'Boys failed to receive proper compensation in their trade down from the 18th selection to the 31st pick in the first round.
Still, with only 18-22 true first round talents in this year's draft, the Cowboys added an additional third round pick and addressed a major position of need by adding Wisconsin center Travis Frederick. By staying in the first round to pick Frederick, the Cowboys can now retain his rights for an additional fifth season, shoring up a need while also saving money on the ever-slim salary cap.
Throughout the rest of the draft, the message was clear –stockpile weapons for quarterback Tony Romo and this offense. In round 2, the Cowboys added versatile tight end Gavin Escobar, whose plus size and rare pass catching skills make him a much more viable target than the speedier and smaller James Hanna. Having three tight ends now adds a new dimension to this offense, and allows the team flexibility with their sets, as they had become very predictable in recent years.
Moving into the 3rd round, the Cowboys addressed a key position of need at safety, while attacking another crucial need at wide receiver with the pick they received from San Francisco. Terrance Williams from Baylor, can be a plug and play, vertical threat for this offense, providing depth to both the X and Z receiver positions, as well as allowing Miles Austin to operate from his best position in the slot. Georgia Southern safety J.J. Wilcox was a player the Cowboys targeted throughout the draft process, and has tremendous upside, as he's only played safety for one full season after transitioning from a wide receiver/running back role.
With their final three picks, the Cowboys finally stopped reaching for specific needs and let the board dictate their selections. B.W. Webb out of William & Mary, was our top rated small school cornerback and he'll step in to compete for a nickel corner position with incumbent starter Orlando Scandrick. Webb's high level of physicality and competitiveness, in addition to return skills, should help him secure a valuable role on this team. Running back Joseph Randle can be a spot starter and excellent change of pace back for this team, as Demarco has yet to notch a full season as the featured back. Finally, the DeVonte Holloman selection may have been the steal of the draft for the Cowboys, as I had him graded in the late day two range as a potential starter at either the Sam or Will linebacker positions. Holloman's combination of cover instincts and ball skills as a former safety, in addition to strong hands and physicality at the point of attack, make him an ideal reserve outside backer for the immediate future and potential starter in Monte Kiffin's Tampa 2 defense.
The Cowboys addressed multiple positions of need with capable starters and, although they sold the 18th for less than market value, they deserve a B for the talent they acquired thereafter.
New York Giants
Pick Player
1.19 Justin Pugh, OG/OT, Syracuse
2.17 Johnathan Hankins, DT, Ohio State
3.19 Damontre Moore, DE, Texas A&M
4.13 Ryan Nassib, QB, Syracuse
5.19 Cooper Taylor, S, Richmond
7.19 Eric Herman, OG, Ohio
7.47 Michael Cox, RB, Massachusetts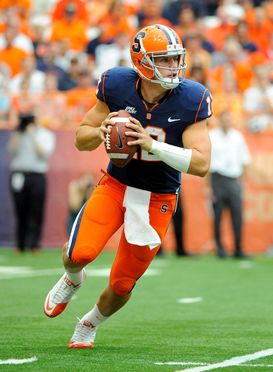 Analysis: Following the first round trend of the 2013 NFL Draft, the Giants chose former Syracuse left tackle Justin Pugh. Because of Pugh's shorter than ideal arms, his stock was in question entering the draft weekend. Short arms aside, Pugh has the efficient footwork and technique to man either tackle spot or kick inside to guard, providing the Giants with tremendous value along the offensive line.
With their next three selections, the Giants landed prospects that, at various instances in the previous season, were viewed by most as first round draft picks. In the 2nd round, defensive tackle Johnathan Hankins fell into their lap. Hankins will need to bring 100% effort each and every snap to be a starter at the NFL level, but natural talent and impressive movement skills are there with the 6'3, 320 pound nose tackle.
In the 3rd round, Damontre Moore presented another great value selection for the Giants. Moore can rotate at either end position, and develop properly within a system that has consistently churned out elite pass rushers. To be an every down end, Moore must continue to pack on healthy weight while improving his leg drive and anchor at the point of attack. His pursuit skills and playing effort should help him earn a high number of snaps in his rookie season.
Arguably the biggest steal of the draft came in the 4th round, where the Giants nabbed another 'Cuse player in quarterback Ryan Nassib. It was a rough weekend for Nassib, who had been penciled into the number 8 overall slot and his former coach, Doug Marrone's Buffalo Bills team. Ultimately landing in a perfect spot to learn from Super Bowl winning-quarterback Eli Manning, Nassib has a chance to maximize his talent, ala Aaron Rodgers. For the Giants, it's a win-win situation, as Nassib can replace Manning should he go down with an injury or play poorly; conversely the Giants could flip Nassib after one or two seasons of development for a potential 2nd or 3rd round pick, netting a one or two round return on investment.
With the team's final three selections, two under the radar prospects could secure an active roster spot. Cooper Taylor from Richmond, possesses rare size and corresponding body control in coverage, and as such, should make the final roster and contribute immediately as a special teamer. Finally, guard Eric Hermans brings a physical, finishing mentality to go along with his massive build, giving him an upper hand in securing a backup position with the team.
All in all, the Giants addressed their offensive line with the selections of Pugh and Hermans, as well as added talent and depth throughout. The Giants finish with a solid B+, mainly because of the value picks from rounds 2 through 4.
Philadelphia Eagles
Pick Player
1.4 Lane Johnson, OT, Oklahoma
2.3 Zach Ertz, TE, Stanford
3.5 Bennie Logan, DT, LSU
4.1 Matt Barkley, QB, USC
5.3 Earl Wolff, S, North Carolina State
7.6 Joe Kruger, DE, Utah
7.12 Jordan Poyer, CB, Oregon State
7.33 David King, DE, Oklahoma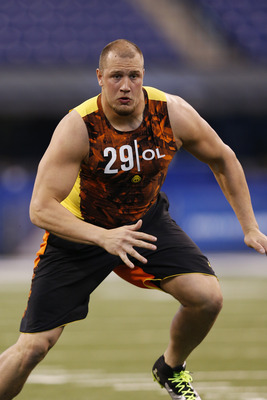 Analysis: Although most envisioned the Miami Dolphins selecting Lane Johnson after trading up to the 3rd overall selection, they balked on the former Oklahoma Sooner for pass rush linebacker Dion Jordan. Quickly snatching up the supremely talented Lane Johnson, the Eagles improved two positions, with Johnson likely manning the right tackle position and Todd Herremans kicking inside to guard. Johnson's explosive traits and movement skills bode well for the team's zone blocking scheme, as he can reach second and third level defenders with ease. Johnson is by no means a finished product, but likely has the most upside out of any player in this draft class.
To follow up that selection, the Eagles stayed on the offensive by selecting tight end Zach Ertz out of Stanford. Mirroring the rest of the NFL, the Eagles add a second, athletic, receiving tight end to attack defenses and create mismatches in the slot. Chip Kelly's pass offense at Oregon featured long, tall receivers and quick-footed tight ends, making Ertz an excellent fit in this highly anticipated offensive attack.
Third rounder Bennie Logan was a favorite of the coaching staff in Dallas, so this 3rd round selection serves two purposes –keeping Logan from a divisional opponent, while also bolstering the defensive front with a solid 5-technique defensive end. Sturdily built with 318 pounds of girth, Logan has disproportionately long (and powerful) arms with which he is still learning how to maximize at the point of attack. Strong enough to stand up blockers and reset the line of scrimmage at heel depth, Logan was consistently disruptive versus the run in games viewed. At the same time, Logan plays with great discipline and gap responsibility, shouldering blocks correctly and keeping an outside arm free for the tackle. Once Logan learns to "Attack half a man" and incorporate more variety with his hand usage, he has the potential of developing into a strong interior pass rusher beyond a simple bull rush.
Through the rest of the draft, the Eagles once again killed it in terms of value and talent in the later rounds of the draft.
Grabbing former USC quarterback Matt Barkley to kick off the 4th round may have been the team's best decision in the draft, as his high football IQ, experience, and combination of sound decision-making and mechanics could help propel him into a two-man race with incumbent Michael Vick for the starting position. Sliding far down draft boards, Barkley now enters the league with a major chip on his surgically repaired shoulder.
Earl Wolff out of NC State is a ball hawking safety that can compete for starter snaps, while the following selections only add depth to a defense in transition from a 4-3 to a 3-4 defensive scheme. Defensive end Joe Kruger from Utah and former Sooner defensive lineman David King both fit ideally in a 3-4 scheme as 5-techniques, and have 2-down, run-stuffing skill sets.
The Eagles big steal of the weekend was Jordan Poyer out of Oregon State, who fell into the 7th round for the simple fact that he's a quicker than fast, undersized slot cornerback. Regardless of why he fell, Poyer's competitive and instinctual play should lead to him locking down the 3rd/4th corner role on the Eagles' defense, backing up current nickel Brandon Boykin.
For the second year in a row, I'm going to give the Eagles an NFC East-leading A grade.
Washington Redskins
Pick Player
2.19 David Amerson, CB, North Carolina State
3.23 Jordan Reed, TE, Florida
4.22 Phillip Thomas, S, Fresno State
5.21 Chris Thompson, RB, Florida State
5.29 Brandon Jenkins, OLB, Florida State
6.23 Bacarri Rambo, S, Georgia
7.22 Jawan Jamison, RB, Rutgers
Analysis: While some viewed David Amerson as a safety projection, the Redskins have made it clear that Amerson will be competing for a starting cornerback position. In the 2nd round, I don't disagree with taking the high risk, as Amerson presents a high ceiling with rare ball skills and plus athletic ability. He'll need to play much more disciplined moving forward on the field, however, as the Redskins employ a great deal of off man coverage while blitzing heavily. The selections of Phillip Thomas and Bacarri Rambo later in the draft outlined the plan in place to keep Amerson at cornerback.
Further on the Thomas and Rambo picks, I was fairly confused with the combination of the two safeties selected, as both have been primarily used in college from a deep, free safety alignment and both have struggled with their form tackling technique. Rambo made strides in 2012 with his tackling, but both are average to below average at supporting the run. Nevertheless, the two safeties have a nose for the football and a penchant for creating turnovers. If Rambo can stay clean off the field, as he has for the past year, I expect he, not Phillip Thomas, will be the better of the two safety prospects.
The most productive player from this team's draft class may be tight end Jordan Reed. Having elite run after the catch ability and excellent ball skills, Reed can be a viable target for the 'Skins' passing attack in his first season. Likely to be featured as the team's "Joker Y" tight end and movable H-Back receiver, Reed's movement skills mirror another former Gator in Aaron Hernandez. Look for Reed to be a matchup concern for opposing defenses, as he provides the perfect complement to starting tight end Fred Davis (who will be returning from a knee injury).
The two Florida State picks should pan out, given the scheme specific fits of Brandon Jenkins as a 3-4 rush linebacker and Chris Thompson as an explosive, perimeter ball carrier. 7th round pick Jawan Jamison will have to battle Thompson and Roy Helu Jr. for any field time, and could have a difficult time making the cut.
In grading the 'Skins, you have to take into account that their 2013 first round pick went into the trade that acquired star quarterback Robert Griffin III in last year's draft. For their efforts, the Redskins land a B- grade.