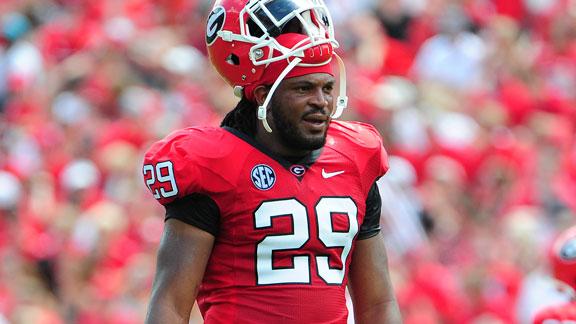 According to reports by CBSSports.com's Jeremy Fowler, Georgia's redshirt junior linebacker Jarvis Jones plans to declare himself eligible for the 2013 NFL Draft.
The two-time All-SEC first teamer, consensus 2011 and 2012 All-American, and 2012 SEC defensive player of the year compiled 42 sacks and 26 tackles for loss in just two seasons with the Bulldogs, and more incredibly did so after overcoming an injury that was previously described by "career ending".
Insight regarding the injury that Jones has worked so hard to overcome, as well as his onfield skill set, will hopefully shine some light on the Georgia pass rusher's NFL Draft expectations.
Thanks to Dr. Nick Chicoine and my own research (who can be found on Twitter at Twitter.com/@NackPaddyWack), I was able to learn a number of things regarding the neck injury that forced Jarvis Jones to transfer out of USC in 2010. According to Dr. Chicoine, stenosis is just a fancy word for "narrowing", and spinal stenosis is scarily just that –the narrowing of the spinal canal. This narrowing of the canal then leads to the compression of the spinal cord itself. Two types of spinal stenosis can be diagnosed, with the narrowing being located in either the lower back, which is referred to as "lumbar spinal stenosis", or the neck, which is referred to as "cervical spinal stenosis".
As one might imagine, cervical spinal stenosis is the more frightening of the two, as cervical can cause paralysis from the neck down, while lumbar spinal stenosis would only cause paralysis from the waist down. Paralysis being the most extreme of results from the injury (and most rare), Dr. Chicoine did state that spinal stenosis is typically less progressive until the person affected by such injury is in mid-life. Moreover, Chicoine said it's almost impossible to predict how much of an effect the injury might have on Jarvis Jones' career, as that would require more knowledge about the extent of the stenosis present.
In short, as most have already stated in this draft process, Jarvis Jones' draft stock will be largely dependant upon how he checks out medically at the NFL Combine in Indianapolis. Because Jones' injury has consistently been described as a "neck injury", it's safe to assume that his stenosis is located in the cervical spinal region. Again, this being the scarier of the two, NFL teams cannot afford to leave a single stone unturned in this process, or they could be facing an early retirement from their newly selected player. A quick example of just how serious and career threatening neck-related injuries are, the San Diego Chargers lost their 29-year-old left tackle, Marcus McNeil, who retired because of his own persisting neck issues.
Quality of life has to be something that Jarvis Jones will have to consider after his first contract, so teams must be wary that his shelf life may not extend into a second contract. Going beyond the health concerns, however, Jarvis Jones has been regarded by most as a sure-fire top ten overall pick for a majority of the season. While he may in fact still be drafted in the top ten (should his neck check out), I have dampened my early season excitement over Jones after noticing limitations in his skill set and an inability to defeat longer, athletic tackle prospects.
Well built in the upper half with very powerful and explosive hands at the point of attack, Jones lacks enough sand in his pants to anchor down against bigger tackle prospects. For a smaller edge rush guy, Jones plays surprisingly upright and high, lacking the pad level to avoid initial contact; rather than avoiding contact in his rush, Jones too often will attempt to convert speed to power versus much larger blockers, resulting in an initial push and unsustainable rush.
It seems as though Jones will be able to add weight to his lower half, but we've yet to see how it will affect his movement skills and ability to rush the passer. Further detailing his ability as a pass rusher, it's quite obvious that Jones has the speed and high-end motor to make plays at the next level. Still, I worry about the lack of natural bend and fluidity to his game, in addition to consistent technique to knock the blockers hands down in the middle of his rush. I would like to see Jones more consistently sink his hips mid rush, adjust his hands and lower his pad level in turning the corner.
In conclusion, Jones is a tough, productive and talented linebacker, but faces a stiff learning curve at the next level. A first round selection isn't entirely out of the question with Jones, and I would not be one to bet against a player who's overcome so much adversity through his playing career to date; however, legitimate red flags should be raised regarding his very serious injury and, until we learn more details, I do not feel comfortable drafting him with my top round pick.