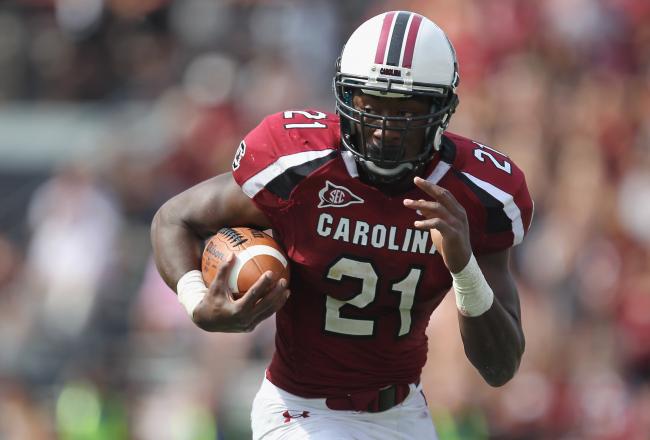 One key to consistently putting together strong draft classes is balancing risk and reward. Teams that do that well will avoid taking unnecessary risks while still finding high ceiling players with the potential to develop into elite talents.
Because of that, there are no more controversial players in this draft than this group of high risk, high reward players. If they land in the right situation, they could end up having outstanding NFL careers. If not, they could set a team back for years. Which players will teams give some extra thought to?
RB Marcus Lattimore, South Carolina
In a class of running backs that's lacking a true elite player, Marcus Lattimore at one time appeared to be the best chance an NFL team had of finding a 1st round talent in this class. After a brutal knee injury Lattimore is now fighting to prove that he's worthy of being selected in the first three rounds of the draft at all.
In the past, there have been widely varying philosophies of when to draft a running back with injury concerns. Willis McGahee is one of the most relevant examples – after tearing his ACL, PCL, and MCL in his final collegiate game, he went on to be drafted in the first round. On the other hand, Frank Gore, who was three years removed from an ACL tear, slipped to the third round due to questions surrounding his durability.
Both McGahee and Gore went on to have productive NFL careers, and more recently Adrian Peterson proved that a running back can still perform at a high level after a serious knee injury. Can Lattimore continue that trend? Which ever team that selects him will certainly be taking a risk, but it could net them the best running back in this draft in a slot that proves to be an outstanding value.
DE/OLB Ezekiel Ansah, Brigham Young
Ezekiel Ansah is likely the most controversial prospect in this draft. Some people look an Ansah's elite athleticism and limited experience in the sport and see Jason Pierre Paul like ability. It's a lofty, but not an absurd comparison. Both players flashed some elite potential prior to entering the league, but neither had much experience or production in college. Still, Pierre Paul has been able to develop into a top pass rushing talent thanks to his elite physical skills.
It's not a given of course, that every raw, elite athlete will end up having a successful NFL career. The league is littered with players like Vernon Gholston, who like Ansah lit up the Combine with outstanding workout numbers, but ultimately failed to translate that to production in the NFL.
As he'll likely be drafted in the top ten picks, Ansah represents perhaps the biggest risk in this draft. The best case scenario would have Ansah develop into the most versatile players in the league, while the worst could see Ansah make little to no impact at all.
DE/OLB Quanterus Smith, Western Kentucky
Like many prospects hailing from small schools, Quanterus Smith needed to have a strong pre-draft process in order to prove that his huge production (he averaged 1.25 sacks per game) wasn't just the result of playing against weak competition. Unfortunately, a torn ACL suffered in November has kept him sidelined up until this point, and there's serious question as to whether or not he'll be able to play in 2013 at all.
There's certainly a chance that a productive pass rusher from a small conference can go on to have a great NFL career – just look at DeMarcus Ware (Troy). But without being able to see him work out, teams will likely be hesitant to draft him. Even players like Chase Minnifield, who was at one point expected to be drafted in the 3rd or 4th round, dropped out of the draft entirely after a torn ACL kept him from working out for teams prior to the draft.
Smith has talent and deserves a shot somewhere. The question here is where he'll get that opportunity if he's not able to prove that he's on the road to recovery prior to the draft. Will a team view him optimistically and draft him as early as the third round? Or will he slip out of the draft altogether?
OT Menelik Watson, Florida State
As one of the most athletic offensive tackles available, Menelik Watson will likely be draft within the first couple rounds of the draft. Watch him workout and you can see why – his time boxing and playing basketball and built him into a player that has surprising quickness and fluidity for his size.
Watching his game tape doesn't show a player that should be quite that highly rated, however. He's extremely raw and has a long way to go in terms of winning battles with technique instead of just winning them with athleticism – something he won't get away with in the NFL.
There have been plenty of offensive tackles who have tried to get by in the NFL based solely on athleticism and failed – just look at Alex Barron or Justin Smith. Will Watson dedicate himself to refining his play and maximizing his potential?
WR Cordarrelle Patterson, Tennessee
There may not be a player in this class that inspires more fear in both offensive and defensive coordinators alike than Cordarrelle Patterson. His size and skill set are something that few players at any level could boast, but that's paired with a level of rawness that will concern even the strongest coaching staffs.
Because of his unique skill set, there are a number of current NFL players you could compare him to. Perhaps the most relevant is Demaryius Thomas. Like Patterson, Thomas entered the NFL as a player who was both extremely athletically gifted and extremely raw.
Thomas has gone on to improve his all around game and is growing into a very good receiver. On the other hand, there are countless recievers, such as Darius Heyward Bay, who entered the league as physical freaks and for whatever reason simply haven't developed into NFL caliber receivers. Which category will Patterson fall into? Considering how high he's expected to be drafted, it's an outcome that could very well cost a GM his job.
OLB Barkevious Mingo, Louisiana State
Having a strong pass rush may very well be the key to having a strong defense. For that face alone, Barkevious Mingo has all but cemented himself as one of the top prospects in this class. But is he truly a sure thing at the next level?
There's little question that Mingo has the ability to get to the quarterback in the NFL, and although he's got quite a bit of developing still to do, in that regards he's not a huge risk. However, based on both his size and tape, it's extremely unlikely that he'll ever be able to make an impact against the run, and he'll struggle to be an every down player.
Much like Mingo, Bruce Irvin was considered to be a pass rushing player only last season and was still drafted in the first round. Seattle is certainly happy with that investment, but Irvin is still very much a one dimensional player. Is that worth the top ten pick that Mingo could very well be?