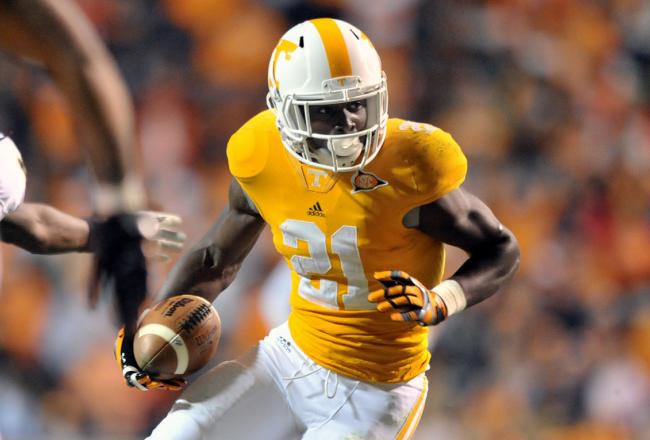 Just seven months after being forced out of the Tennessee program for a violation of team rules and transferring to Tennessee Tech, a source has told me says receiver Da'Rick Rogers will be returning to Tennessee to workout with former teammates Justin Hunter, Cordarelle Patterson, and Tyler Bray.
Rogers, who tested well at the NFL Combine, is looking forward to working out with his former quarterback at the Tennessee facility on March 20th. While it's not been deemed official yet, a source tells me he's expected to attend the Tennessee Pro Day, and NFL teams, Tennessee, and Tennessee Tech are all planning on it as well.
According to a source and confirmed by Tennessee Tech's athletic office, Rogers is permitted to work out at the Tennessee Pro Day, thanks to the new staff deeming it acceptable. While it's unclear whether he'll run drills (had a 39.5 vertical leap at Combine) or the 40 time (ran a 4.52 at Combine), most of his reasoning to attend the Pro Day will to have the strong-armed and NFL-intriguing Tyler Bray throwing to him in front of likely 25+ NFL teams.
With Patterson and Hunter already planning to be in attendance to workout, NFL teams will get the best possible look at Tyler Bray's ball placement along with seeing which of the Tennessee trio of receivers is the best of the bunch. That means Bray will have three likely Top 50 receivers to throw to, along with draftable receiver Zach Rogers and tight end Mychal Rivera, meaning Bray should get a substantial amount of throws for NFL scouts in attendance.
Rogers isn't expected to work out at Tennessee Tech's pro day on March 28th. It isn't clear yet what he'll be doing at the Tennessee Tech pro day, since he would have already worked out at Tennessee, though it may not be necessary based on how his Tennessee Pro Day. However, the school is expecting he will choose to at least do a few workouts, as that would mean more NFL scouts attend, giving his Tennessee Tech teammates a chance to get NFL attention as well. It's unclear what his decision on that will be, but it's highly unlikely.
Also of note, and tagging along with what CBS Sports's Bruce Feldman reported from the Combine that his TTU coaches were "skeptical about just how much he really had matured", that same sentiment was echoed to me. Rogers apparently wasn't a great teammate at TTU and coaches didn't give any glowing reviews about his time at the school.
UPDATE (12:24 PM EST): Tennessee-Martin DT Montori Hughes, who also is a former UT transfer, will also be working out at the Tennessee Pro Day. The Senior Bowl invite is also planning on attending the UT-Martin Pro Day, but it's unclear if he'll do any workouts at that Pro Day as well.