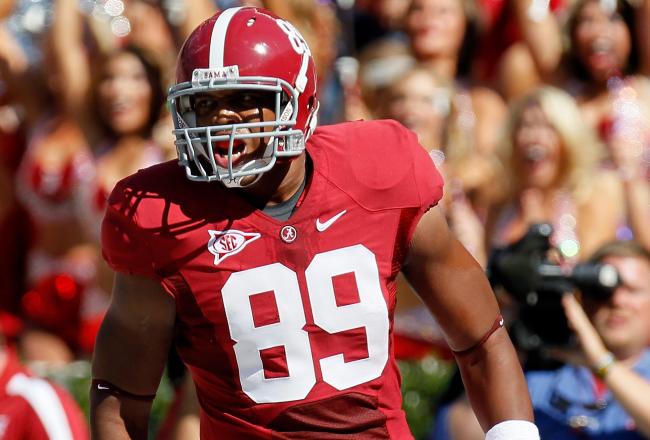 The NFL Combine has become the staple of the NFL Draft process. Prospects, from all levels of college football and including juniors can meet with NFL teams, show their athleticism and potential, and prove to teams they can handle the NFL, both on and off the field.
However, the Combine's end does not signify the end of the NFL scouting process. The Pro Day circuit, which runs through March and into early April, is a chance for non-Combine invites to show their talents, for Combine strugglers to get their second chance, and for every player to get one final opportunity to impress their potential future employers.
Each Prospect's Pro Day is in Parentheses. Full Pro Day Schedule Here

Combine "Snubs" Get Their Chance to Show Off Their Talents
Despite over 300 players getting invited to Indianapolis, not every top prospect gets the coveted NFL Combine invite. For those players, Pro Days are crucial, especially if they hope to be the 30+ players that get drafted without a Combine invite every year.
SEC starters, Alabama tight end Michael Williams and Arkansas running back Dennis Johnson were two of the most notable Combine omissions. Williams (March 13th) will hope to show off his strength and potentially prove he's more than a blocking tight end, while Johnson (March 15th) running in the low 4.5s and showcasing short area burst should have him taken in the mid-late rounds. Also, DeVonte Christopher (March 20th) of Utah is an efficient route runner who wins away from his body, but likely will need a surprisingly impressive workout to solidify a draft spot in this very deep receiver class.
Pro Days are also the time of year where Small Schoolers build up intrigue. Jasper Collins (March 8th) of Mount Union hopes to be the 3rd Mount Union receiver in the NFL, and should wow with short area quickness. If he can run in the low 4.4s, he should be a safe bet to a draft selection. Kyle Juszczyk (March 14th) of Harvard fits the H-Back/slot tight end role that NFL teams are anxious to work into their offense. Despite being from an Ivy league school, he's a better-than-expected athlete that should test well. Finally, the BSN Collegiate Showcase (http://www.BSNCollegiateShowcase) (March 8th-10th) is a chance for over 100 small school prospects to test out in one Combine-like environment. If features both impressive athletes and productive college players that will look to make a name for themselves in Akron.
—–

Top Prospects Getting a Second Chance at Early Pro Days

For some players, Pro Days are a second chance to make up for disappointing Combine performances. In Indianapolis, factors such as pressure, exhaustion, and injury can lead to less than expected workout times.
Along with that, I've heard from a source who was in Indianapolis that the Combine's "Cybex Testing", which tests the joint movement of prospects, caused multiple players' injury. NFL scouts are aware of the Cybex testing-related injuries and will be basing multiple prospects' 40 yard dash time, including some featured here, on their Pro Day numbers.
Prospects like Johnthan Banks (March 6th) of Mississippi State, Ray Graham (March 6th), and George Winn (March 13th) all didn't have the 40 times that were expected of them, and they'll need to make that up in their Pro Day workouts. Banks will need to run in the low 4.5s or better after a 4.61 official Combine time to stay in the Top 25 range on Draft Day. Graham and Winn had surprisingly poor Combine times, but both are capable of sub 4.5 times. Graham's short area quickness in shuttle drills and Winn's potentially explosive 10 yard split and likely 20+ bench reps should do well to recover from the Combine.
Texas A&M defensive end Damontre Moore had an overall poor showing in Indy. On film, he's not the elite athlete that many have tried to make it seem, but he'll really need to improve from his 4.95 forty time and 12 bench reps if he hopes to vault back into the Top 25 discussion. FIU safety Jonathan Cyprien (March 8th) was hurt and couldn't run in Indy. He displays elite range on film and after being the best safety at the Senior Bowl, an impressive 40 time and shuttle time could push him into the mid-1st round range. Finally, Alabama's Eddie Lacy (March 13th) didn't get a chance to test due to a pre-Combine injury, but if he can run in 4.5s, he should solidify that mid-late 1st round draft selection and be the first running back off the board.
——
Other Pro Day's To Keep In Mind
Geno Smith Works Out With Tavon Austin, Stedman Bailey on March 14th
-Smith got a chance to impress teams with his mental make-up in the interview room at the Combine, but he'll get a chance to work with his two dynamic college weapons come mid-March. A good workout should cement Smith as the first quarterback taken on Draft Day, along with helping Austin and Bailey cement their probable Top 50 selections.
Denard Robinson Hopes to Show Further Receiver Development on March 14th
-Robinson's draft process is all about his progression as a receiver as well as a returner. After a top-notch Combine showing (4.43 forty time), scouts will be anxious to see his development in his routes and return technique.
Tyler Wilson Impressive As a Leader, Needs to Impress with Arm on March 15th
-Despite possessing elite intangibles, toughness, and leadership ability, Wilson hasn't seized the opportunity to rise in the draft process because of ball placement concerns. March 15th may be his last chance to be considered a franchise signal caller for an NFL team.
Star Lotulelei Needs To Answer Heart Condition Questions on March 20th
-One of the more surprising bits of news from the Combine was the heart condition that didn't allow him to test at the Combine. It may have been dehydration or due to sudden weight loss, but it's certainly something NFL teams will take very seriously on their visit to Utah.
Tyler Bray, Cordarelle Patterson, Justin Hunter Get One Last Chance to Shine on March 20th
-In what will be the final work these three will have together, each player is relying on a good throwing session workout to improve their draft stock. Bray will need to show he can possesses NFL-ready mid-range ball placement, Patterson needs to show more route development and extension away from his body, and Hunter needs to show he can use his athletic upside in short area routes.
Manti Te'o Hoping to Handle Pro Day Better than Combine on March 26th
-Te'o admitted he struggled with stress and expectation at the Combine, something teams' didn't expect nor were happy to hear. Te'o needs to handle his Pro Day much better, on and off the practice field, despite the flock of media and NFL personnel that will be in attendance.
Matt Barkley Finally Able to Throw on March 27th
-Barkley has passed on the Senior Bowl and the Combine throwing session due to his shoulder separation injury. This much-anticipated Pro Day workout should be the single biggest moment in the draft process for the month of March.
LSU's Loaded 2013 Draft Class, Including 11 Declared Juniors, Workout on March 27th
-After having double digit declared juniors, including punter Brad Wing, LSU should have at least 16 prospects eligible to workout. Spencer Ware, Michael Ford, Tharold Simon, and Chris Faulk are the four that need the best workout.