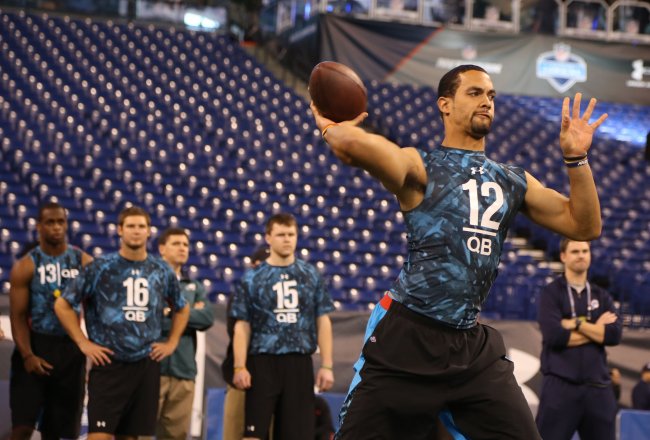 As the Combine rolls to an end every year, the message is seemingly the same. Sure, the Combine is useful for some things, but there's not much that can truly be gained from it.
While that may be true for a majority of players, there are several that gave their future prospects a huge boost over the past several days. Which players helped themselves the most in Indianapolis?
Matt Scott, QB, Arizona
When he arrived in Indianapolis, Matt Scott was an afterthought in a crowded class of quarterbacks. A relative unknown, the scouting report on Scott was that he was a talented athlete with an awkward throwing motion and poor footwork. All of that has changed however, and after a great week of work Scott left Indianapolis heralded as "sleeper" among the quarterback prospects.
Scott left no doubt that he's been putting in some serious work since the end of his collegiate career. His footwork, while still not perfect was light years ahead of what he'd shown on film. His throwing motion was also improved and his passes were accurate as ever. Physically he was stronger and has added 12 pounds to his frame, while still running his forty in the 4.6s. As a dual threat quarterback who has now proven he can quickly improve his game, Scott is sure to draw significant interest from now until April.
Knile Davis, RB, Arkansas
Carrying a long list of injuries and a less than impressive final season at Arkansas, Knile Davis' draft status was practically on life support as he entered the pre-draft process. Throughout the 2012 season Davis looked like the long string of injuries he'd dealt with in his career had finally taken a toll on what had been elite athleticism, he eventually was benched due to that ineffectiveness.
Davis put on a tremendous show of athleticism during the week however, and put to rest any doubts that he wasn't the same sort of athlete that he'd been in the past. He ran a 4.37 forty and put up an impressive 31 reps on the bench press. His injury history will still prove to be the biggest concern for NFL teams, but he left no question that he's still an impressive athlete. That alone will prove to be a huge boost to his stock.
Josh Boyce, WR, Texas Christian
For prospects that lacked elite production in college, one of the best things one could hope to accomplish in Indianapolis is to force teams to go back to check out your film another time. With one of the best all-around performances of the Combine, Josh Boyce did just that.
Boyce ran a 4.38 forty, finished the three cone drill in 6.68 seconds, performed the 60 yard shuttle in 11.26 seconds, and put up a strong 22 reps on the bench press. Those numbers put him near the top of every category among wide receivers. His production in college didn't necessarily reflect that sort of athleticism, but his work this week will send all teams looking for wide receivers back to TCU's tape from the past few seasons to see what they've been missing.
Dwayne Gratz, CB, Connecticut
In a rather crowded cornerback class, a key for any defensive back in the Combine would be to distinguish himself from the rest of the pack. While Dwayne Gratz had been a prospect that's flown under the radar up until this point, his workouts on Tuesday quickly helped separate him from the rest of the pack.
Gratz tested well in everything he participated in. 22 bench press reps were tops among defensive backs, while he also ran a 4.47 forty, had a three cone time of 6.7 seconds (third among DBs), and had a 38 inch vertical. Further, he demonstrated he moves very well for a player of his size, displaying both great hips and feet in position drills. He's a good of a candidate as any for a defensive back who will continue to climb draft boards over the next two months.
Ryan Swope, WR, Oklahoma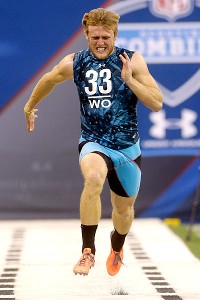 Ryan Swope entered the Combine with a reputation that many receivers would be dying to rid themselves of. Sure, he was a strong route runner and showed good hands throughout his time at Texas A&M, but on tape he appeared to be a player who would at best run somewhere in the 4.5 range.
That perception of him is going to have to be revisited after he shocked the NFL by running a 4.34 forty. He showed good explosiveness as well, with a 37 inch vertical jump and 10'5 broad jump. As one of college football's most consistent players, Swope was already a good draft prospect. Now that he's proven he's a strong athlete as well, he'll continue to rise up draft boards.
Chris Gragg, TE, Arkansas
As the NFL trends towards using athletic tight ends to redefine the position, finding the next gifted player at the position was likely on the top of many teams' lists this week. One player did emerge among the tight ends, but it wasn't who anyone expected. Chris Gragg ended up stealing the show in his position group, and the result was perhaps one of the biggest rises of any player during the week.
Gragg proved to be the most explosive of any tight end, recording a 10'5 broad jump as well as a 37 inch vertical. He also ran the fastest forty time of any tight end, running a 4.50 forty. His hands were shaky at times during drills, and he does have some injury concerns as well. Still, he's a great physical specimen and he's probably a top five tight end now.
Josh Boyd, DT, Mississippi State
While there's no confusing Josh Boyd for a top tier defensive tackle prospect, he isn't receiving nearly the credit he should be for a very impressive Combine performance. His measurable were impressive – he had the fourth most bench press reps with 32 reps – but that's not what stood out the most for Boyd.
He was one of the most impressive defensive linemen throughout the positional drills. He showed that he knows how to get leverage and looked surprisingly impressive changing direction. He may not be one of the draft's top talents, but as a third round pick or later you could do much worse.
Cornelius Washington, DE/LB, Georgia
For much of the pre-draft process, Cornelius Washington has been overshadowed by Georgia teammates Jarvis Jones and Alec Ogletree. Washington took advantage of the spotlight that Combine provided him to correct that. Weighing in at 6'4, 265 pounds, Washington looked like a defensive end prospect but then went on to put up testing numbers that would make some defensive backs jealous.
Washington bench pressed 36 reps, ran a 4.55 forty and had a 39 inch vertical jump. He proved that he's got an insane combination of size, speed, strength, and explosion. Now it's just up to a defensive staff to decide where he's best suited to play at the next level.
Jon Bostic, LB, Florida
As a mid-round inside linebacker prospect, one of the most crucial things to accomplish at the Combine is to show that you're capable of playing in multiple schemes. For Jon Bostic, that meant showcasing the speed and fluidity needed to play in a 4-3.
After a successful week in Indianapolis, Bostic can consider that mission accomplished. His 4.61 forty is clearly enough speed in either a 3-4 or a 4-3, and Bostic also looked to have some of the best hips of any of the linebackers on the field. Those types of qualities are exactly what will separate him from the rest of the linebackers around him come April.
Eric Herman, OG, Ohio
It's important for any player to try and stand out during the Combine. As an unheralded offensive line prospect from a small school, it's even more crucial. That's the position Eric Herman was in when he arrived in Indianapolis, but he took advantage of the situation and ended up creating quite a buzz.
His 36 reps on the bench press was the most any offensive lineman put up, and that certainly grabbed the attention of offensive line coaches across the league. The great hips and overall movement he showed in positional drills only added to that buzz, and it's given quite a boost to his draft status.