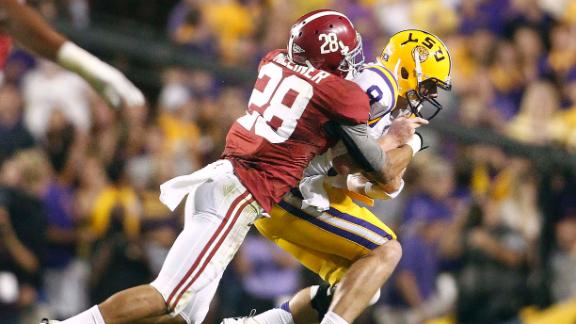 After several days of watching forty yard dash numbers be over analyzed all week, many have tired of the drill altogether by Tuesday. Ironically, it's today's workouts that actually have the most riding on the forty times.
Impressive times solidified several players draft stock, including one cornerback who now may not make it out of the top five selections. What else stood out on Tuesday?
The knock on Dee Milliner heading into the week was the perception that he didn't possess elite speed. The official time of 4.37 he ran in the forty quickly silenced those doubts. He also showed off a smooth backpedal, and overall looked the part of a top five pick.
Tyrann Mathieu needed to have a strong Combine, and if you overlook his extremely disappointing 4 reps on the bench press he did just that. He ran faster than most people expected, and more importantly he looked much more fluid in the positional drills than most thought he would.
Shamarko Thomas might be the most athletically impressive defensive back in Indianapolis, running a 4.42 forty (in spite of falling at the end), recording 28 reps on the bench press, and recording the highest vertical jump amongst all safeties.
Thomas wasn't the only safety that helped himself on Tuesday. Matt Elam ran an acceptable 4.52 forty and looked much smoother in coverage drills than expected. His footwork has improved since his season ended and it's likely he solidified his first round status today.
Desmond Trufant and Xavier Rhodes are among the competition for the second overall cornerback ranking, and both had some good moments and bad ones. Rhodes impressed with his forty time in particular, but then showed some stiff hips during drills.
By the time this process is all over, it's entirely possible that Boise State product Jamar Taylor could eventually be the considered the second best cornerback in the class. He did a solid job in all drills and separated himself somewhat from the rest of the cornerbacks.
David Amerson may have caused a few teams to go back check his film once more. He looked terribly slow in 2012, but ran a 4.44 forty. Still, he didn't appear to have the hips of a corner throughout drills and didn't really prove that he should project as anything but a safety in the NFL.