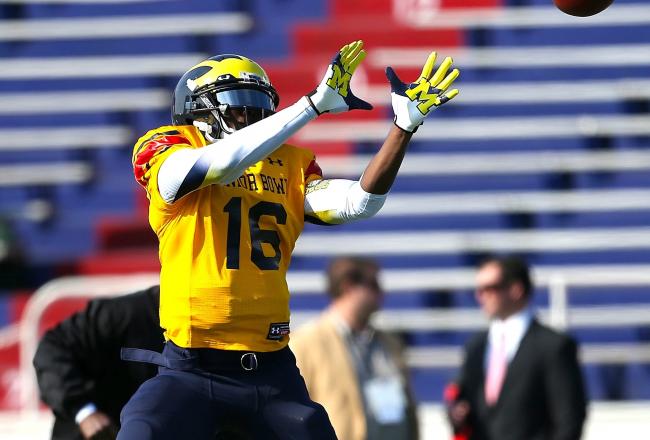 The Combine, for some players, can be like America: "The Land of Opportunity", where a lesser player can make a name for himself, or a poor season can be redeemed by a good 40 yard dash or an impressive interview. However, for some players, it's all about maintain expectations and doing damage control just to not "hurt" their draft value.
Here are 10 prospects who need to mostly "get through" the Combine process, and not try to lose much draft value during their stay in Indianapolis.

Tyler Bray, QB, Tennessee
Being the lone draftable junior quarterback to declare for this tight-knit position race, Tyler Bray hasn't had a chance to work out or try to impress NFL teams since his lackluster senior season at Tennessee. Bray has flashed throughout his career with his big arm. However, his wild inconsistent accuracy on film needs to be somewhat under control in workouts, as this may be his big chance to go from non-Top 100 pick based on film to providing enough intrigue outside of Tennessee to give a 2nd or 3rd round team hope for his development.
Montee Ball, RB, Wisconsin
It's unfair to judge a prospect completely on the NFL Combine, but for a running back with speed and carry total concerns, every number counts now. Likely expected to run in the low 4.6s, that number may make it difficult for Ball to be drafted in the 2nd round, and running a 4.65+ may leave enough deep speed concerns to make it a struggle for him to go Top 100 either, especially considering how tight this running back class is and expecting that a handful of RBs will perform better than expected in Indy.
Denard Robinson, WR, Michigan
One of the most explosive runners in this draft class with more upside than former QB to WR converts Brad Smith and Antwan Randle El before him, Robinson has the upside to be a unique playmaker in today's NFL. However, major questions still linger: Has he developed more route definition since the Senior Bowl? Can he show more consistent pass catching ability? Will he test through the roof as expected? Is his nerve damage full healed since the end of the season? Is he willing/able to contribute as a running back and/or on special teams? All these questions need to be answered in Indy.
Marquess Wilson, WR, Washington State
Immaturity, work ethic, and focus concerns will need to be answered in the interview process for Wilson, and after leaving Washington State is maybe the worst non-arrest way possible, those interviews will be very telling about his NFL future. However, he hasn't been seen playing football in 5+ months, and NFL teams need to see if the lean built, vertical threat receiver has gotten any stronger and if he'll show up in shape. Both are must-dos if Wilson hopes to get drafted in April.
Will Gholston, DE, Michigan State
The cousin of recent major NFL "bust" Vernon Gholston, Will needs to overcome his last name concerns (a legitimate issue of his relations with Vernon and somewhat well-founded in my experience) as well inconsistenty and position-less concerns. Will won't dominate the NFL Combine like his cousin did, but he'll need to show he's either bulked up enough to be a 5-technique or tests athletically enough to play at a 6 or 7-technique. If he can prove neither, he may not be a lock to be selected in the Top 5 rounds.
Barkevious Mingo, DE/LB, LSU
With his flashes of fantastic upside and projected "high ceiling" as a rusher, Mingo is expected to dominate the NFL Combine drills and wow to the point to be the biggest winner of the Combine. However, for a prospect based mostly off upside (thanks to lackluster production/consistency all of 2012), he NEEDS to wow at the Combine. If his numbers don't separate from the pack consistently, his athletic upside may be harder to sell to NFL GMs who have seen multiple NFL Combine "Workout Warriors" fail in recent drafts.
Jarvis Jones, OLB, Georgia
It's been "announced" recently by NFL.com's Gil Brandt that Jarvis Jones's spinal stenosis concerns aren't an issue for NFL teams, but that may not be the case through the NFL consensus. Each NFL team will have their doctors test prospects at the NFL Combine, and teams may have more concerns in taking Jones in the Top 20 than Brandt does at this point. We saw Da'Quan Bowers fall suddenly in the draft close to the NFL Draft, and it may take that long before we know how teams feel about Jones's long-term health.
Alec Ogletree, OLB, Georgia
A unique athlete thanks to his range, fluidity, and length as a linebacker, Ogletree was set to really impress in most workouts at the NFL Combine and potentially jump into the Top 15 picks. However, after a recent DUI arrest and other lingering character concerns, Ogletree's likely wowing workout won't do much to help his stock. The interview process will be of major importance for Ogletree if he hopes to stay in NFL team's good graces in the late 1st round.
Manti Te'o, ILB, Notre Dame
Te'o's got some explaining to do in Indianapolis. In what will be his first chance to explain himself personally to NFL teams, Te'o needs to at least ease the concerns of NFL teams in terms of answering 'Can he be a leader?', 'Can he remain focused in the NFL season', and other major question marks surrounding his intangibles. Also, for being a bit of a limited athlete, a poor or even barely adequate performance in testing could further add to teams' unwillingness to go with the Heisman runner-up come draft day.
David Amerson, CB/S, NC State
Coming into the 2012 season, Amerson was viewed as a potential Top 10 cornerback prospect, but struggled with consistency all of the 2012 season. Now firmly in the 2nd round discussion, the slow-to-transition, potentially Cover 2 only cornerback may struggle in drills and testing throughout the Combine workout. A bad week could push him further down the draft board, especially with a talented and rising cornerback class that should impress in Indianapolis.