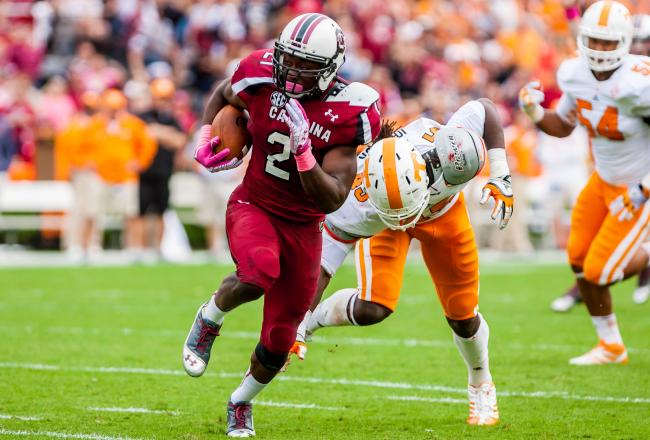 For most of the players heading to Indianapolis this week, the primary goal will be to avoid seeing their draft stock drop.The fact is, for the majority of players it's very difficult to raise their standing in just a few days.
There are a handful of players, however, who are exceptions to this rule. For them, their performance at the Combine could end up being the added boost they need to jump to the forefront of their class.
Who could gain the most this week in Indianapolis?
Matt Scott, Quarterback, Arizona
The NFL is a copycat league, and it's likely that the success of Robert Griffin III, Colin Kaepernick, and Russell Wilson will have more GMs looking for a mobile quarterback in this draft class. If he can put together a strong performance in Indianapolis, University of Arizona Matt Scott may be that player.
The Wildcat only started 17 games in college, so there's plenty that teams are still going see out of Scott. He's got a ¾ release point that is similar to what Kaepernick's looked like while at Nevada. Has he made any adjustments in his mechanics? Scott isn't a household name at the moment, but he's likely to put up impressive numbers. If he can show improved mechanics to go with that, he may jump other quarterbacks like Zac Dysert or EJ Manuel.
Marcus Lattimore, Running Back, South Carolina
In a relatively lack luster class of running backs, Marcus Lattimore figured to be one of the first running backs taken in the 2013 draft. The devastating knee injury he suffered midway through the season may have changed that, but even though he won't be participating in the drills the rest of the running backs will, the Combine will still be a huge moment for him.
This will be the first chance NFL teams will get to examine Lattimore's knee for themselves, and it will be the first time they've see how his recovery is progressing. Both Frank Gore and Willis McGahee suffered similar injuries and bounced back, and we all saw what Adrian Peterson did just months after an ACL tear. If Lattimore's recovery appears to be on or ahead of schedule, his stock may again begin to rise.
Tyrann Mathieu, Defensive Back, Louisiana State
Tyrann Mathieu saw his draft stock take a nosedive after his dismissal from LSU's football team. There are now huge questions regarding his character and maturity, making his interviews with NFL teams this weekend some of the biggest moments of his life.
The interview process is going to be huge for Mathieu, but how he looks in drills is going to be extremely important as well. He's a player who relied on his instincts and raw athleticism to make plays. He'll need to show that he has worked on his technique as well as stayed in top condition during his time away from the game.
Kyle Long, Offensive Guard, Oregon
We know that Kyle Long has NFL in his blood. Both his father Howie and brother Chris have made their marks on the league on the defensive line. By all accounts, Kyle is a high character player and an extremely gifted athlete. The fact is, though, that we just haven't seen Long play that much football.
After spending two years pursuing a career in baseball Long came to Oregon and played for two years. It's likely that he'll put up some of the best numbers at his position during the Combine, and that alone will give his stock a nice boost. But he'll also need to show he's not a long term project, using good technique in drills and demonstrating a strong football IQ when meeting with coaches. If he does all that, Long could quickly become one of the hottest offensive line prospects in his class.
Jonathon Cyprien, Safety, Florida International
From being a lightly recruited player in high school, to only being named to the first team all Sun Belt conference team once, Jonathon Cyprien has largely flown under the radar during his athletic career. Cyprien took advantage of a Senior Bowl invite, though, and turned in one of the most impressive performances of the week.
The motor and raw talent he displayed in Mobile vaulted him to the top of the safety class. Now that he's viewed at the same level as players like Matt Elam, he needs to prove his speed is at a NFL caliber. If he can do that, Cyprien could very well hear his named called in the first round.
Chris Harper, Wide Receiver, Kansas State
Quarterback Colin Klein was the recipient of all the media's hype during the season, but the NFL's scouts were far more interest in who he was throwing to. Chris Harper, a converted quarterback, took a couple of seasons to find his comfort zone. All that work paid off for himself and for Kansas State during his senior season, where he ended the year as their leading receiver with 58 catches and 857 yards.
Harper's limited experience at wide receiver is intriguing because he's not even close to reaching his full potential. He's already regarded as a top 15 wide receiver. If he does well at this weekend (particularly in the 40 yard dash), he could quietly become a top 40 prospect.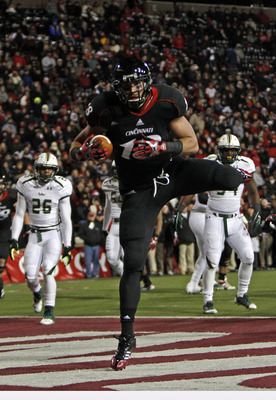 Travis Kelce, Tight End, Cincinnati
As the NFL sees the impacts of players like Jimmy Graham and Rob Gronkowski, general managers and scouts will have their eyes peeled for the next wave of athletic tight ends. In this class, there may not be more exciting tight end prospect than Cincinnati tight end Travis Kelce. At 6'7, 260 lbs, the strong chance that he runs a sub 4.7 40 yard dash has to excite GMs and offensive coordinators alike.
Kelce isn't a perfect prospect – a year long suspension in 2010 for an undisclosed violation of teams rules will draw lots of questions during interviews. If he does well both on the field and in meetings, there's a great chance he'll be drafted early in the second round.
Menelik Watson, Offensive Tackle, Florida State
There may not be an athlete in Indiapolis with a more interesting road to the Combine – or a more athletic offensive tackle – than Menelik Watson. Watson is a newcomer to the game of football, and he spent his youth playing basketball and boxing in England and Spain. Those experiences have helped Watson develop some outstanding athletic talents, including carrying a quite lean 320 lbs on his 6'6 frame.
Watson is incredibly raw however. He's only played 20 games at FSU and has yet to show great instincts. He'll need to expand his football IQ before he's ready to be a full time starter, but if he puts on the show he's expected to in Indianapolis, there's no doubt several teams will be willing to give him the chance.
Jamie Collins, Outside Linebacker, Southern Mississippi
Jamie Collins didn't get much publicity while playing at Southern Mississippi, but his strong play did earn him an invite to the Senior Bowl. It would have been a great opportunity for Collins to compete against top tier players, but a hamstring injury sidelined him for most of the week.
Collins will finally get some much deserved publicity this week, assuming his hamstring is back to 100%. Collins is a freakishly athletic linebacker, who actually played defensive back during his early time at Southern Mississippi. He'll use that athleticism to turn heads and separate himself from the rest of his class this weekend.
Da'Rick Rodgers, Wide Receiver, Tennessee Tech
Heading into the 2012 season, Da'Rick Rodgers was expected to play his junior season at Tennessee and then leave to be a first round draft pick. Instead, he parted ways with Tennessee following an indefinite suspension and played out his junior year at Tennessee Tech.
Rodger still has the athletic ability that could conjure comparisons to players like Julio Jones, but the amount of red flags surrounding him makes it difficult for any team to consider taking him in the first round. Without a strong interview process, there's no guessing where Rodgers could be drafted. If he displays a new found sense of maturity, however, Rodgers could work his way back into second round discussion.