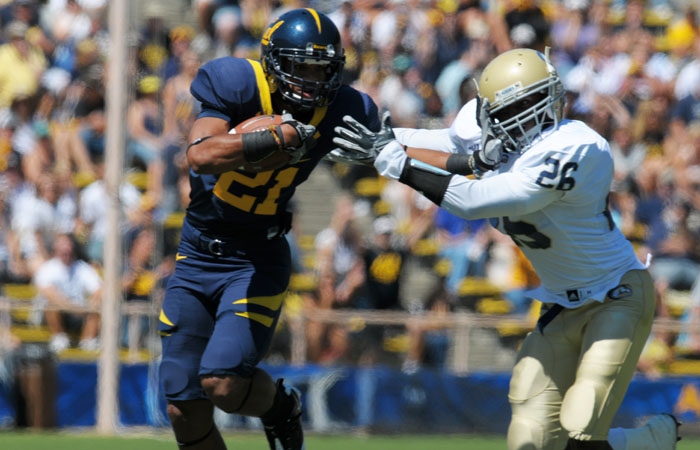 Some of the most crucial moments of the NFL Combine will occur before each player even steps foot on the playing field. NFL teams are making a huge investment in each of these players, and they want to be totally certain that they can feel comfortable with each player's injury history.
Who is in need of a clean medical history the most?
Keenan Allen, WR, California
As perhaps the top wide receiver in his class, Keenan Allen's workout was going to be one of the most anticipated of the week. Unfortunately, a PCL tear that he suffered originally in October has proven problematic during his time preparing for the Combine. It's worsened to the extent that he won't work out in Indianapolis and instead will be running only at his pro day. While a PCL injury isn't typically too concerning, teams will be eager to get a progress report on his recovery.
Jarvis Jones, LB, Georgia
No player's medical report will be scrutinized more than Jarvis Jones', and it's not even because he has a lengthy injury history. Instead, it's the diagnosis of spinal stenosis that is going to have teams quite concerned. The narrowing of his spinal cord could have huge implications for his life as well as his football career. When the condition was initial discovered, Jones was playing at Southern Cal. He was told then he should stop playing football, but instead he transferred to Georgia. He's reportedly been cleared by doctors to continue his career, but you can be sure all 32 NFL will be forming their own opinions this week.
Dion Jordan, DE/LB, Oregon
Dion Jordan is known for his versatility and athleticism, but he's also known for playing below a desirable weight at times during his career. That slight frame has at times left him susceptible to injury. Most recently he's been unable to fully put a shoulder injury behind him. He'll undergo surgery to repair the labrum after the Combine, but teams will want to form their own opinions on his outlook this week.
Sean Renfree, QB, Duke
Sean Renfree isn't as big of a name as many of these other prospects, but he's got a huge amount riding on the medical exams this week. Renfree was having a huge game in the Belk Bowl, the final game of his collegiate career, when he tore his right pectoral muscle on what would be his final pass as a Blue Devil. The timing of the injury couldn't be worse, as he'll be unable to work out for teams in Indianapolis or at any other time prior to the draft. If it appears as though his recovery is going well he's still a draftable player, but a poor report would make him a UDFA.
Giovani Bernard, RB, North Carolina
With the exception of perhaps Eddie Lacy, there's little doubt that Giovani Bernard is the top running back prospect in the draft. However, he's not without some considerable medical red flags. He missed the entire 2010 season with a torn ACL in his right knee, and then missed three games in 2012 with an injury to his left knee. Those two incidents aside he has a relatively clean injury history, but a history of knee injuries in a running back is always a big concern.
Denard Robinson, WR, Michigan
During his time at Michigan, Denard Robinson sacrificed his body on more than one occasion for the Wolverines. Most worrying at the moment is a ulnar nerve injury he suffered in his right arm. It ended his senior season prematurely, and even now he still has residual numbness in his right hand. For a player who enters the Combine needing to prove he's got good hands, it's going to be a big hurdle for him to overcome. He'll need to show that he's expecting a full recovery, or teams will certainly shy away from the converted quarterback.
Marcus Lattimore, RB, South Carolina
Marcus Lattimore was cruising towards being a first round draft pick before a gruesome knee injury ended his season prematurely. Initially there were strong doubts as to whether or he'd ever play football again. There are now rumors that he's healing well ahead of schedule. If those reports are confirmed by NFL doctors, Lattimore will instantly become one of the most fascinating prospects to watch from now until April.
Knile Davis, RB, Arkansas
It's always difficult to see a promising young running back get worn down before he gets the chance to make it to the NFL, but that may be the case with Knile Davis. Once a promising, electric play maker, it's clear that a long list of injuries have taken a toll on his explosiveness. Two broken right ankles, a broken left ankle, and a twice broken collar bone are huge red flags, and the cumulative effects led to Davis eventually losing his job as the starter in 2012.
DJ Hayden, CB, Houston
To put it simply, DJ Hayden is lucky to be alive. Hayden tore the inferior vena cava in when he hit a teammate in practice and was immediately rushed into surgery. The injury is reportedly 95% fatal, so the fact that he's able to even be considered to be drafted is simply incredible. He's one of the best stories of the season, but teams are still going to want to feel sure that it's safe for him to play football again in the future.
Philip Lutzenkirchen, TE/H-Back, Auburn
As a player without one clear position, Philip Lutzenkirchen's role at the next level isn't fully defined quite yet. There's little doubt that an NFL team will envy his talents to use somewhere on the field, but he'll need to prove he's healthy first. He played through much of his final year at Auburn with a torn labrum and multiple bone spurs in his hip, and he wasn't able to participate in the Senior Bowl due to the injury.
Other Players Needing Good Medical Reports
DJ Harper, RB, Boise State
Michael Mauti, LB, Penn State
Walt Stewart, DE, Cincinnati
Chris Thompson, RB, Florida State
Chris Gragg, TE, Arkansas
Kapron Lewis-Moore, DE, Notre Dame
Greg Reid, CB, Valdosta State